Tinsukia Killings: Mamata Steals Show From Assam CM Sarbananda Sonowal With One 'Masterstroke'
Political observers say Mamata Banerjee not only stole the show from Assam CM Sarbananda Sonowal on his home turf, but also emerged as the prime saviour of Bengali-speaking people in Assam.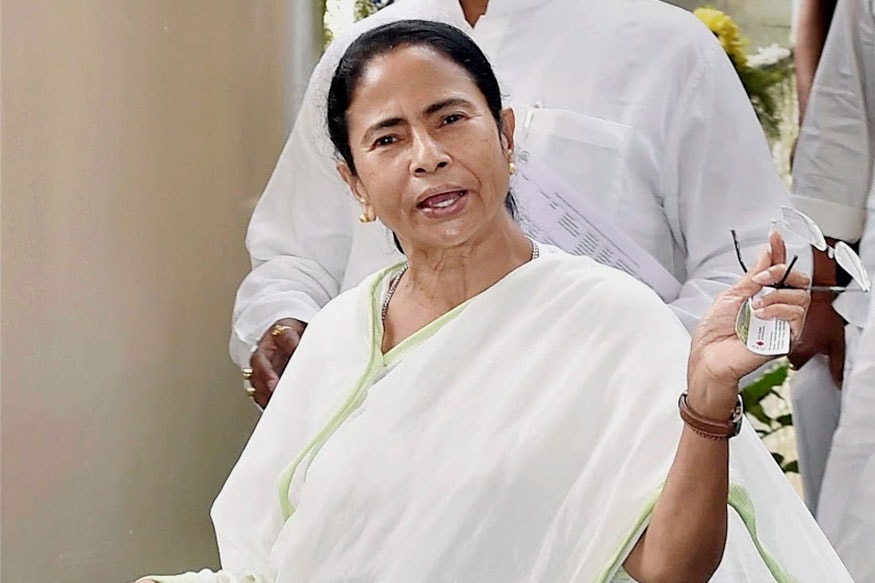 File photo of West Bengal CM Mamata Banerjee. (PTI)
Kolkata: By deciding to send a team of Trinamool Congress MPs to meet family members of the Namasudra victims in Tinsukia, Bengal Chief Minister Mamata Banerjee arguably earned rich political dividends from Assam, or so say the experts.
Banerjee's "masterstroke" would put her ahead in the race for support from Bengali Dalits, especially in North Bengal, where the BJP has emerged as the foremost challenger to the TMC ahead of the 2019 Lok Sabha polls, experts feel.
Unlike on August 2 — when the TMC delegates were forced to return from the Silchar airport by cops over the National Register of Citizens (NRC) controversy — this time, the state police in fact escorted the delegation led by TMC MP Derek O'Brien to Tinsukia.
A section of political observers believes that Banerjee managed to not only steal the show from Assam CM Sarbananda Sonowal on his home turf, but also emerged as the prime saviour of Bengali-speaking people in Assam. She called up Mukul Chandra Bairagya, working president, All India Namashudra Bikash Parishad, and assured him of all kind of support from the Bengal government.
"I am very happy that she is standing beside us in these difficult times. Yesterday around 11.45 AM, she called and told me that a team of TMC MPs are in Tinsukia. She assured financial help for the victims and said that she will take the victims to meet President Ram Nath Kovind in New Delhi. She also promised to set up Namasudra Unnayan Parishad in West Bengal for the welfare of nearly 2.87 crore members of our community," Bairagya said. He added that Mamata promised to raise the issue in the Parliament.
Speaking to News18, Biswanath Chakraborty, professor, political science, Rabindra Bharati University, said, "This will help Mamata Banerjee win the confidence of Bengalis living in the Bengal-Assam border. This is mostly the Dalit population in North Bengal where the BJP has gained popularity in recent times. Standing with the Tinsukia victims will also mobilise the Bengali emotion before the upcoming Lok Sabha and Assembly polls. This is a masterstroke following the resolution of the Maoist crisis of Jungalmahal and the hill crisis in Darjeeling."
"Wasn't it unusual that this time the TMC delegates were taken to the spot by police and Assam BJP leader himself? Last time when they were stopped, it went in favour of the TMC in gaining national media attention. It seems that there was a strong instruction from the central leadership to allow TMC delegates this time," Chakraborty argued.
"Mamata Banerjee is a seasoned politician. She is highlighting the Namasudra issue because she is planning to rip apart BJP's general Hindutva politics in Bengal. She is intentionally segregating Namasudra, Matua, Rajbanshi, Lepcha, Bhutia, Gorkhas, and the Sherpas to prevent BJP from polarising votes in certain pockets of Bengal. And she saw a great political opportunity in Tinsukia killings. We should not forget there are 22 per cent Dalit votes in Bengal."
Bengal BJP President Dilip Ghosh alleged that the ruling TMC, along with CPI (M) and Congress, is trying to cash-in on the Tinsukia killings to whip up Bengali sentiments for their political interest.
Ghosh confirmed that he has written a letter to Union Home Minister Rajnath Singh to provide security to Bengali-speaking people of Assam as this may have a backlash on the party's campaign in Bengal in the run up to the general elections.
"Going with the current political setup, it would be fair to say that the BJP is on backfoot ahead of its crucial Rath Yatra in all the 42 constituencies in Bengal," said Biswanath Chakraborty, a political expert.
Get the best of News18 delivered to your inbox - subscribe to News18 Daybreak. Follow News18.com on Twitter, Instagram, Facebook, Telegram, TikTok and on YouTube, and stay in the know with what's happening in the world around you – in real time.
| Edited by: Divya Kapoor
Read full article