TN: Statues defaced, security beefed up
Tension was sparked by the desecration of two statues of B R Ambedkar and one of local Dalit hero Immanuel Sekaran.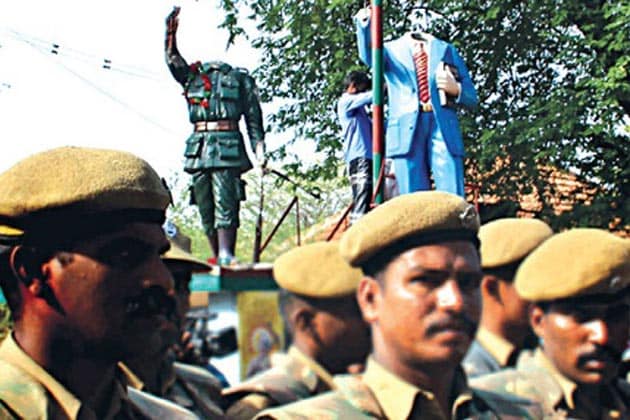 Tension was sparked by the desecration of two statues of B R Ambedkar and one of local Dalit hero Immanuel Sekaran.
Madurai: Security has been stepped up in Madurai and parts of south Tamil Nadu following escalating tension sparked by the desecration of two statues of the Father of Indian Constitution B R Ambedkar and a statue of local Dalit hero Immanuel Sekaran in the temple town. Miscreants had vandalised the statue of Ambedkar placed near Madurai airport at Perungudi and statues of Immanuel Sekaran and Ambedkar statue at Chinna Udaippu village near Avaniyapuram in the wee hours of Tuesday.
Police went on high alert to prevent untoward incidents after constables on night rounds had noticed the beheaded statues. "Some mischief mongers have vandalised the statues to spark disturbances ahead of the death anniversary of Dalit leader Immanuel Sekaran, which is due on September 11. We will arrest the miscreants soon," Inspector General of Police (South Zone) Rajesh Das told Express. Last year, six Dalits were killed in a police firing in Paramakudi in Ramanathapuram district following violence during the death anniversary of Sekaran.
As word spread, Dalits assembled under the banner of different outfits and blocked roads demanding action. A group blocked the Aruppukottai Road near the airport, as a result of which some passengers missed the flight. Police had diverted traffic on the road and asked vehicles to head to the airport via Thirumangalam.
A police contingent was posted near the Muthuramlinga Thevar statute to prevent protests by Dalits there. Top officials including Madurai Collector Anshul Mishra, Superintendent of Police S P Balakrishnan, Revenue Divisional Officer Durai Rajan and Tahsildar Muruganandham inspected the damaged statue and negotiated with the protestors. "We have obtained vital clues and have formed five teams to nab the culprits," Balakrishnan said.
Holding that the act of damaging statutes cannot be tolerated, Collector Mishra said "I have ordered a probe into the incident. The RDO and Tahsildar will file an inquiry report which will be sent to the Government."
Asked about the demand by Dalits that bronze statues must be erected at the spots where the statues were damaged, the Collector said it was for the Government to decide on this.
Inspectors Umashankar and Sethu Madhavan of Thirupparankundram and Thiru Nagar police stations respectively said some suspects have been secured for questioning. Police are also probing whether statues were damaged to divert the attention of the administration, which was currently busy investigating into a granite quarry scandal involving prominent personalities.
Meanwhile, in southern districts police stepped up security following sporadic protests. Tirunelveli Range Deputy Inspector General of Police V Varadaraju told Express that heavy police force has been deployed to protect statues of all leaders in Tirunelveli, Thoothukudi and Kanyakumari districts.
Get the best of News18 delivered to your inbox - subscribe to News18 Daybreak. Follow News18.com on Twitter, Instagram, Facebook, Telegram, TikTok and on YouTube, and stay in the know with what's happening in the world around you – in real time.
Read full article