To Avoid Food Wastage, J&K Govt Restricts Guests, Dishes at Weddings
In a bid to curtail food wastage, the PDP-led government in Jammu and Kashmir on Tuesday issued an order regulating the number of cuisines one can offer, and the guests one can invite to weddings.
New Delhi: Kashmir's fat weddings and lavish mutton feast will now onwards be under the lens of Mehbooba Mufti government.
The government's order on Tuesday limited the wazwan meals from 20 to 40 dishes served during weddings to only seven, a move seen to cut down on needless and reckless spending. The order also sought to bring down the number of guests to not more than 500 per wedding.
Jammu and Kashmir has a rich culture of sending sweets and dry fruits, along with the invitation. However, the order -- which will come into effect from April 1, 2017 -- put a ban on this practice, too.
The wazwan -- a fabled set of mouth-watering mutton dishes prepared in oil and flavoured spices -- has traveled far and wide, along with the Kashmiris, who love their food and customs.
Meatballs like Goshtaba and Rista and Kebab, Rogan Josh and Tabakh Maaz relished the world over, leave a great taste in the mouth of food lovers.
The government decision came at a time when Kashmir's summer was wracked by intense street violence resulting in death, injuries, and arrest of thousands. Many see the order as a "distraction" to shift focus on the real issues on the ground.
Chowdhary Zulfikar, Jammu and Kashmir Consumer Affairs and Public Distribution Minister told News18 the number of vegetarian and non-vegetarian dishes were to be restricted to a maximum of seven each in weddings, and the number of guests, too, cannot be more 400 and 500 for boy's and girl's wedding respectively.
Commenting on the "lavish" spending by the rich people on weddings, Chowdhary said that sometimes they get "70 food stalls" installed and they have "Rajasthani and Panjabi food".
"The gap between the spending of rich and poor on a wedding is increasing and putting additional pressure on the poor," he said, adding that the poor fails to meet the same expectations.
"The deputy commissioners are going to implement the order in the letter and spirit," he told News 18.
The valley, however, reacted with caution on the new order but many youngsters News 18 spoke to said the exercise was necessary to curtail the expenditure.
"This is a good move for those parents who can't afford lavish weddings. A lot of girls have passed marriageable age because of the curse to spend more on these social gathering," said Mehran Khan, a social activist.
His friend Waseem Mir wanted to know how the government will implement the order. "How can the deputy commissioners know which house has a wedding and who cooks what and how much. Will they come knocking down at the private houses?"
Mohammad Shafi, a local cook, called waza here, said more than two dozen dishes, mostly mutton, are served to the Baratis and it would be difficult to change that overnight.
"The maximum number of dishes that I have cooked is 30. Seven is a joke when you prepare wazwan."
A rich family cooks up to 50 quintals of meat or more, in addition to a few quintals of chicken, during the weddings which last several days. "People have spent more than 50 lakh on Wazwan alone," said Shafi.
"The poor are forced to do with two quintals of Wazwan, even if they have to borrow money from others. The race to prepare more puts them in debt," he said.
Social activist Mehran Khan said that he was not optimistic about the success of the initiative because such restrictions were announced, in the past as well, but various governments did not follow up for lack of implementation. "It is a not that simple."
The order to control the number of guests at weddings was earlier taken by former chief ministers Shiekh Mohammad Abdullah and Ghulam Mohammad Sadiq in the 1960's and 70's, but it could never become a tough law as people violated it within months.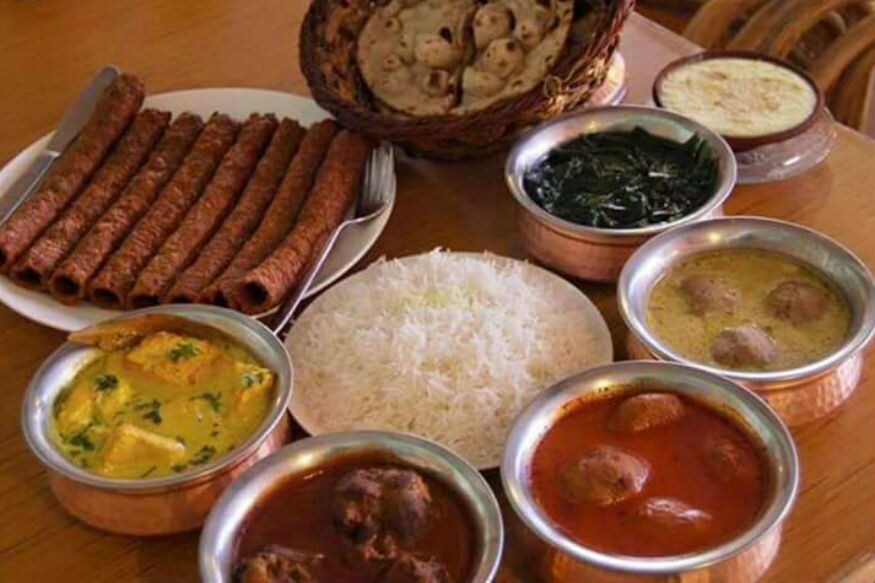 | Edited by: Mirza Arif Beg
Read full article
Countdown To
Elections Results
To Assembly Elections 2018 Results