To Rein in Tribal Resentment, RSS Chief Mohan Bhagwat Will Meet Tribal Leaders in Raipur
The ruling BJP, led by Raman Singh, has been finding it difficult to contain the Patthargarhi movement widely seen as a rebellion in the tribal pockets of Chhattisgarh.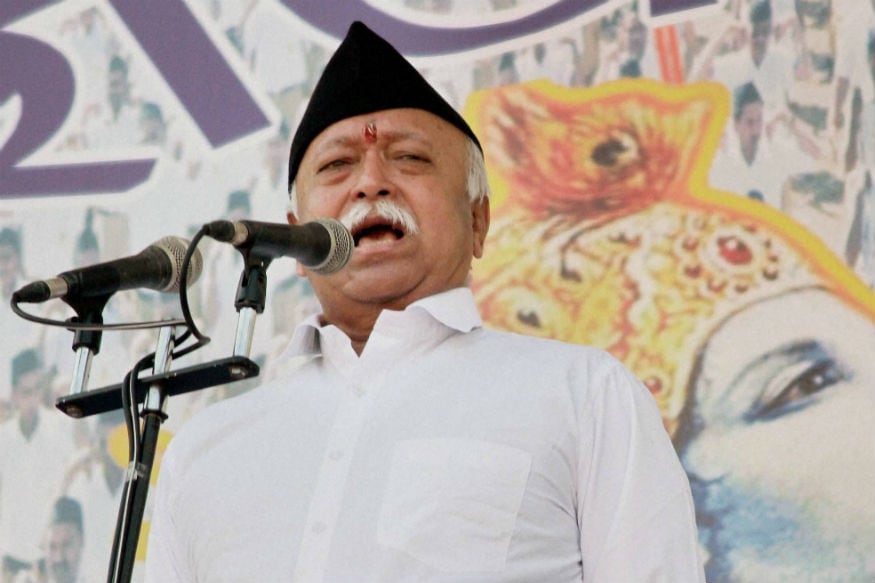 File photo of RSS chief Mohan Bhagwat. (PTI)
Raipur:
With Chief Minister Raman Singh already switching to election mode in the poll-bound Chhattisgarh, RSS is also starting to test political waters in the tribal-dominated state with its chief Mohan Bhagwat gearing up to address a national convention of tribal people in state capital Raipur between June 19 and 20.
Bhagwat's intervention in Chhattisgarh holds credence at a time when Sarva Adivasi Samaj, representing the ethnic population of the state is busy carrying out 'Patthargarhi', a self-rule movement by installing stones on village borders in various areas of the state.
The ruling BJP, led by Raman Singh, has been finding it difficult to contain the movement widely seen as a rebellion in the tribal pockets of Chhattisgarh while both the BJP and RSS are apprehensive of its repercussions in assembly polls later this year.
This is perhaps the reason why Bhagwat is coming down to Raipur for a two-day national convention on Scheduled Tribes of the country.
Though the RSS hasn't spoken on this officially, there is a general perception that the RSS chief's upcoming visit is aimed at quelling this resentment among dominant tribal population of the state that can completely turn the tables for BJP in polls if not dealt at the earliest.
"It's a two-day national convention based on the ethnic tribes of the country and would be attended by Mohan Bhagwat," RSS Mahanagar Karyawah Raghav Joshi told News18 over phone while speaking on the summit in Raipur's Nimora village.
He claimed that participants from across the country would come down to attend the event.
On being asked whether 'Patthargarhi' would be discussed prominently in the summit, Joshi claimed this programme has nothing to do with it.
A senior journalist who did not wish to be named told News18 that Bhagwat keeps coming to Chhattisgarh and reviews RSS' activities in the state besides discussing contemporary issues and he, for sure, would bring up Patthargarhi in an election year.
The tribal vote share is a decisive factor for Chief Minister Raman Singh as there are 29 out of total 90 assembly seats in Chhattisgarh that are reserved for the STs. It is believed that the upcoming RSS meet would also discuss issues pertaining to tribal socio-economic issues.
Besides Mohan Bhagwat and Jagdevrao Uraon, the national president of Vanvasi Kalyan Ashram; retired bureaucrats, teachers, lawyers, social workers and other professionals from the tribal community would also be present at the event, which the RSS functionaries have described as "completely apolitical".
Sources claim that more than 100 intellectuals and social workers hailing from various states have been sent invites for the event.
Congress, for obvious reasons, sees political compulsions of RSS behind the convention.
"Soon after Karnataka elections, RSS sent its pracharaks to remote areas in Chhattisgarh and they came back with the feedback that there is serious resentment among tribals for the BJP," alleged Congress' Chhattisgarh media in-charge Shailesh Nitin Trivedi. He claimed that during the two-day convention, Bhagwat would dedicate a session to 'Patthargarhi', which has been termed the prominent cause of tribal resentment by RSS pracharaks.
"Raman government has failed miserably to implement tribal welfare measures, including implantation of Panchayuats Extension to the Scheduled areas (PESA) act, benefits of Schedule 5 of the Constitution, not a single meeting of Adivasi Mantrana Parishad was held in 15 years and so on."
Congress stands by 'Patthargarhi', recognizing it as a Constitutional right of the tribal population, said Trivedi, alleging BJP MPs and several union ministers had taken out a rally in Jashpur district recently before breaking down the stone installed by tribals and chanted Jai Shri Ram.
| Edited by: Sanchari Chatterjee
Read full article
Countdown To
Elections Results
To Assembly Elections 2018 Results