Top Maoist Leader Carrying Rs 8 Lakh Reward, DVF Jawan Killed in Gun Battle in Odisha's Malkangiri
Rakesh Sodhi, the platoon leader of Andhra-Odisha Border Special Zonal Committee of the Maoists, was killed in the encounter that took place in the Kadamguda-Sonuguda jungle.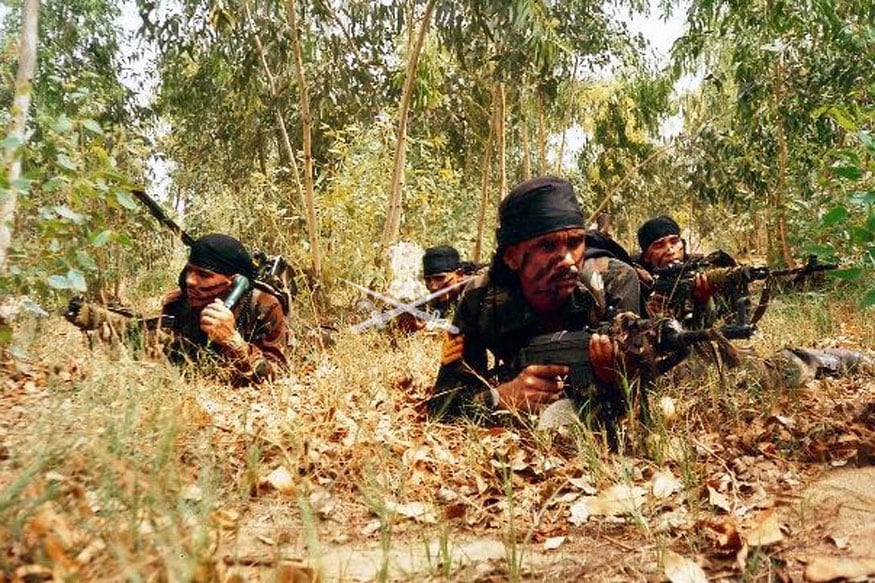 (Representative image/ Courtesy: Indian Army website)
Bhubaneswar: A top Maoist commander, wanted by police for over a decade, was gunned down by security personnel in an exchange of fire in a jungle in Odisha's southern Malkangiri district on Wednesday. A security personnel was also killed in the encounter.
Rakesh Sodhi, the platoon leader of Andhra-Odisha Border Special Zonal Committee of the Maoists, was killed in the encounter that took place in the Kadamguda-Sonuguda jungle. The 40-year-old rebel leader, a divisional commander in the maoist ranks, was a resident of Sukma district in neighbouring Chhattisgarh and carried a reward of Rs 8 lakh on his head, the police said.
During the encounter, led by Malkangiri superintendent of police Khilari Rishikesh Dnyandeo, Odisha Armed Police Force (OAPF) jawan Jay Singh Kabasi was killed. Another jawan, Ram Singh Durua, was also badly injured during the shootout. He was then airlifted to Vishakhapatnam for treatment, following first aid administered at a hospital in Malkangiri.
"Security forces comprising of Special Operations Group (SOG) and District Voluntary Force (DVF) of Odisha Police had initiated combing operations in the hilly terrains soon after receiving information about a gang of Maoists assembling there. Security forces retaliated after the Maoists fired at them. Arms and ammunition have also been seized from the encounter spot," said Odisha police DIG (southwestern range) Shafeen Ahmed.
An AK-47 rifle, a .303 rifle and some cartridges were recovered from Sodhi, the police said. Police sources claim at least 15 Maoists had assembled in the jungle on Tuesday night, and had plans to carry out violent activities in the area.
Sodhi was allegedly involved in over a dozen incidents of Maoist violence in Odisha, Chhattisgarh and Andhra Pradesh. The landmine blast at Kalimela in Malkangiri, that killed 17 SOG personnel in July 2008, the IED blast at Janiguda in February 2012, which killed four BSF jawans, murder of a police sub-inspector at Khairpur Bazar in 2012, and an attack on CRPF jawans at the MV-79 Bazar in 2007 were among the major incidents where he played a critical role, said police officials.
"This operation is a major success for Odisha police as a top Maoist commander was killed. It is unfortunate that a jawan was also killed and another injured," said Odisha DGP Bijay Kumar Sharma in the afternoon. "Considering the amount of rounds fired by the security forces, we believe more Maoists have been killed or injured. Search operations are underway in the area since the encounter ended. We are yet to get any more bodies," he added.
"We want to take aggressive postures against the Maoists. Intelligence inputs play a crucial role in this. We will act fast on information we receive, so as to combat the Maoist menace effectively," said Sharma, who assumed charge as DGP on August 7.
The encounter comes two days after an Inter-State Council meeting on Maoist operations was held in New Delhi, where Odisha Chief Minister Naveen Patnaik urged the Centre to strengthen telecommunication services, banking facilities and railway connectivity in the state's Maoist-hit districts of Malkangiri and Nabarangpur.
"Deeply anguished by the death of a District Voluntary Force (DVF) jawan in a Maoist attack in Malkangiri. Convey my heartfelt condolences for the martyred jawan and hope the bereaved family has courage to overcome the irreparable loss," the CM wrote in a Tweet.
(With inputs from Mahendra Panigrahi and Navesa Mohanty)
Get the best of News18 delivered to your inbox - subscribe to News18 Daybreak. Follow News18.com on Twitter, Instagram, Facebook, Telegram, TikTok and on YouTube, and stay in the know with what's happening in the world around you – in real time.
| Edited by: Karan Anand
Read full article