Metro accident chokes traffic in south Delhi
The traffic was completely choked on all roads leading to south Delhi.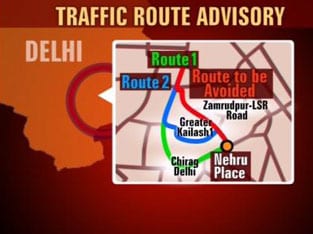 The traffic was completely choked on all roads leading to south Delhi.
New Delhi: Office-goers in many parts of south Delhi had to struggle for hours to reach their offices on Monday as traffic came to a halt in areas leading to the site where six people were killed after a section of the Delhi metro track under construction collapsed on Sunday.
The traffic was completely choked on all roads leading to south Delhi's commercial Nehru Place area and heavy traffic jams were reported in Greater Kailash, Moolchand, Amar Colony, East of Kailash and Zamrudpur.
Following the traffic diversion in the areas, commuters were seen struggling in serpentine jams with vehicles just not moving.
The Delhi Metro Rail Corporation (DMRC) had on Sunday closed the traffic on the roads in East of Kailash, Amar Colony and around Lady Shri Ram College to clear the debris from the mishap site.
The traffic was supposed to resume in the area at 0600 hrs on Monday but could not as relief work was still going on. The showers on early Monday morning also affected the relief operations at the site.
Anshuman Singh, a financial consultant, said, "It has been almost three hours since I have been stuck in East of Kailash. I have no clue when I will reach my office in Nehru Place. The traffic is just not moving."
Many people left their vehicles and started walking to reach their destinations.
"I got down from the auto rickshaw and have been walking for half-an-hour. I don't know how long I will have to walk for all the roads are jammed," said Sangeeta Singh, who works in a software company in Greater Kailash.
Traffic Supervisor at the site Virendar Kumar said, "The work is in progress and the traffic was supposed to resume but it has been delayed."
"The work is going on at war footing and debris are likely to be cleared by late Monday evening," a DMRC official said.
The water and power supply in the area had not been resumed for the second consecutive day.
Kishore Kumar, who runs a tea shop just 100 metres from the site, said, "Work has been going on all night. It stopped for some time in the morning. There has been no electricity and there is no water supply. We were using the generator but we have stopped it now."
Get the best of News18 delivered to your inbox - subscribe to News18 Daybreak. Follow News18.com on Twitter, Instagram, Facebook, Telegram, TikTok and on YouTube, and stay in the know with what's happening in the world around you – in real time.
Read full article