Train 18, India's First Engine-less Train, to Go on Trial Run in UP Today; Will Head to Rajasthan Next
High-speed trials will be conducted between Kota and Sawai Modhopur after the Moradabad trials.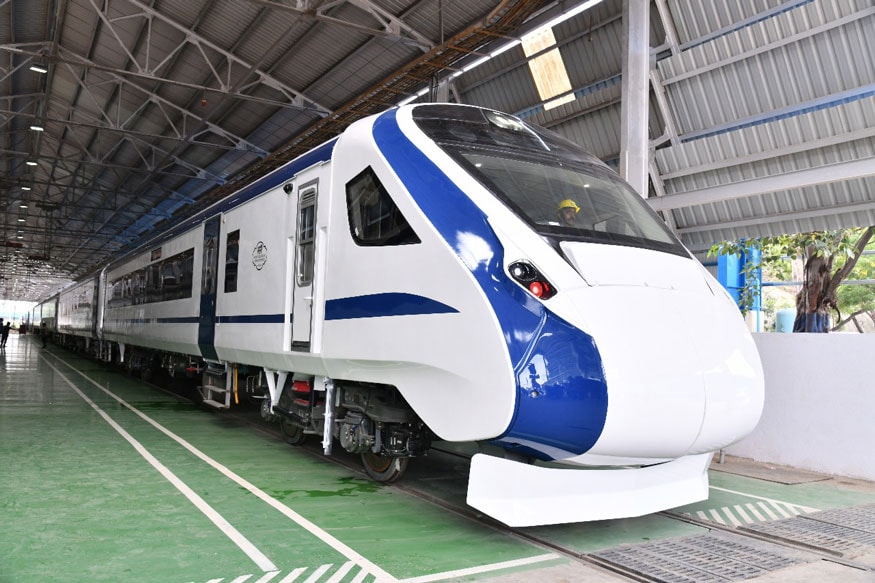 File photo of Train 18.
New Delhi: The newly launched first engine-less train in the country, 'Train 18', will go through a trial run on the Bareilly-Moradabad section on Saturday.
The train, regarded as a successor to the 30-year-old Shatabdi Express, is driven by a self-propulsion module sans a separate locomotive, the train, capable of running at a speed of up to 160 kmph, comes with technical features for enhanced quick acceleration. The swanky 16-coach prototype without a locomotive (engine) will cut travel time by 15 per cent compared to the Shatabdi.
Developed by the Chennai-based Integral Coach Factory in 18 months, the full AC train is designed in such a way that passengers can have a look at the driver's cabin.
During the locomotive's trail run in Tamil Nadu in October, the train had reportedly developed some glitches. However, the Railways has sought to downplay it.
"During the low speed trials of Train 18, a power disarray was noticed - technically called harmonics - which led to blowing up of fuses and activation of safety (systems) at (electricity) sub-stations and stalling of some locomotives in the section," S Mani, General Manager of Integral Coach Factory (ICF) that has manufactured the train, told IANS.
After finishing the trials in the city, Train 18 left for Delhi on November 11 and reached the capital two days later.
"After the test-run, the Train 18 was hauled by a locomotive to take it to Delhi as it should not run on its own until the Commission of Railway Safety certifies it," the official said.
High-speed trials will be conducted between Kota and Sawai Modhopur after the Moradabad trials. Train 18 is capable of touching 200 kmph provided that the rest of Indian Railways' system such as tracks and signals permit, Mani said.
Get the best of News18 delivered to your inbox - subscribe to News18 Daybreak. Follow News18.com on Twitter, Instagram, Facebook, Telegram, TikTok and on YouTube, and stay in the know with what's happening in the world around you – in real time.
| Edited by: Sumedha Kirti
Read full article