'5 Sheds, 90 Army Tents, 30 Heavy Vehicles': How China is Ramping Up 'Activity' in Doklam
Sources said that on March 23, the Chinese started work on 12 km stretch of road connecting Doka La with a Chinese forward military base called Yatung. This construction is happening in an area called Merug La.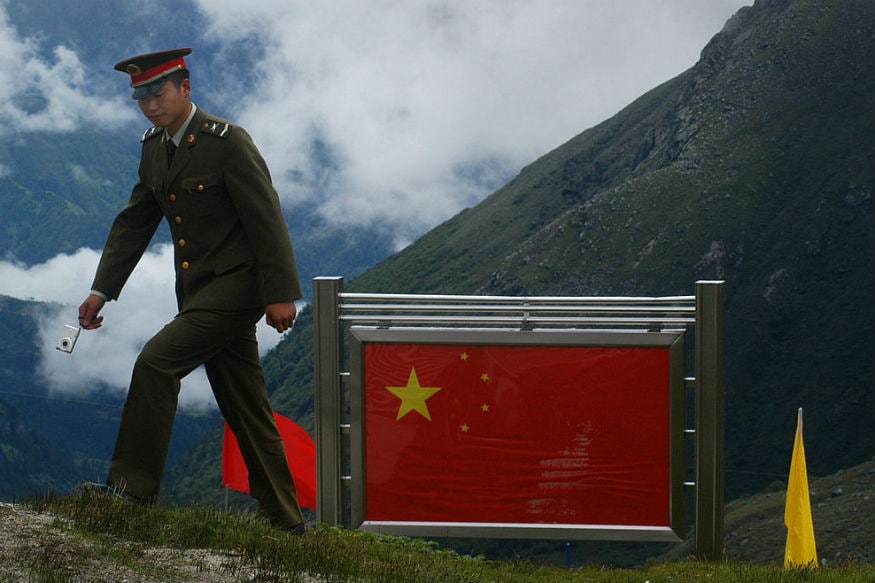 The Indian and Chinese armies had engaged in a standoff over Doklam last year. (Representative image/Getty Images)
New Delhi: Hours after reports of a top US official, claiming resumption of construction activities in the disputed Doklam area came out, News18 spoke to a few highly placed sources to find out the nature of this construction work.
It turns out that the Chinese are resuming the same project — to connect Doklam (or Doka la as India officially refers to it) to the rest of its network of roads — whose development led to protests from India and the 73 day stand-off between troops from both countries in June last year, before a "disengagement" was announced on August 28. Sources say that a "major construction" work is right now going on in the area.
Sources said that on March 23, the Chinese started work on 12 km stretch of road connecting Doka La with a Chinese forward military base called Yatung. This construction is happening in an area called Merug La.
Sources say that between eight to ten construction vehicles have been seen in the area, five temporary sheds have been constructed possibly to conceal the construction activity from Indian satellites, nearly 90 tents have been pitched to house Chinese military and workers. Also 30 heavy vehicles have been seen in the area.
The motive behind building this road is to connect Doka la plateau with the network of Chinese highways, one of which – the S-204, ends in the forward military base of Yatung located in the northeast of the Nathu La pass. The road from Yatung goes towards Asam and from there some pathways connect it to Doka la.
However, Minister of State for External Affairs Ministry V K Singh rubbished the claims, saying that there have been no new developments at the site of the face-off with China in Doklam and its vicinity, and status quo prevails in the area.
"Since the disengagement of Indian and Chinese border personnel in the Doklam area on August 28, 2017, there have been no new developments at the faceoff site and its vicinity. The status quo prevails in this area," Singh said in a written reply to a question in Rajya Sabha on whether China has constructed new roads in the southern part of the Doklam Plateau.
But reports say that Chinese have been carrying out not just civil infrastructure work in the Doka la area. Earlier this year in January, several media reports had highlighted a massive construction work by Chinese of a full-fledged military complex near the disputed plateau area. These reports went on to state that the Chinese were preparing themselves for another Doka La style face-off.
Reacting to these reports, Chinese officials had defiantly remarked, "We will keep building infrastructure in Doklam and India has no business to comment on construction activity on Chinese territory."
The Chinese foreign ministry spokesperson Lu Kang was quoted as saying, "China is exercising its sovereignty in its own territory. It's legitimate and justified. Just as China will not make comments about Indian construction of infrastructure on India's territory, we hope other countries will not make comment on China's construction of infrastructure on its territory."
He had also added, "China's position on the Donglong (Doklam) area is quite clear. Donglong always belonged to China and always under China's effective jurisdiction. There is no dispute in this regard."
The "major construction" work that the Chinese are carrying out in the Doka la area was perhaps one of the things that G Wells, the Principal Deputy Assistant Secretary of State for South and Central Asia, had in mind when she responded to a query in a Congressional hearing, when she said that the Chinese had quietly resumed their activities in Doka la.
The question was posed by Congresswomen Ann Wagner, "Although both countries back down, China has quietly resumed its activities in Doklam and neither Bhutan nor India has sought to dissuade it. China's activities in the Himalayas remind me of its south China Sea policies. How should our failure to respond to the militarisation of the South China Sea inform the international response to these Himalayan border disputes?"
To this, Wells responded, "I would assess that India is vigorously defending its northern borders and this is a subject of concern to India… we're trying to gather like-minded countries who can bring resources to the table, who can coordinate assistance and an effort so as to provide countries with meaningful alternatives."
Get the best of News18 delivered to your inbox - subscribe to News18 Daybreak. Follow News18.com on Twitter, Instagram, Facebook, Telegram, TikTok and on YouTube, and stay in the know with what's happening in the world around you – in real time.
Read full article