INDIA
Donald Trump or Hillary Clinton: Who is Good for India?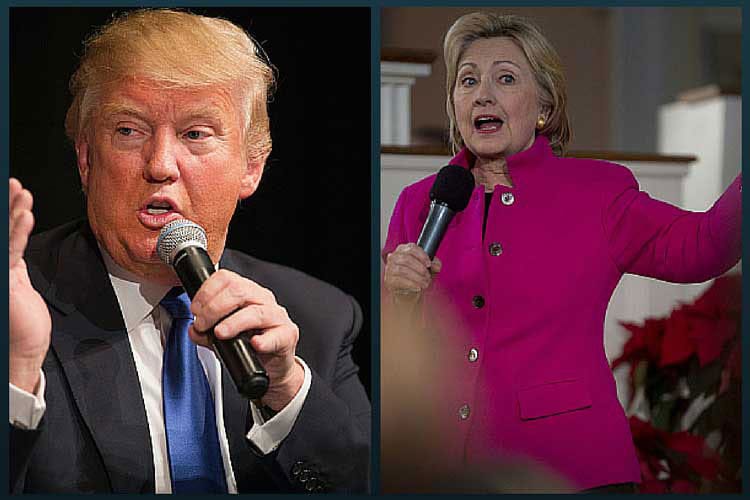 Recall November 1999, when George Bush was the Republican frontrunner for President of the United States. When asked on a TV show to name the prime minister of India, his answer was, "The new prime minister of India is - no."
If it's any consolation, he did even worse with close ally Pakistan, naming the army officer then running the country as "General" (it was Pervez Musharraf, who had thrown out Nawaz Sharif the month earlier).
In retrospect, Bush turned out to be good for India, overturning decades of State Department thinking and policy to build closer relations, crafting the nuclear deal that ended India's pariah status.
The point is, too much need not be read into the utterances of the current lot of US presidential hopefuls, more so when the uncertainties surrounding the nomination (whether Republican or Democrat) appear to be deepening.
"We don't know what's going to happen there, what direction the election process could take," points out C Raja Mohan, Director of the Carnegie India think tank. "All manner of statements are being made, what does one make of them?"
In the last few months, Trump has accused Indians of taking American jobs and then appeared to back off: "India is doing great. Nobody talks about it. I have big jobs going up in India. But India is doing great."
He also appeared to change his tune on the grant of H1B visas to skilled Indian software professionals, saying: "The H-1B program is neither high-skilled nor immigration. These are temporary foreign workers, imported from abroad, for the explicit purpose of substituting for American workers at lower pay."
Prof. Chintamani Mahapatra, who teaches American politics at Jawaharlal Nehru University, blames the highly vitiated campaign, the divisions within the Republican camp and Trump's own larger than life persona.
Trump, argues Mahapatra, is yet to lock in the nomination and the conspiracy theories about the Republican Convention being rigged to defeat him, have added to his insecurities. But in the event Trump emerges triumphant, Mahapatra believes there will only be incremental change in policy.
"You have Congress, there's the State Department bureaucracy and the Pentagon, all of which are key players deeply invested in the current system and policy. As regards India, across the political divide there's consensus on ensuring the strategic partnership with India grows."
It may not be any different with Trump's rival Ted Cruz, who's been more circumspect about India (although less illuminating): "There are millions of peaceful Muslims across the world in countries like India." He went on to say countries like India are not seeing problems that "we are seeing in nations that are controlled by Al Qaeda or ISIS."
Democrat hopeful Bernie Sanders voted against the nuclear deal and is known to oppose the H1B visas programme. Does that make him anti-India? Unlikely, say Indian diplomats. He's fighting for the rights of the "average America Joe" sidelined by Wall Street exporting jobs overseas; he wants to set America right and is responding to the distress of blue collar workers.
Both Trump and Sanders, says Mahapatra, seem to represent a churn in the American political system reflecting disillusionment with the established political parties and their policy priorities.
Many Indians may view Hillary Clinton as their best bet. She brings to the table familiarity and friendship not least because Indian Americans have reportedly invested millions of dollars in her election campaign.
A Hillary presidency will be good for India but it's important to remember that she'll be out there batting for US interests. It will be hard diplomacy and harder economics, not much different from what it is now.
(Surya Gangadharan is a Defence, Foreign & Strategic Affairs expert. Currently he edits a magazine "Parliamentarian". He has earlier held senior editorial positions in CNN-IBN, NDTV, Indian Express, India Today & Strait Times of Singapore)
Support the daily wage earners who have been hit the hardest by the COVID-19 crisis. Click here to contribute to the cause. #IndiaGives
The daily News18 Coronavirus COVID-19 newsletter - Get your copy here.
Subscribe to News18 Daybreak. Follow us on Twitter, Instagram, Facebook, Telegram, TikTok and on YouTube
Read full article