Truth of Kasganj: How Riots on Facebook Started Six Days Before Jan 26 Violence
On January 20, six days before the riots, a local Hindu boy wrote a communally provocative message on Facebook. It turned into a hot-blooded patriotic contest. This is what led to a face-off on January 26.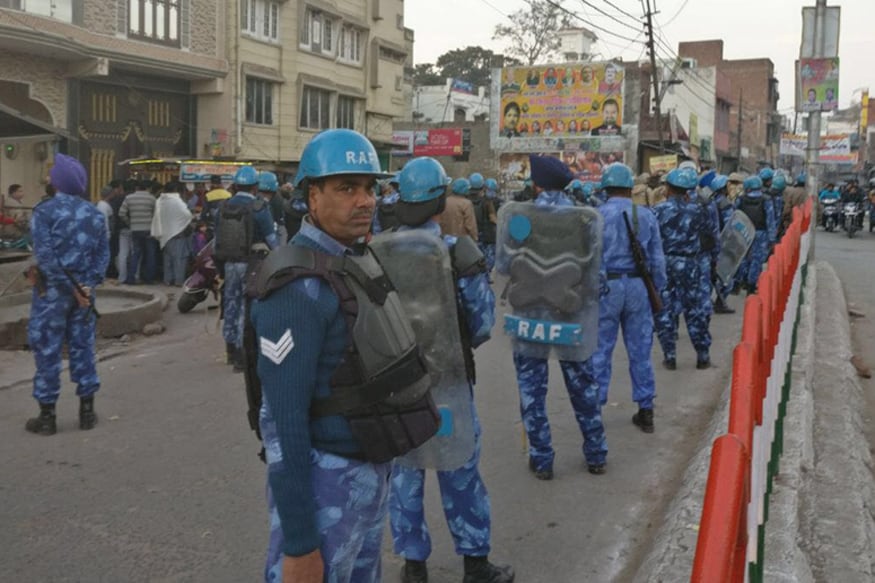 RAF deployed in violence-hit Kasganj. More than 100 people have been arrested so far. (Image: Suhas Munshi/News18)
Kasganj: On the evening of January 20, a boy from Kasganj wrote a Twitter post sharing a Facebook status, which has now been deleted, and tagged UP Chief Minister Yogi Adityanath and UP police. He wrote: "Please look into the matter. This could turn into huge Hindu Muslim (sic)."
This warning was issued almost a week before the communal clashes broke out in Kasganj, killing one and injuring over a dozen.
The above post was followed up by three other posts on Twitter, tagging other official UP police handles. In one of the three subsequent posts, he tagged Union Home Minister Rajnath Singh, with the same message: "Pls look into the matter. This can be a Hindu Muslim here [sic]."
He also messaged SP Sunil Kumar Singh on his Facebook account. Singh has now been transferred to Meerut. "Had I known that all my warnings on Facebook and Twitter wouldn't be taken seriously by the administration, I would have penned a letter to the authorities."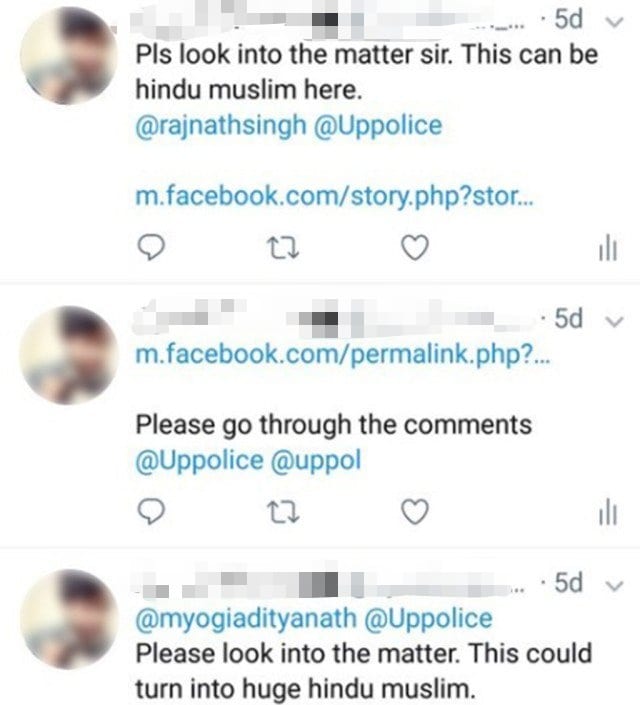 But what had prompted him to send out these alert messages? That now deleted Facebook post.
Earlier during the day, a local Hindu boy had written this on his Facebook account: "Yogiji ne mussalmaano ko keh diya, Pakistan jaana hai to chale jao. Agar bhaada nahi hai to main de dunga. Jai Yogiji. (Yogi Adityanath has told the Muslims that they can go to Pakistan if they want. I will give them the travel fare if they can't afford it.)"
The post immediately instigated a local Muslim man to respond, "Ye Hindustan kya tumhare baap ka hai?"
Communally charged commentary flowed from both sides. More than a thousand comments were eventually exchanged. The volley of abuses ended with a Muslim man issuing a challenge, "Chamunda Gate pe aakar bata" (come to Chamunda Gate and say it), to which the Hindus responded with "aayenge, zarur aayenge" (we will come, for sure).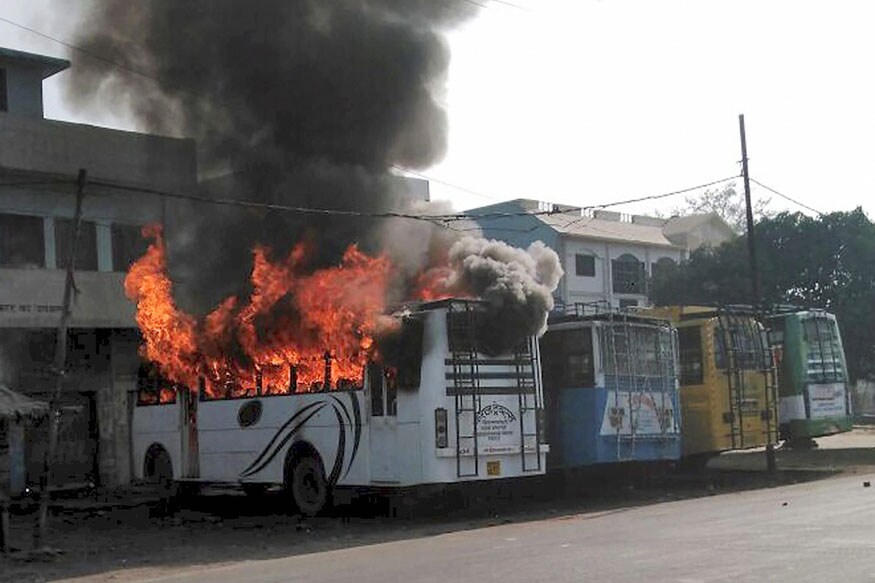 A bus set on fire in Kasganj during last week's violence. (PTI Photo)
This is not the first time that such provocative messages have been shared on Facebook. Over the past few months, several such provocations have been made but they never flared up and ended on the social media platform itself. This time, however, Abhishek Gupta alias Chandan and his friends decided to respond in person.
"I got members of both the communities to talk to each other. But I knew that this was just a stop-gap arrangement. I knew that the heat hadn't dissipated," he told News18.
He is the vice-president of a local NGO, Sankalp foundation, and 22-year-old Chandan was one of its members.
But why was the Facebook post taken so seriously? Doesn't this sort of communal sloganeering happen on social media platforms often? What prompted the Hindu boys to respond to a mere challenge issued in a Facebook post?
"See you people in Delhi may tend to ignore or block such objectionable posts. But here, the new generation is made of different stuff. Har gali mein se ladke Modi aur Yogi banna chahte hain. Har koi neta banna chahta hai."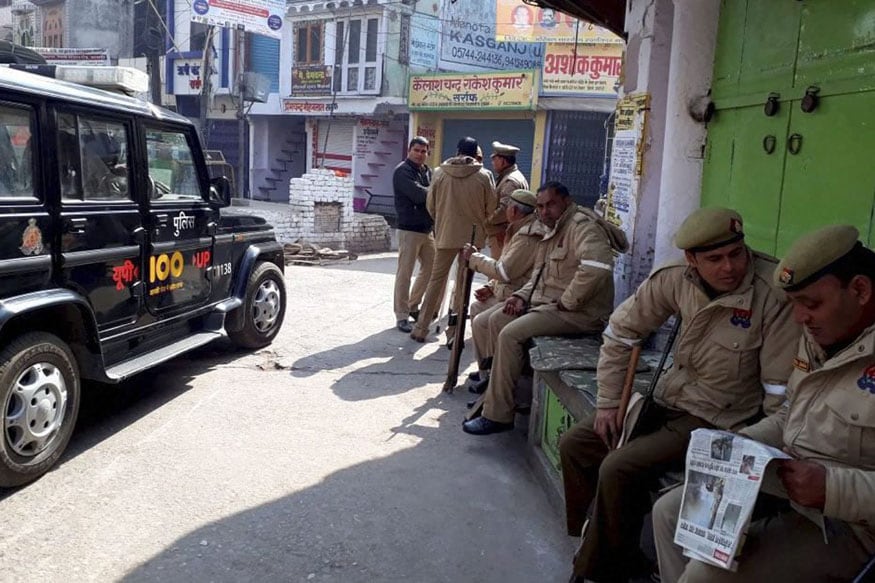 Police personnel deployed in violence-hit Kasganj. More than 100 people have been arrested so far. (PTI Photo)
His fears were confirmed when on the night of January 25, he got a call from one of the Hindu boys informing him that they were planning to go to Chamunda Gate to take up the challenge. "Hum jaa to rahe hain kal, lekin koi diqqat to nahi hogi?" He says he asked the boys to not go.
On the morning of January 26, around 80 boys carrying the tricolour and saffron flags, reached Baddu Nagar near Chamunda Gate — an area densely populated by Muslims — and asked them to chant objectionable slogans.
There are two versions of what followed this encounter. While the Hindu community claims they had just asked the Muslims to chant Vande Mataram and were beaten up and fired upon by the Muslims, which resulted in Chandan's death; the Muslims claim their Republic Day celebrations were mobbed by Hindus, who beat the local Muslims and clashed with the police, which led to Chandan's death.
What is not disputed though is the fact that it was communal violence partly provoked by a war of words on Facebook, which makes the Kasganj clashes one-of-its-kind in the country.
Yet, Facebook isn't the only culprit here.
CHANDAN AND THE MAKING OF RIOTS
Abhishek Gupta, popularly known as Chandan, came from a lower middle class family or "Ekdum nyuunatam varg," as his father Sushil Gupta put it. Unemployment, which affects nearly 40% of the local youth, played its part in shaping the social and political life of youngsters like Chandan.
Chandan lived in Kasganj's Shivalay Gali, in a two-room ground-floor apartment in an unauthorised colony. His 51-year-old father is a compounder at a private hospital and his brother is studying pharmacy to follow his father's footsteps. Apart from this small house, the family owns almost nothing.
Chandan used to travel outside Kasganj, had come to Delhi and Ghaziabad between January 20 and 22 but had little hopes of finding employment in the Capital, while in Kasganj there was little to do. After finishing his BCom from KA College in Kasganj, he did not have much to look forward to.
But he had ambition and lots of time to himself. Seven months ago, Chandan and his friends, some of whom spoke to News18 on condition of anonymity, decided to invest their time elsewhere. Most of these friends, who have gone underground following a police crackdown, describe themselves as 'politicians' or 'political workers' on social networking websites.
They found an NGO called Sankalp Foundation. The idea being to provide blood and clothes to needy people in the area. Sankalp foundation, which operates from a single room office, had begun to generate a lot of goodwill in the area. The NGO members, including Chandan, often posted photographs of themselves donating clothes to the area's poor. The NGO has around 85 members, most of who are Hindu.
Chandan and his friends also revived the little-known Baba Sher Nath temple, part of the Gorakhpanth sect, of which UP Chief Minister Yogi Adityanath is the chief priest.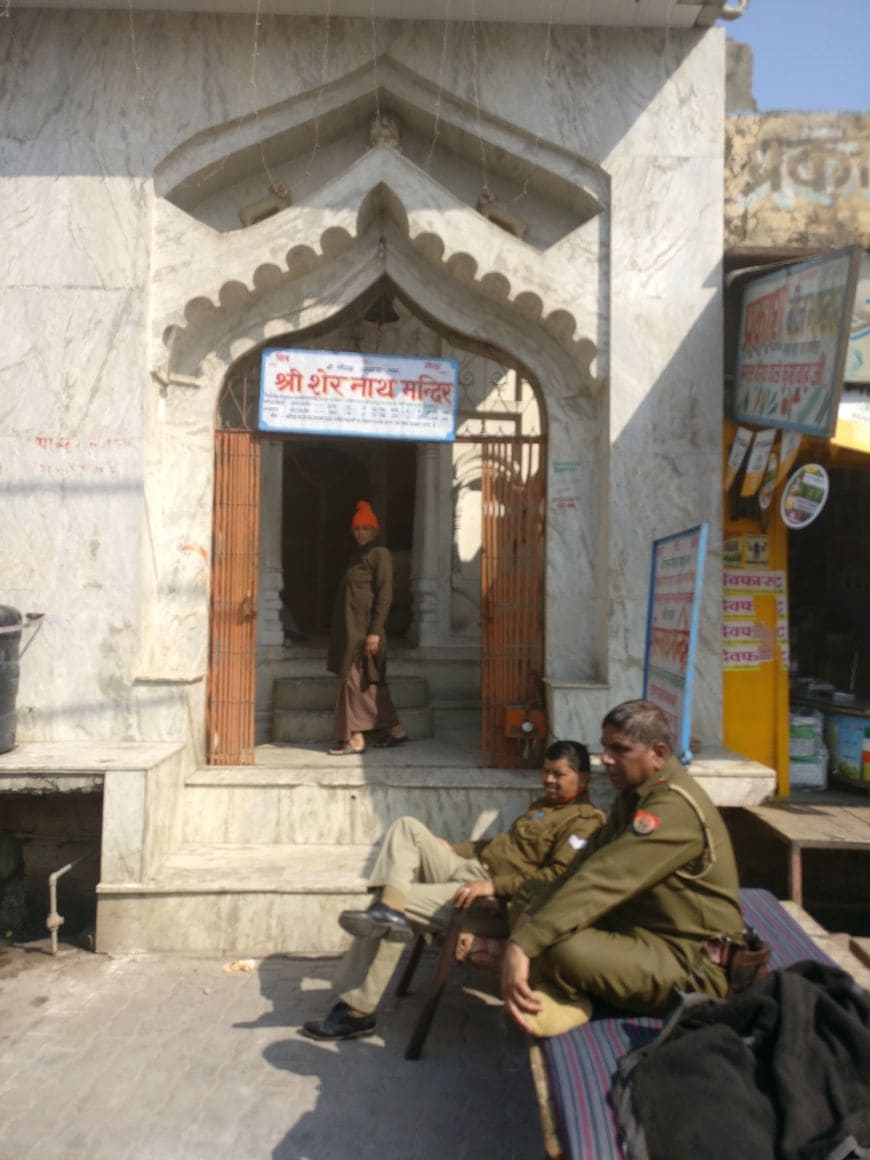 The Baba Sher Nath temple in Kasganj. (Image: Suhas Munshi/News18)
"It was around seven months ago that the boys told me they wanted to help with kirtans and bhajans. We welcomed them and every Tuesday, the boys would hold kirtans here and invite people from across the town to visit. Over the past few months, we gathered a huge following and the boys had become patrons of the temple," temple priest Mahant Somnath told News18.
On January 21, the boys decided to celebrate the foundation day of the temple and took the idol of Gorakhnath Baba around the city. "The Muslims were really perturbed for some reason. The boys had a scuffle with Muslims there. They had also invited Yogiji [the CM] to visit the temple and had some big plans in mind. But probably for the violence here Yogiji has decided to stay away," Somnath said.
In less than seven months, Chandan and his friends were the toast of the area's Hindu community and quite unsurprisingly, they managed to create a rift with the Muslims.
Some of these boys even held a protest against Padmaavat in Kasganj.
"Haal filhaal mein yahan ke ladkon mein deshbhakti ki bhaavna kuch zyada hi bad gayi thi. Yahan ke Mussalmaan deshbhakt hote hue bhi paraye ho gaye (In the past few months, the boys grew a little too patriotic and the Muslims here became enemies despite being quite patriotic themselves)," said a close friend of Chandan, who did not wish to be named.
Chandan and his friends, while running the NGO and the local temple, also started discussing the 'objectionable' behaviour of the Muslims. "One of the problems we had was that while Yogiji had asked for loudspeakers to be taken down from mosques, the Muslims still continued to announce the azaan at full volume. We had a serious problem with this," said another friend of Chandan.
REACTIONARY PATRIOTISM
The events of January 26 and communal violence that later broke out happened in context of recent phenomenon in Kasganj — an in-your-face kind of nationalism, a reactionary and identity based patriotism, which the town has never seen.
It was for the first time on August 15 that Chandan and his friends from Sankalp Foundation decided to carry out a march across the town with the tricolour. Fearing a backlash in their maiden venture, the boys sped through the Muslim-dominated Baddu Nagar area and ended the event quietly.
However, on January 26, they had bigger plans in mind and everyone in the town knew about it and tempers were also running high after the Facebook post.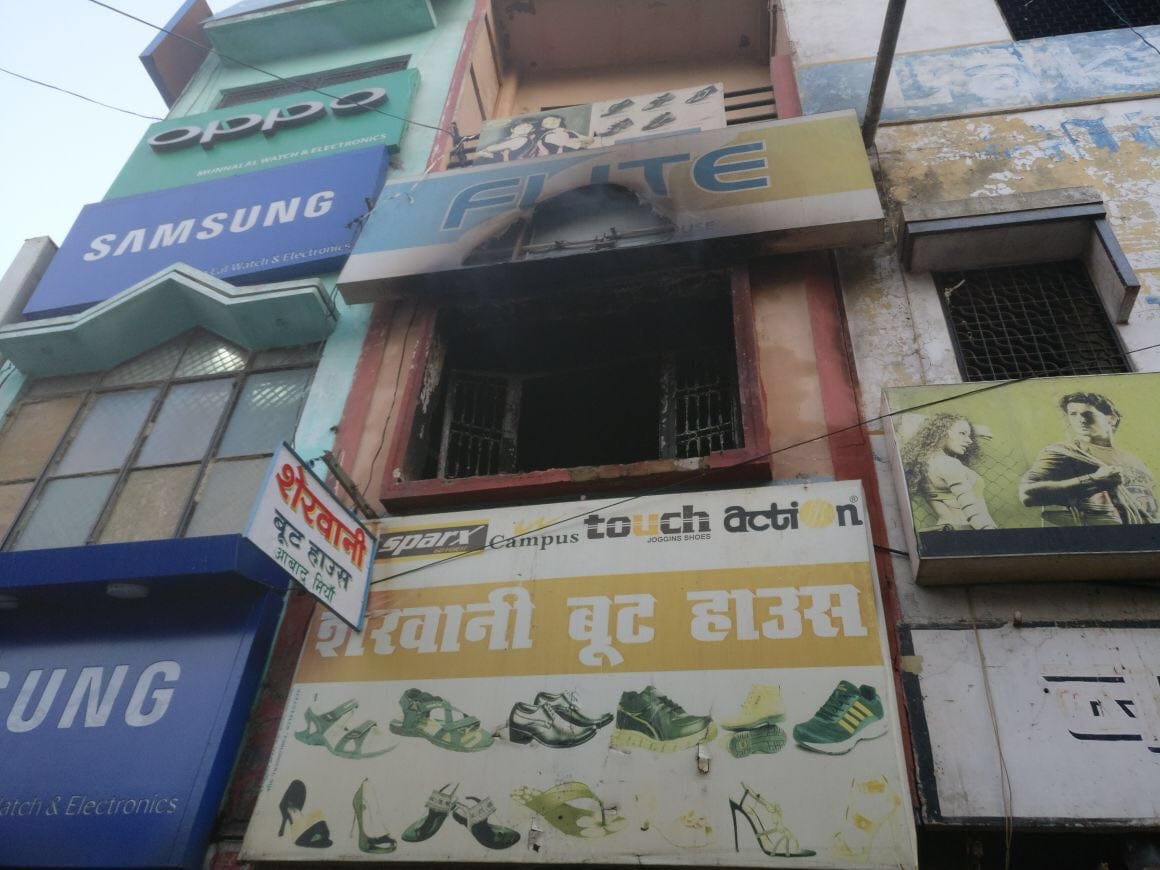 Shops were burnt, houses vandalized in the violence ensuing a war of words on Facebook and Republic Day events. (Image: Suhas Munshi/News18)
According to some, the Muslims, fearing a bigger outrage against them, decided to hoist the tricolour by themselves in Baddu Nagar before Chandan and his friends arrived.
The local Muslims claim that they have been hoisting the flag for past several years. Curiously though, they say they had never invited a social worker or politician who could vouch for these past events.
According Asif Khan, who runs an HIV awareness NGO and lives in Baddu Nagar, locals always hold two small ceremonies – one on Republic Day and the other on Independence Day — to salute the national flag and honour some children studying in a government school. "We hoist the tricolour and distribute sweets to the homeless children who study in the school nearby."
WHAT HAPPENED ON THE 26TH?
"Everyone is saying we hoisted the Pakistani flag," laments Hashim, a local businessman, as he shows some CCTV footage from the Republic Day events in which two men can be seen erecting a pole with the tricolour on it.
Though the scuffle between Hashim's friends and the Sankalp Foundation boys can't be seen in the footage, he claims that while they were peacefully celebrating the Republic Day, scores of boys came on motorcycles and initiated violence.
Reiterating Hashim's claims, Asif Khan says that the motorcycle rally was carried out by an ABVP outfit.
"We love India more than the ABVP people and we hate Pakistan more than they do. We will live and die here in India and they are nobody to teach us patriotism," Khan thundered as people around him broke into a loud round of applause.
A Hindu boy, who was part of this rally, claims there were two rallies, one conducted by the ABVP and the other by Sankalp Foundation, which had merged into one. "It was a peaceful rally but we were angered by their chants of "Pakistan Zindabad". I can show you the video where they said it."
However, despite spending a lot of time rummaging through his gallery, he couldn't find it. He promised to Whatsapp it later.
BROKEN FAMILIES
Chandan's father Sushil Gupta, who refused to accept a cheque of Rs 20 lakh issued by the Chief Minister as compensation, claims that it were the Muslims who killed his son.
His wife, daughter and sister chased the District Magistrate out of the colony when he reached the house on Sunday to hand over the cheque. They asked for a memorial in Chandan's honour and wanted the state to declare him a martyr.
Kin of Chandan Gupta along with locals participate in a dharna in Kasganj on Tuesday. (PTI Photo)
"Police didn't kill my son, the Muslims did. They fired 50-60 rounds and pelted stones at him. Every year on January 26 and August 15, the boys have been carrying out rallies for past 15 years. How would he have known that he would be killed for carrying out national service?"
His family claims that it was a Muslim boy named Waseem, son of local businessman Barkatullah Barki, who shot Chandan fatally.
But Waseem's cousin Dilshad — whose own house has been vandalised — claims Waseem was in a seminary for the past one-and-a-half months. As he's talking, his friend – Musfaqeen - who owns Prince shoe company gets flooded with calls and messages. He's repeatedly informed that his shop near the city square is being looted right now. "There is nothing I can do. I cannot go there or I'll be killed."
Communal clashes in Kasganj have consumed a life, resulted in near-fatal injuries to dozens, mass loot and arson. They have also chained people to their religious identities. Muslims and Hindus no longer dare to venture into each other's colonies. The riots have also begotten possibilities of more clashes.
One of Chandan's friends further claims that the violence will not stop here. "We have lost a brother. They haven't till now. Kasganj will not rest in peace for a long time."
Get the best of News18 delivered to your inbox - subscribe to News18 Daybreak. Follow News18.com on Twitter, Instagram, Facebook, Telegram, TikTok and on YouTube, and stay in the know with what's happening in the world around you – in real time.
| Edited by: Sanchari Chatterjee
Read full article