GET Stock

Quotes


Turning a Page, Pahalgam Hopes to Draw Tourists with Their Winter Festival
The two-day festival, being held near the Lidder river, will give a peek at Kashmir's street theatre, cuisines, ethnic foods, folk songs, wood, willow, papier mache, crewel and other hand art forms.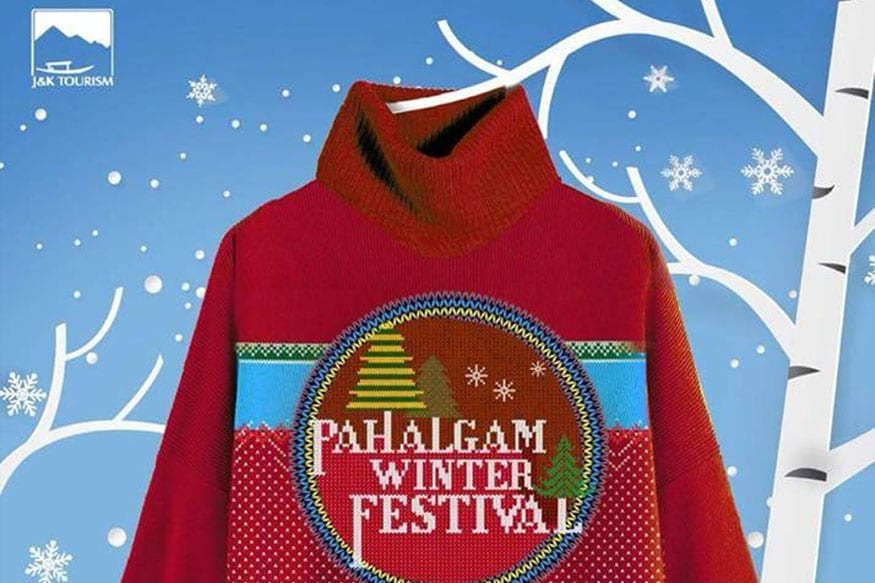 'Pahalgam Winter Festival' will be held on the 17th & 18th of February, 2018. (Image: Jammu & Kashmir Tourism/Facebook)
Srinagar:
Young, restless and creative kids are set to give a promotional push to Pahalgam - the stunning but forgotten river-valley of Kashmir.
This weekend, dozens of boys and girls will drive to the famous picnic spot and put up their exhibits in an effort to re-sell Pahalgam and hope to grab eyeballs and get tourists.
Their skills in photography, water painting, instant portrait-making, singing, music, book reading, radio jockeying and stand-up comedy are creating quite a buzz on social media and is expected to pull in a lot of local families and tourists for the Pahalgam festival, which begins this Saturday.
The two-day festival, being held near the Lidder river, will give a peek at Kashmir's street theatre, cuisines, ethnic foods, folk songs, wood, willow, papier mache, crewel and other hand art forms.
Event planner for the festival, Mahid Ali, told News 18 that 40 stalls put up by young entrepreneurs will showcase Kashmir's culture, heritage and uniqueness.
Ali said ethnic cuisines, art, music, song, theatre would draw young, old, children and curious tourists to the place - something the programme aims to target.
"Each item that we will present will have local flavour and character. Music, food, theatre, comedy will celebrate and rejuvenate Kashmir," said Ali.
She said shows like Laddi Shah (a jester who critiques government), Band Pather (folk theatre), snacks like barbecue, munjgool (fried lotus stem dipped in basin floor) and many more will attract people during the festival.
The village walk, she added, will give the local residents a chance to interact with outsiders and tourists, and display their culture.
"The walk through the village will give a sense of the creative faculties of the paper artists, bards, on-spot portrait-makers and landscape designers. It is a new concept and a great add-on," she said.
Before militancy broke out in Valley, Pahalgam was top destination for leisure vacationers and backpackers. Those willing to bend their backs and test their stamina would scale the hills of Aru, Laderwan and Chandanwari. The lazy ones would rest their backs on the greens gazing for hours at the Lidder and Shikargarh, which is a horse track that would lug you up a hilltop.
Bollywood too, untiringly, shot lilting numbers for decades together in the sylvan surroundings.
Actors romanced around the tall pines and played with foamy and bouncy waters, flowing in the narrow plain valley closed in by mountains from all sides.
But with guns roaring in last three decades, Pahalgam lost its charm of the halcyon days and the tourist traffic ebbed considerably.
The tourism department is doing whatever it can to bring back the sightseers and trekkers to the mystic valley.
The department has designed a website that sells Pahalgam as never before.
"A single click will let you know about the place, accommodation, facilities, rent etc. It is not far but just a click away now," said a tourism official.
The festival too hopes to generate quite a buzz.
Kashmir's popular radio jockey, Sardar Nasir Khan, says he loves Pahalgam and would like to see it regain its top place.
The chirpy RJ is anchoring the festival shows and says he is more delighted to be at the place with his family.
"Pahalgam in winters and snow is great attraction. I am taking kids along. I want the place to buzz,'' he told News 18.
''For a while, I want media folks to train their cameras on Pahalgam. It is an awesome place. I wish more and more locals and tourists come to Pahalgam in winters too," said Khan.
Mehmood Shah, director, Jammu and Kashmir Tourism Department, said everyone knows Pahalgam as a great spring and summer destination, but now the place offers so much in winters too.
"Ice climbing is great fun and the place is just a mile beyond Pahalgam main town. It is so near and such a big hit with the people."
Shah said ice slopes are available in Kargil, Zanskar and Leh but those places cannot be accessed in winters. "It is available in Pahalgam at cheap rates," he added.
"People should shun negative perceptions and ignore the news shown on TV about Kashmir. Let me assure them that Pahalgam is as safe as any other place in the country,'' he said.
Because of prolonged turmoil in South Kashmir, Pahalgam, off late, has lost the numbers it once used to brag about.
Tourism planners insist Pahalgam is a peace island with zero violence reported from the area.
"It is true South Kashmir is getting all the negative publicity but that is unfair on Pahalgam. There has not been a single bad incident there,"another tourism official said, adding we are turning a page now.
| Edited by: Huma Tabassum
Read full article