Tuticorin Violence: Dawn-to-Dusk Bandh in Tamil Nadu, DMK Demands Resignation of 'BJP Puppet Govt'
The DMK said the Congress, Dravidar Kazhagam, MDMK, CPI, CPI(M), Indian Union Muslim League and Viduthalai Chiruthaigal Katchi will participate in the day-long protest.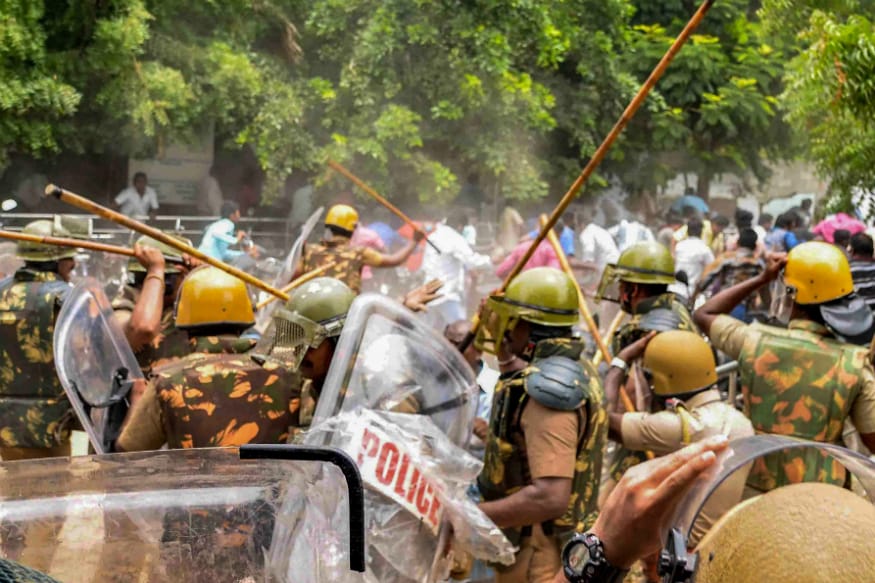 In May this year, protests calling for the closure of the factory turned violent and 13 people were killed in police action. (Photo: PTI)
Chennai: The DMK and other opposition parties in Tamil Nadu have called a dawn-to-dusk bandh in the state on Friday over the death of 13 people in police firing in protests against the Sterlite Company in Tuticorin.
The DMK has demanded the resignation of the E Palaniswami-led state government, accusing it of being a "BJP puppet". Party MP Kanimozhi accused the Modi government of remote-controlling the Tamil Nadu government and alleged that the Sterlite factory was able to thrive because of the support it received from the central and state governments.
"It is important to know who ordered the police firing that killed 13 protesters," the Rajya Sabha MP said.
In a statement, the DMK said instead of the all-party protest, a bandh would be observed to condemn the police action and demand the closure of the Sterlite copper smelting plant in Tuticorin district.
Stating that the people living in Tuticorin and its neighbouring districts were angered by the police action against the agitators, the release said, "The bandh will also reflect the feelings of Tamils."
"The DMK, the All India National Congress, the Dravidar Kazhagam, the Marumalarchi Dravida Munnetra Kazhagam, the CPI, the CPI(M), the Indian Union Muslim League, the Viduthalai Chiruthaigal Katchi and the Manithaneya Makkal Katchi will participate in the day-long state-wide protest," it added.
The police action in Tuticorin followed mass protests against the factory that locals say was depleting the water table in the region and also causing health hazards.
Tuticorin's new collector Sandeep Nanduri said that since the government had ordered an inquiry committee to probe the various incidents, it would be improper for him to comment on the issue.
But he said that power supply to the company was snapped at 5 am on Thursday.
Meanwhile, the authorities have cut Internet connectivity in the districts of Tuticorin, Madurai and Kanyakumari in a bid to prevent rumour mongering and spread of visuals and videos of police action on the social media.
Get the best of News18 delivered to your inbox - subscribe to News18 Daybreak. Follow News18.com on Twitter, Instagram, Facebook, Telegram, TikTok and on YouTube, and stay in the know with what's happening in the world around you – in real time.
| Edited by: Nitya Thirumalai
Read full article