Tweet Review: 'Hate Story', first day, first show
Rituparna Chatterjee was inside the theatre on the first day to catch the first show.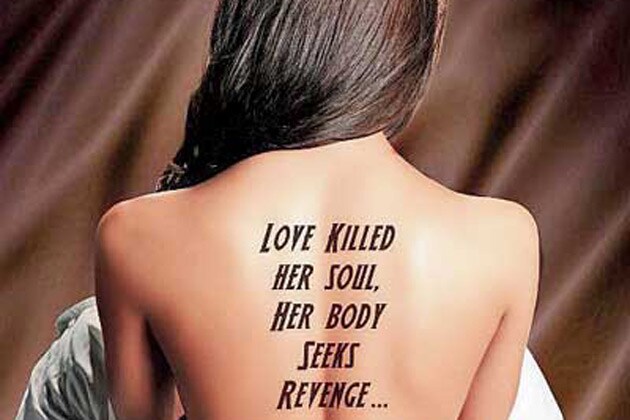 Rituparna Chatterjee was inside the theatre on the first day to catch the first show.
New Delhi: Bengali actress Paoli Dam makes her Bollywood debut with director Vivek Agnihotri's much talked about film 'Hate Story'. Bollywood actors Gulshan Devaiya and Nikhil Dwivedi also play pivotal roles in the film.
Right from its sensuous poster to the raunchy trailer, 'Hate Story' has been grabbing eyeballs from long. The film is about Kaavya played by Paoli Dam and her transformation from a journalist to a sex worker. 'Hate Story' has been produced by Vikram Bhatt.
Rituparna Chatterjee of IBNLive was inside the theatre on the first day to catch the first show. She live tweeted the experience.
10:32 AM: Tweet Review of #hatestory is about to begin.. @MasalaBai is in the theatre on the first day first show
10:33 AM: Actress @paoli_d had said in an interview with us that #HateStory is explicit but beautifully shot #tweetreview
10:35 AM: Tweeting from the first show of #Hatestory. This promised to be Bollywood's avant garde erotic thriller. #HateStory #TweetReview @MasalaBai
10:38 AM: Amar Mohile's background score is pretty impressive. #hatestory
IBNLive Movies?@IBNLiveMovies
10:39 AM: Nikhil Dwivedi is back after the much acclaimed Shor in the City. #HateStory #TweetReview.
10:41 AM: "Mai iss shehar ki sabse badi r**** bana chahti hoon"-Paoli Dam. Wii she walk the talk?#HateStory #TweetReview
10:42 AM: Kumaar and Shabbir Ahmad's lyrics blend with the overall theme of Hate Story.
10:43 AM: Catch the Tweet Review of #HateStory here http://ibnlive.in.com/news/tweet-review-hate-story-first-day-first-show/250390-8-66.html
10:44 AM: Paoli courted controversy for nude scenes in Vimukthi's Chhatrak. She's titillated here as well. #HateStory #TweetReview @vivekagnihotri
10:46 AM: Gulshan Devaiah made an impression in Shaitan. He's in a negative role here as well."Sexuality is tool that Paoli uses" he says. #TweetReview
10:50 AM: A successful expose against a powerful company kicks off #HateStory. It embeds the seed of animosity between Gulshan and @paoli_d.
10:53 AM: Gulshan adds a layer to his character by his stutter which becomes more pronounced in front of his businessman father #HateStory
10:56 AM: Kavya (Paoli) joins Siddharth's (Gulshan) company and leaves behind the profession that helped her expose his company. @paoli_d #HateStory
10:58 AM: 'I f*** the people who f*** with me,' shouts Gulshan. A steamy, semi nude bath scene ends horribly #hatestory
10:59 AM: Six f***s in a sentence brings on a resounding repeat of the word from rows at the back #HateStory #TweetReview
11:01 AM: The mellifluous song 'dil kaanch sa' brings on the kahaani mein twist. A pregnant Kavya confronts her tormentor Siddharth Dhanrajgir.
11:02 AM: "Nurse isse aisa kar do ke ye kabhi maa na ban paye!" #HateStory #TweetReview
11:08 AM: The dusky @paoli_d looks sexy as hell in #HateStory. This is not about exploring sexuality. It's about power games. #TweetReview
11:12 AM: "Kya chahiye tereko? Aap ke kothe ke sabse mehngi r***. " The dialogue will make you cringe. A storm of whistles.
11:15 AM: "Shake it, take it and fake it" - the mantra Kavya embraces. Want to sympathize but the urge to laugh overpowers. #HateStory
11:22 AM: #HateStory is getting interesting. The road to revenge is paved and ready. #TweetReview
11:26 AM: Loving the dialogues of #HateStory. So outrageously over-the-top that they actually work for the film. #TweetReview
11:28 AM: Damn! This song 'dil kaanch sa todeya' grows on you! #HateStory #TweetReview
11:31 AM: So @gulshandevaiah points out some errors in the review. Will be ammended. This man has promise. #HateStory
11:33 AM: "Chuhiye ke daat sher ke daanton se tezz hote hai par taquat toh panje mein hote hai" *slap* *siti, siti!!!* #Hatestory #Tweetreview
11:36 AM: Interval sum-up: #HateStory in first half sets the ball rolling on what promises to be a revenge saga. Gulshan impresses. @vivekagnihotri
11:38 AM: Interval: Too bad so far Nikhil has such a bit role. He's an underrated actor. Paoli overacts. But will they keep the pace? Let's see.
11:41 AM: What drives a woman to prostitution? Betrayal? Denial of motherhood? Passion? Greed? #HateStory #TweetReview
11:54 AM: Never discuss your business deals in bed - moral of #HateStory. Especially not when there's a spycam watching you!! #TweetReview
12:01 PM: Kavya in jail, as a top official of the company is found murdered. Did she not think this through? Plot thickens. #HateStory #TweetReview
12:05 PM: Don't want to nitpick but how does the woman have access to makeup during 14-day remand? Attention to details please #HateStory #TweetReview
12:09 PM: "Politics is the second oldest profession next to you know what." - Hate Story
12:22 PM: Finally!! Some intense scenes with Nikhil as the silent lover Vicky. His settling influence balances some of the loud acting. #HateStory
12:25 PM: At the end a friend and lover comes to the rescue of Kavya. #HateStory #TweetReview
12:29 PM: The movie winds down to this moment. Nikhil Dwivedi's fight scene. Will Kavya be able to reach the AGM on time? #HateStory #TweetReview
12:39 PM: Not Paoli but Gulshan takes the climax. Hamming it a bit but one of the few faces that keeps the audience gripped. #HateStory #TweetReview
12:40 PM: Where Hate Story ends, a new story starts? #TweetReview
12:53 PM: To sum up the good and bad of Hate Story. First the bad: Loud acting mars some good moments. Paoli has to brush up her acting skills.
12:59 PM: The overall story lacks coherance. But Hate Story has some standalone performances by Gulshan and Nikhil. And a brilliant background score.
1:01 PM: If you watch Hate Story with a lot of expectations about it being an erotic thriller you are bound to be disappointed. #Review
1:03 PM: The sexual overtone is just a subplot of a revenge thriller. #HateStory
1:05 PM: Thanks for being with us throughout #HateStory. Don't miss the Vicky Donor and Mirror Mirror reviews coming up soon.
Get the best of News18 delivered to your inbox - subscribe to News18 Daybreak. Follow News18.com on Twitter, Instagram, Facebook, Telegram, TikTok and on YouTube, and stay in the know with what's happening in the world around you – in real time.
Read full article