Tweet Review: Vidyut Jamwal's action-thriller 'Commando'
'Commando' is the story of an Indian Army officer, who during a training session gets inside Chinese Border by mistake.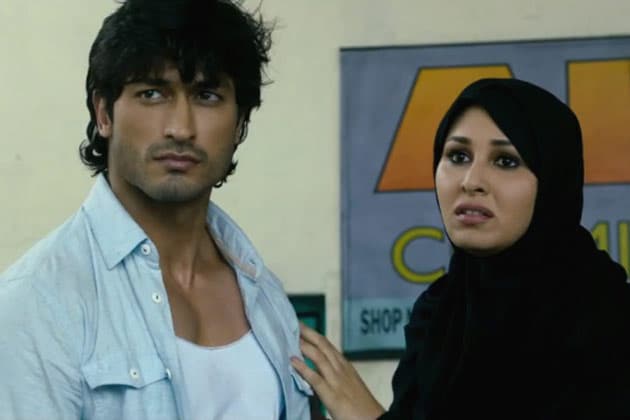 'Commando' is the story of an Indian Army officer, who during a training session gets inside Chinese Border by mistake.
New Delhi: Vidyut Jamwal, who debuted in Bollywood with an action thriller 'Force', is back to break some bones yet again in an action drama 'Commando'. After receiving applauds for his act as an antagonist in 'Force', Vidyut will now be seen in the shoes of a hero.
'Commando' is the story of an Indian Army officer, who during a training session gets inside Chinese Border by mistake. He later returns to India and runs into a girl and helps her escape from the goons.
Hollywood's ace action choreographer Franz Spilhaus has directed the stunts in 'Commando'. Directed by Dilip Ghosh, the film also stars Pooja Chopta, Jaideep Ahlawat and Jagat Rawat in pivotal roles.
Will Vidyut Jamwal be able to live up to the expectations?
1:34 PM: Stay tuned for the tweet review of #Commando.
1:35 PM: Directed by Dilip Ghosh, #Commando stars Vidyut Jamwal abd Pooja Chopra in the lead roles.
1:37 PM: #Commando is also going to feature Jaideep Ahlawat in a negative character called AK74.
1:38 PM: Vidyut Jamwal came into the spotlight after his negative role in Force. This time he is going to be the protagonist. #Commando
1:39 PM: #Commando is expected to be high on action. Vidyut trained in Kalaripayattu for the film.
1:41 PM: The Hindi film indutry hasn't given a pure action entertainer in last some years. Will #Commando fulfil the expectations?
1:46 PM: Who do you think is Bollywood's best action hero till now? Will Vidyut be able to rise to the occasion? #Commando
1:54 PM: Vidyut Jamwal has done the action scenes himself. The opening sequence promises a high octane film. #Commando
2:04 PM: 3D vichh horror show. What an entry. Jaideep Ahlawat arrives like the baddies of 80s. #Commando
2:09 PM: Pooja Chopra's future depends on #Commando. Hope she doesn't remain a showpiece in the film.
2:22 PM: Dilip Ghosh seems to be a director with a clear mindset. #Commando means action, action and some more action.
2:30 PM: #Commando has a traditional approach. One silent hero, one chirpy heroine and an over the top villain.
2:33 PM: It's actually good to focus on action in a film like #Commando. Stunt scenes can emerge as the lifesaver for this film.
2:42 PM: Hollywood has established genres as dance and action while Indian audience expect even an action film to be full of romance-comedy. #Commando
2:46 PM: Arnold and Stallone did some films which were just about stunts and they were accepted also. #Commando falls in the same category.
2:48 PM: Jaideep Ahlawat is trying hard to give dimensions to his role. #Commando revolves around just two characters.
2:53 PM: Super SloMo shots are used judiciously in Sawan Dhare song. Songs are also a way to please the Indian audience. #Commando
2:58 PM: #Commando's story is linear and full of predictable points. This can make the film monotonous.
3:02 PM: #Commando has good hand-fighting sequences but this much is not enough for a film to survive.
3:04 PM: The tempo of the film needs to go up now otherwise it won't be engaging. #Commando
3:10 PM: The Bourne Ultimatum remains the inspiration of films across the world. #Commando is also one of them.
3:16 PM: Millitary tactics have also been shown in #Commando. But the director needs to do something to keep the viewers enthralled.
3:21 PM: Vidyut is natural in action scenes. He has the potential to evolve as a very good action hero. #Commando
3:27 PM: Theatrics are needed sometimes, especially when a high voltage scene ends in Bollywood. #Commando
3:34 PM: Oh, the constraints of Bollywood filmmaking. Time for an item song in #Commando. Tu mungda main gud ki dali.
3:37 PM: #Commando heads towards the climax. We can expect some heavy duty action.
3:45 PM: Kalaripayattu can be used dangerously. #Commando's climax is extremely high on action.
3:58 PM: The story of #Commando has nothing new to offer but it gives what the trailers promised.
3:59 PM: #Commando totally relies on action scenes. Acting wise Jaideep Ahlawat is the pick of actors.
4:02 PM: Action comes naturally for Vidyut Jamwal. Pooja Chopra will take some time in understanding the nuances of film acting. #Commando
4:04 PM: #Commando is an out and out action film so your opinion towards the film depends on your choice of genre.
4:06 PM: #Commando will be liked by the lovers of action genre, provided they overlook some mistakes in screenplay and some overacting.
4:07 PM: Thanks for being with us throughout the tweet review of #Commando. Have a good day.####
Get the best of News18 delivered to your inbox - subscribe to News18 Daybreak. Follow News18.com on Twitter, Instagram, Facebook, TikTok and on YouTube, and stay in the know with what's happening in the world around you – in real time.
Read full article