Tweets: 'Satyamev Jayate' episode five
In episode five, Aamir Khan focused on the issue of honour killings in India.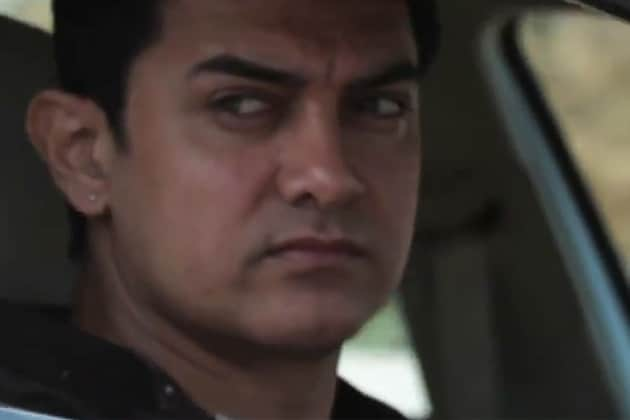 In episode five, Aamir Khan focused on the issue of honour killings in India.
New Delhi: Even after four episodes, Aamir Khan's television show 'Satyamev Jayate' is high on the popularity chart. While most of the Bollywood celebrities are seen hosting game shows and reality shows on TV, Aamir is being appreciated for talking about important social issues on his show.
Episode four of 'Satyamev Jayate' was based on medical malpractices. Highly upset with Aamir, Indian Medical Association (IMA) has demanded an immediate apology from the actor and warned him of legal action if he did not do so.
Previous episodes of the show focused on the issues like female foeticide, child sexual abuse and dowry system. Episode five of 'Satyamev Jayate' was focused on honour killing in India.
10:51 AM: Minutes away from episode five of Aamir's Satyamev Jayate...stay tuned for live tweets.
10:55 AM: What do you think will be the topic of Satyamev Jayate episode 5, any guesses?
11:02 AM: And Satyamev Jayate episode five begins...
11:04 AM: Mohabbat ki nai jati...mohabbat ho jati hai...Will Aamir talk about honour killing this time?
11:07 AM: Is love still a crime in our country?
11:13 AM: Do you know anyone who has a similar story like Lokendra & Fehmida?
11:15 AM: Rizwan Rahman's family not ready to accept that he committed suicide. Did he have to pay a big price of loving Priyanka?
11:16 AM: Where is Rizwan's wife Priyanka?
11:22 AM: Do police officials considers love marriages illegal?
11:24 AM: Pyar hi toh zindagi hai...Rizwan Rahman's mother still believes in love and doesn't want anyone to suffer like her.
11:33 AM: In India, gotra and religion are more important than a couple's life.
11:35 AM: Despite getting police protection Manoj and Babli lost their lives...
11:41 AM: Hats off to Manoj's mother and sister who are fighting for justice despite all odds.
11:46 AM: On other side of the break, Aamir will talk to Khap Panchayat members...stay tuned.
11:48 AM: Khap Panchayat is a religious caste-based council.
11:50 AM: Khap never orders to kill a couple, claims Sarv Khap Panchayat member.
11:52 AM: Khaps have no judicial powers or police force. Who has given them the authority to decided about a couple's future?
11:54 AM: Manoj aur Babli ne Kaam aur Vasna k vashibhoot ho k galat kam kia, say Khap members.
11:56 AM: Khap Panchayats do not follow Indian Constitution?
11:57 AM: The society is changing, old traditions should also change with time, Dr DR Chaudhary, Haryana.
12:00 PM: Haryana is worst in sex ratio and girls from all parts of the country are brought here for marriage, says Dr DR Chaudhary.
12:00 PM: Protection home for couples?
12:02 PM: Apne bachon ko pyar karne ki azadi do, is this problem only limited to small cities and villages?
12:06 PM: Based on the Manoj-Babli honour killing case, a Bollywood film Khap was released in 2011.
12:09 PM: Garv se kaho hum premi hain, says Sanjay Sachdev, Chairman, Love Commandos.
12:10 PM: Supreme Court also supports inter-caste marriages.
12:14 PM: Khap Panchayat members listening to Sanjay Sachdev carefully. Will it bring any change in their thinking?
12:15 PM: Love shall conquer the world...
12:21 PM: When two people decide to spend their lives together, do their families or the society have any right to separate them?
12:27 PM: Dr Alka Jain's parents finally accepted her marriage. Happiness of your children is always more important than the society...
12:27 PM: Do you think Alka and Uday's story is an example for many families?
12:31 PM: Is this right to force or threaten your children for marriage?
12:32 PM: Sona Mahapatra ends the show with 'Ghar Yaad Ata Hai Mujhe'.
12:33 PM: Another episode of Satyamev Jayate comes to an end.High on emotions, thumbs up to episode 5.
12:36 PM: What do you think about episode 5 of Satyamev Jayate?
Get the best of News18 delivered to your inbox - subscribe to News18 Daybreak. Follow News18.com on Twitter, Instagram, Facebook, Telegram, TikTok and on YouTube, and stay in the know with what's happening in the world around you – in real time.
Read full article