Two Arrested With Gun Similar to the One Used in Gauri Lankesh's Murder, SIT Steps in
The guns seized from them are 7.65 mm bore country-made type – commonplace and insignificant but for the fact that they were the same make as the one used in both Lankesh and Prof Kalburgi's killings.
File image of journalist-activist Gauri Lankesh.
Bengaluru: Two persons were arrested by the Bengaluru Central Crime Branch for illegal possession of arms this week. While this would have been a routine development in normal course, what has raised eye-brows is the special interest from the Special Investigation Team probing the death of journalist Gauri Lankesh, who was shot dead outside her house on September 5.
The guns seized from them are 7.65 mm bore country-made type – commonplace and insignificant, but for the fact that they were the same make as the one used in both Lankesh and MM Kalburgi's killings.
Kalburgi, a prominent Lingayat thinker, was murdered in his home in Dharwad by two men on a bike, in August 2015, the modus operandi was much the same as it was in Lankesh's killing.
The SIT, formed a day after Lankesh was killed, is curious about these weapon hauls. They have been tracking illegal gun-runners in the course of their 'inquiries' and, in fact, have tracked down about a dozen such in different parts of north Karnataka, particularly Vijayapura district, in the last three months.
One of the accused caught in Bengaluru on 5th December, is a 31-year-old Tahir Hussain (alias Anup Gowda), a native of Chikkaballapur. The CCB press release just says that he was arrested from a lodge near the Parappana Agrahara region, arrested under the Arms Act but had planned to kidnap a financier in Yelahanka. He has a known criminal record – cases registered against him in the past from Bengaluru to Meeraj in Maharashtra.
The second case is of Shashidar Mundewadi, a sharp shooter arrested after it was found he had bought a 7.65 mm gun from Hussain, who is a guns dealer as well. Mundewadi was arrested as he was preparing for a similar killing allegedly plotted by popular tabloid editor Ravi Belegere to eliminate his own colleague.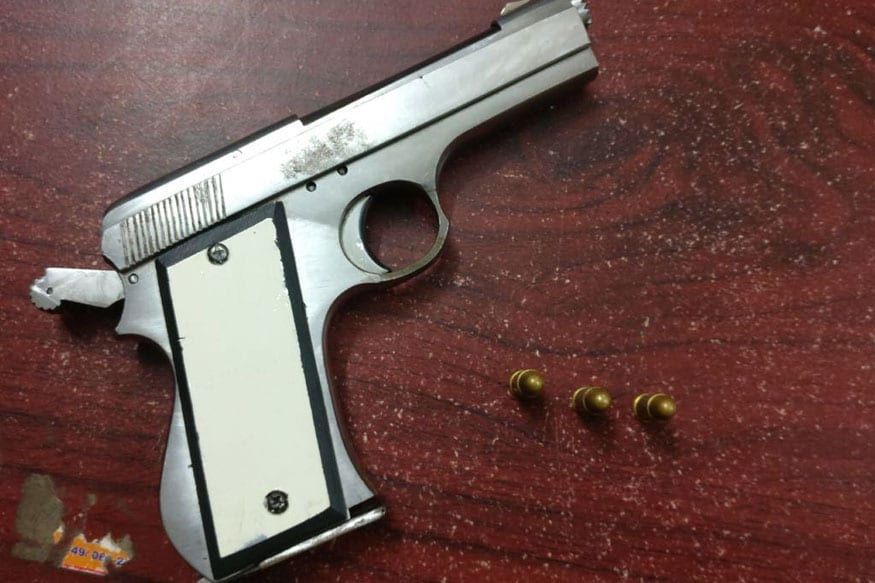 Gun seized from Tahir Hussain (Photo: CNN-News18)
What makes these two arrests interesting for them? A suspected attempt to kill another journalist – an attempt that went awry because of circumstances.
Crime branch investigators believe that less than a week after Lankesh was killed, there was another plot to kill another journalist. The assailants aborted the plan – not because there was increased security or because wasn't at home or any such thing – but purely that there were CCTVs in the target's house.
There were CCTVs in Lankesh's home too but the lights were not on. In this case, the lights were on and bright. This possibly scared away the killers – who are right now behind bars.
What ties this case with Lankesh and Kalburgi is the modus operandi and with the same kind of gun being recovered. CCB sleuths feel that they could be on to something.
The SIT, which has been struggling for a breakthrough the last three months, could find this interesting, especially considering that they have some eye-witnesses and a huge amount of CCTV footage from a lot of cameras on that fateful night.
It has already been established that Lankesh's killer had gone on a reconnaissance mission twice on that fateful day, September 5, once around 3 pm and again around 7 pm, before their final visit at 8 pm when they caught her off-guard as she got out of her car to open the gates to her home. She was shot four times from point-blank range – and all of this was captured on the CCTV camera outside her own home.
Two men on a bike, the shooter wearing a white shirt and riding pillion, with a helmet over his head that he does not remove all along: the helmet and the darkness impeding any chance of recognition. Lankesh was yet to enter her home and turn on the lights, having come rather late after a long day.
The CCTV shows that seconds after the killers leave, a local cable operator came along to answer a customer's call. And in a small room across the road, there are four people who have come out after hearing the shots and go back in.
The SIT has so far been relying on digital enhancement of the CCTV images and eyewitness accounts.
SIT sources say more than 75 TB of data have been taken together from cameras all along the routes to Lankesh's house, footage from cameras of shop and apartments around the area, along with the ones installed by the traffic police on the roads leading up to the Lankesh home. This has been collated for many hours, perhaps from a couple of days prior to September 5, to see if there were possible reconnaissance attempts earlier.
It was humanly impossible to analyse these with manually and a foreign firm was tasked with developing artificial-intelligence-enabled software to start matching images. The software is designed to throw up all possible 'similar' images – which would further by fine-toothed to find exact matches. It's gripping, gruelling pain-staking work to zero in on features of different persons but the AI is helping. And this, combined with eye-witness accounts who were able to give basic descriptions to experts enlisted by the police, led to the sketches finally being released last month.
| Edited by: Ashish Yechury
Read full article