Two flights to Kathmandu grounded in Delhi after bomb scare
Initial probe suggests that the caller was using Voice Over Internet Protocol (VOIP) to make the calls.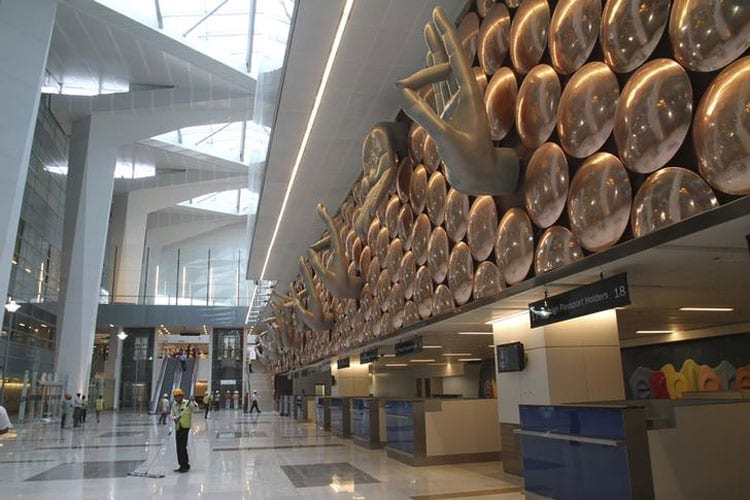 File photo of IGI airport.
Two flights to Kathmandu were grounded at the Delhi airport on Wednesday just before their departure for Kathmandu from here because of a bomb scare.
Airport sources said the two flights -- Air India flight AI-215 and Jet Airways flight 9W 260 -- were halted after the Jet Airways security office at Indira Gandhi International Airport here received an anonymous call saying there was a "bomb threat".
The two flights were scheduled to take off for the Nepalese capital at 1.15 pm and 1.25 pm, respectively.
This is the second such incident this week as on Saturday the same flight of Jet Airways was delayed by six hours due to the a bomb threat call, which later turned out to be a hoax.
While 121 passengers were booked on the Air India flight, Jet Airways said it had 122 passengers and seven crew on board its flight 9W 260.
The two aircraft have been taken to the isolation bay, where security personnel from Bomb Disposal Squad (BDS) are carrying out an extensive search of the baggage and check-in luggage of the passengers, the sources said.
"Jet Airways flight 9W 260, scheduled to depart from Delhi for Kathmandu at 1325 hrs, has been delayed due to a security alert. All 122 guests and 7 crew have been taken to the departures waiting area at the airport," Jet Airways said in a statement.
National carrier Air India also said that the flight has been delayed due the same reason.
Get the best of News18 delivered to your inbox - subscribe to News18 Daybreak. Follow News18.com on Twitter, Instagram, Facebook, Telegram, TikTok and on YouTube, and stay in the know with what's happening in the world around you – in real time.
Read full article