Doordarshan Cameraman, Two Policemen Killed in Naxal Attack in Chhattisgarh's Dantewada
The news channel crew from Delhi had arrived in the state for a coverage when the incident occurred in Aranpur area of Dantewada.
New Delhi: A Doordarshan camera person and two policemen were killed in an attack by Naxals in Chhattisgarh's Dantewada district on Tuesday.
The news channel crew from Delhi had arrived in the state for a coverage. They had interviewed SP Abhishek Pallav in the morning and were moving towards Nilabhaya when the incident occurred on Aranpur-Dantewada road. The whereabouts of a reporter, who was also a part of the crew, was not immediately known.
Briefing media on the attack, DIG (anti-Naxal Ooperations) P Sundarraj said, "Our patrolling team was ambushed today in Dantewada. Sub-inspector Rudra Pratap, assistant constable Mangalu and DD News cameraman Achyutanand were killed. Two other policemen were injured."
The bodies have been sent to Dantewada district hospital for post-mortem.
Congress president Rahul Gandhi and Sports Minister Rajyavardhan Singh Rathore condoled the deaths.
छत्तीसगढ़ के दंतेवाड़ा में हुए नक्सली हमले की ख़बर से मुझे बहुत दुःख पहुंचा है| शहीद हुए 2 पुलिसकर्मी और दूरदर्शन के कैमरामेन के परिवार के प्रति मैं अपनी गहरी शोक और संवेदना व्यक्त करता हूँ|

— Rahul Gandhi (@RahulGandhi) October 30, 2018
Strongly condemn the Naxal attack on @DDNewsLive crew in Dantewada. Deeply saddened by the demise of our cameraman Achyuta Nanda Sahu and two jawans of @crpfindia.These insurgents will NOT weaken our resolve. We WILL prevail.

— Rajyavardhan Rathore (@Ra_THORe) October 30, 2018
#DDNews had deputed team to cover #Chhattisgarhpolls, comprising of Camera person-Achyuta Nanda Sahu, Dheeraj Kumar and MM Sharma. In a #Naxal attack #AchyutaNandaSahu was martyred. The entire #DDNnews Family salutes his service and stands by his family in this hour of grief pic.twitter.com/xIh74b055g

— Doordarshan News (@DDNewsLive) October 30, 2018
The attack come weeks before the state votes in Assembly elections next month. A total of 18 assembly seats spread across eight Naxal-hit districts will go to polls in the first phase on November 12 and rest 72 seats on November 20. The opposition Congress has been trying to wrest power from the BJP which has been ruling the state since 2003 under Chief Minister Raman Singh.
Sunder, however, said that it is yet to be investigated if the attack had any links with the upcoming polls.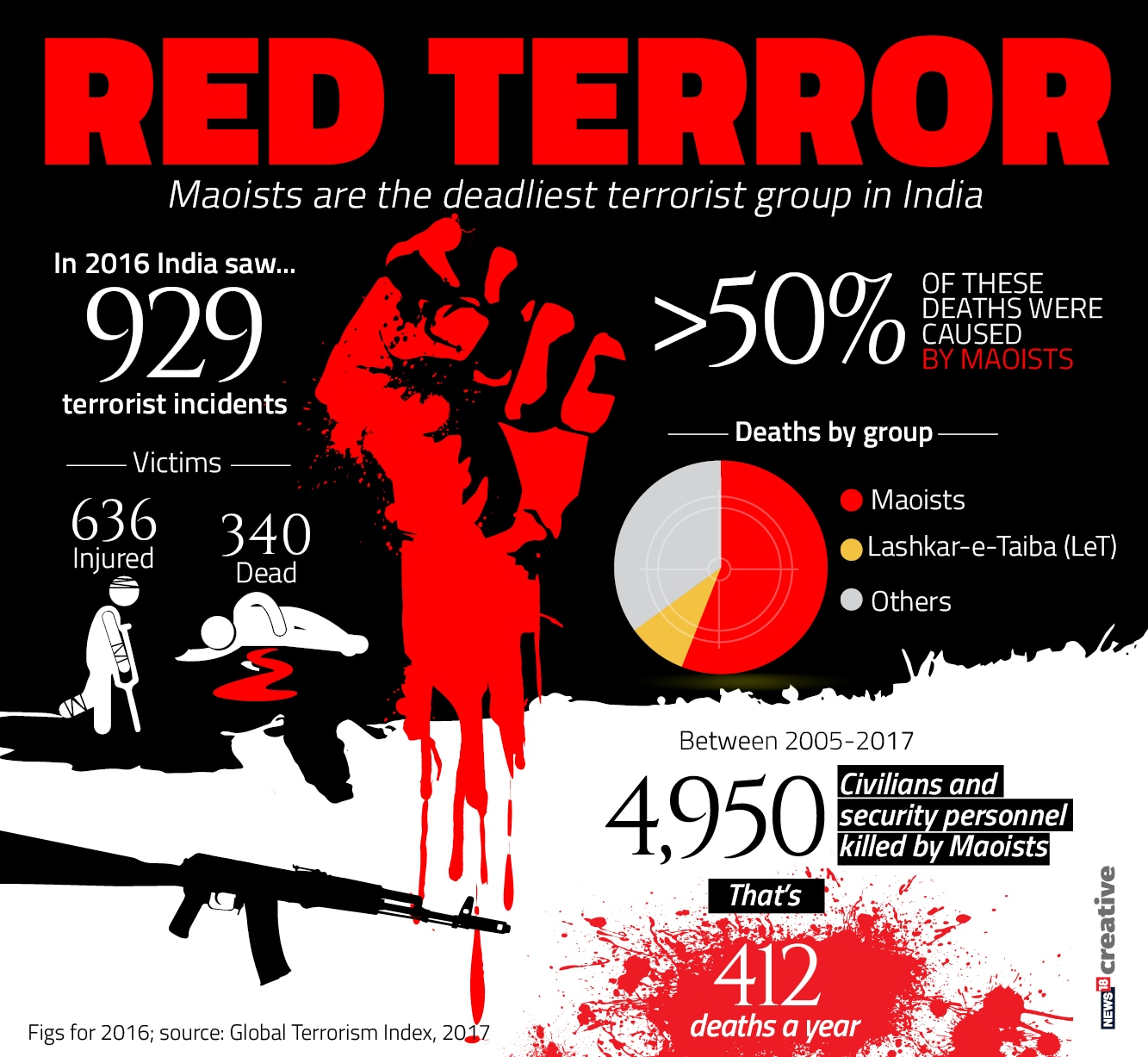 Two days ago, Naxals blew up a bullet-proof bunker (BPB) vehicle in poll-bound Chhattisgarh's Bijapur district, killing four Central Reserve Police Force (CRPF) personnel and injuring two.
Get the best of News18 delivered to your inbox - subscribe to News18 Daybreak. Follow News18.com on Twitter, Instagram, Facebook, Telegram, TikTok and on YouTube, and stay in the know with what's happening in the world around you – in real time.
| Edited by: Sumedha Kirti
Read full article