UAE sheikha kicked in her face in taekwondo debut
Sheikha Maitha bin Mohammad bin Rashid Al-Maktoum bowed 5-1 to Hwang Kyung-Seon.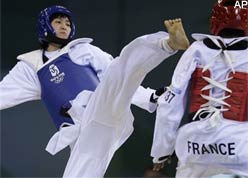 Sheikha Maitha bin Mohammad bin Rashid Al-Maktoum bowed 5-1 to Hwang Kyung-Seon.
Beijing: A sports-loving princess from the United Arab Emirates made her Olympic debut at the Beijing Games Friday and was kicked in the head by a two-time world taekwondo champion.
"I'm pretty hard headed. It doesn't bother me at all. I'm pretty used to it. I'm a tough girl. Don't worry," quipped 28-year-old Sheikha Maitha bin Mohammad bin Rashid Al-Maktoum, a member of the Gulf country's ruling royal family.
She bowed 5-1 to Hwang Kyung-Seon, six years her junior, from South Korea -- homeland of the martial art marked by kicking, punching and yelling.
"It's a dream and a nightmare at the same time. I couldn't wait until it was going to happen. And now I can't believe it's over," Sheikha Maitha said.
The pony-tailed brunette, beaming broadly, bearing no mark from the fight and glowing with perspiration, was confronted by several television crews and a horde of reporters after the bout.
"I think I performed well for what my background is and my experience," she said, with her bare feet taped for protection.
She added she was "fortunate and privileged" to face the world champion in her opening match.
She scored her first Olympic point in an exchange of effective kicks in the first round. "I didn't know I scored. I was just concentrating on my opponent."
"I've learned a lot and next time I'll try and close the gap between me and her."
Hwang, a fourth-year student at the Korea Sports University, said, "As a princess, it must be very difficult for her to play taekwondo but she keeps training. So I have great respect for her."
As Hwang reached the final, Sheikha Maitha was given a spot in the second-chance round of losers for bronze medals. But she was overpowered 4-0 by Croatia's Sandra Saric.
The princess has been seen as an affirmative role model for Arab women in modern times.
She already made history here when she became the first Gulf woman to carry a flag at an Olympics opening ceremony.
Martial arts came into her life at the age of 20 after she spent her teen years riding horses. Her father, UAE Prime Minister Sheikh Mohammad bin Rashid Al-Maktoum, is a karate blackbelt and she followed him into the Japanese-born combat sport.
Four years later, she also started practicing taekwondo and won a silver medal at the 2006 Asian Games in Doha. She was named the Arab athlete of the year in 2007.
The princess finished ninth at the world taekwondo championships here last year and plans to take part in the world championships in karate in November.
"I love sports. I love athletes. I love what sportsmanship represents, the value of sports," she said. "Just win or lose. It's very fair. There's no class, you know. Everyone is equal. You're on your merit."
Still she has to stay in a hotel here, apart from most other Olympians living in the athletes village here.
"I went to the Olympic Village and met with a lot of athletes. I have previously met a lot of people who are here today and I admire them a lot," she said. "I always wanted to be among these people."
She said she hoped to be competing when the 2012 London Olympics come around.
"I think, fingers crossed," she said. "I'll be old, but I hope so."
Read full article
Countdown To
Elections Results
To Assembly Elections 2018 Results