It gets tough for China, death toll in Xinjiang now 184
Beijing faces challenges in oil-rich region where Uighurs are majority.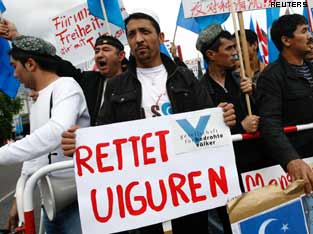 Beijing faces challenges in oil-rich region where Uighurs are majority.
Urumqi, China: China has raised the death toll from ethnic rioting in the far western region of Xinjiang to 184, and for the first time gave a breakdown by ethnicity and sex of those who died, state media reported on Saturday.
The official Xinhua news agency said that 137 of those killed were Han Chinese, who form the majority of China's population, including 111 men and 26 women.
Forty-six were Uighurs, a Turkic people who are largely Muslim and share linguistic and cultural bonds with Central Asia. All but one were men. Uighurs make up almost half of Xinjiang's 20 million people.
Xinhua said the other dead person from the violence that erupted last weekend was a member of the Hui Muslim ethnic group which is culturally akin to Han Chinese.
Chinese authorities had delayed releasing the ethnic breakdown of the dead, possibly out of concern it would further inflame the situation.
Beijing cannot afford to lose its grip on the vast territory that borders Russia, Mongolia, Kazakhstan, Kyrgyzstan, Tajikistan, Afghanistan, Pakistan and India, has abundant oil reserves and is China's largest natural gas-producing region.
On July 5, demonstrations in Xinjiang's capital Urumqi by Uighurs protesting against an attack on Uighur workers in southern China turned deadly after police moved in. Shops and vehicles were burned.
Human Rights Watch said that the government had deployed some 20,000 troops in Urumqi since the riots.
"The government has promised a thorough investigation into the violence but has so far presented a skewed and incomplete picture of the unrest," said Sophie Richardson, Asia advocacy director at Human Rights Watch.
"This raises serious doubts about its commitment to investigating all aspects of the violence rather than presenting a pre-determined version of the events."
China condemns Uighur leader
Urumqi is still tense, with thousands of troops and police deployed throughout the city. A brief demonstration broke out on Friday, the main Muslim day of prayer, after some mosques were opened briefly.
Xinhua did not specify if any of the dead were killed on Tuesday, when Han Chinese residents of Urumqi took to the streets in demonstrations and in at least one instance clashed with Uighurs.
PAGE_BREAK
Many Uighurs resent controls imposed by Beijing and the influx of Han Chinese migrants, whom they say are the main beneficiaries of China's economic development. China has blamed the unrest on "separatists", singling out exiled Uighur businesswoman Rebiya Kadeer, who lives in the United States. Kadeer denies any involvement.
The government has slammed Kadeer and exiled Uighurs for using pictures from other incidents of unrest in different parts of China and claiming they were taken in Xinjiang.
"The discredited Kadeer surely loves the spotlight and (the) photo-op, but she should also bear in mind that greater publicity may do her more harm than good, if she keeps telling lies," Xinhua said in an English-language commentary on Saturday.
On Friday, foreign reporters were ordered to leave Kashgar, an oasis city in southern Xinjiang that is still majority Uighur. Earlier this year, China announced plans to raze the city's historic centre, citing concerns about earthquake safety.
The Uighur language is related to Turkish, and some Uighurs refer to their desert homeland as "East Turkestan".
On Friday, Turkish Prime Minister Tayyip Erdogan called the killings in Xinjiang a "genocide".
In Washington, two members of the US House of Representatives introduced a bipartisan resolution condemning the "violent repression" of the Uighur people by China and urging Beijing to "end its slander" of Kadeer. It is unclear how soon it will come to a vote in the House.
Read full article
Next Story
Next Story
Also Watch

India Will 'Stop' Flow of Our Share of Water to Pakistan, Says Nitin Gadkari
Countdown To
Elections Results
To Assembly Elections 2018 Results