Unfed for Days, Beena, Mother of 3 Delhi Kids Who Died of Starvation, Sits Dazed as Visitors Come and Go
Wearing a pink salwar suit, Beena looked dazed while sitting on the lonely cot. She was not sure why so many people were coming to see her.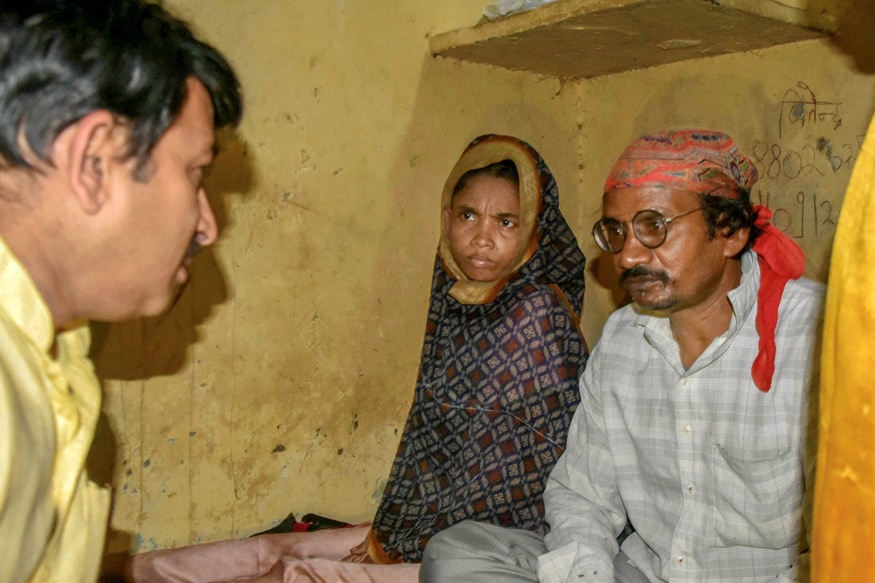 Delhi BJP President Manoj Tiwari meets Beena and Narayan in Mandavali area in New Delhi on Thursday. (PTI Photo)
New Delhi: Beena, mother of the three children in Delhi's Mandavali who died on Tuesday because of starvation sits silently in the 8ft x 4ft room. This is the same room where her husband brought the family of five on Saturday. When she entered this room last week, she had her three daughters — all aged below 10 years — by her side along with her husband. Five days later, she has no one left with her.
Her daughters, aged eight, four and two, have died and her husband, who is an alcoholic, is missing since Wednesday when the girls were found lying dead in a pool of vomit.
The only person she has in the name of family or friend is Narayan who used to work as a cook but quit the job on Saturday. When he got to know that Beena's husband Mangal Singh needed a place to stay after being thrown out of their previous residence for non-payment of rent, he brought the family to his room.
The cramped, damp room rented out for Rs 2,500 instantly became a residence for the six.
Narayan claims they had food on Monday night, however, two autopsies have failed to find any trace of food in the bodies of the three minor girls.
While visitors, including politicians, have been coming and going ever since the news broke out on Saturday, Narayan didn't leave Beena's side as he had promised to look after her till Mangal returned.
Wearing a pink salwar suit, Beena looked dazed while sitting on the lonely cot. She was not sure why so many people were coming to see her. Some were peeping inside through the only window as five days ago when they moved in, the neighbours didn't bother to check on the new family. But now, they all want a glimpse of the woman who have lost all three children to starvation.
In the midst of heavy rain that lashed the national capital on Thursday, her neighbours at Talab Chowk in Mandavali kept staring at the house and whispering. Some of them were even guiding the mediapersons to show them the room from where the three little children died of hunger. Some had also gathered to get a glimpse of the politicians.
There were police personnel for Beena's security and also for the politicians who kept visiting throughout the day.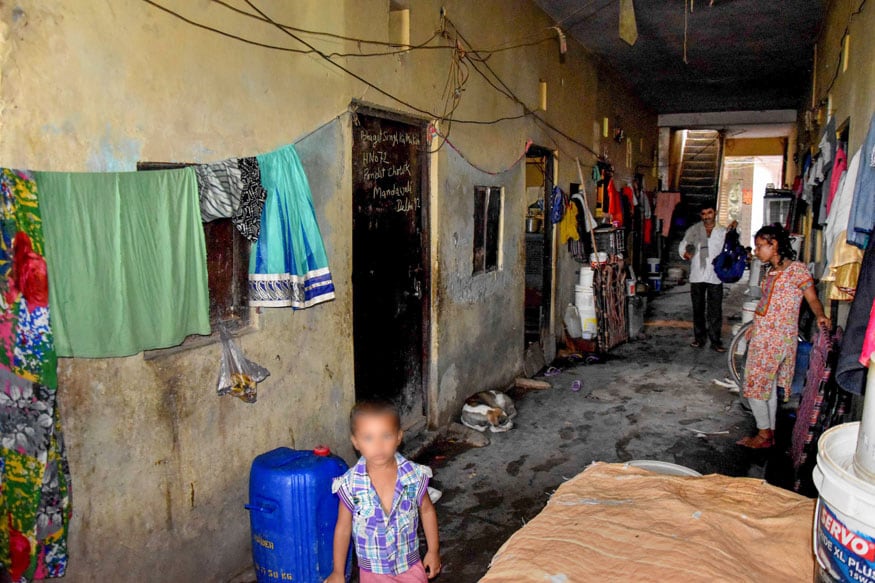 The Mandavali neighbourhood where three sisters were found dead on Wednesday. (PTI Photo)
One of the many politicians got fruits for her and also tried to feed her but she was unable to eat, neither could she talk to anyone.
When she was questioned by the police about the whereabouts of her husband, she couldn't answer. She couldn't even reply to some of the basic questions. Beena, too, is starving for days.
According to police, she is mentally unstable. Narayan told police that even in the past Mangal would go missing for days and come back with money. He would work as a casual labour to earn money.
On Thursday, after the visits of the politicians, Beena was taken to the SDM office from where she was shifted to a hospital.
One of the neighbours, who saw the family shifting on Saturday, said, "Beena was not well the day the family moved here. She urinated in her salwar. Only once did I see her elder daughter go to school. I don't know which school it was. She was wearing a school uniform and was carrying a bag on her back."
While the first postmortem report suggested the three kids died of starvation, a second autopsy was ordered at the GTB Hospital.
According to hospital sources, the second postmortem report also suggests death due to starvation. Their stomach was empty, said a doctor on conditions of anonymity. Till the time of filing of this report, Beena's husband was yet to be traced by Delhi Police.
Get the best of News18 delivered to your inbox - subscribe to News18 Daybreak. Follow News18.com on Twitter, Instagram, Facebook, TikTok and on YouTube, and stay in the know with what's happening in the world around you – in real time.
| Edited by: Sanchari Chatterjee
Read full article