Universal Basic Income: From J&K to Bihar, An Idea Whose Time Has Come, Says Arvind Subramanian
In an interview with News18, the former CEA elucidates how the economic report card of the government will be an important factor in 2019 elections. The noted economist also explains why loan waivers and minimum support prices are not helping the agrarian crisis.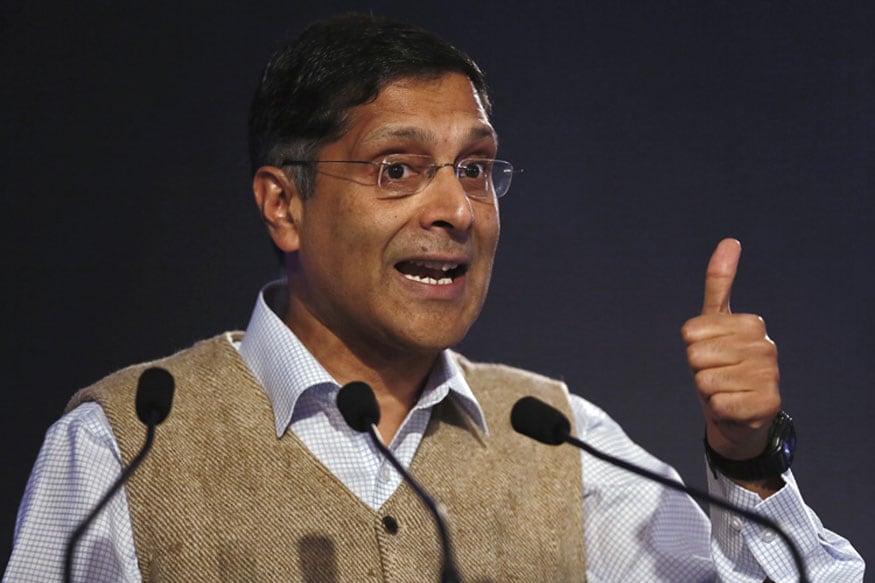 File photo of former CEA Arvind Subramanian.
New Delhi: Former Chief Economic Adviser Arvind Subramanian in his new book Of Counsel: The Challenges of the Modi-Jaitley Economy, attempts to explain why demonetisation was seen as a political success soon after its implementation.
In an interview with News18, he elucidates how the economic report card of the government will be an important factor in 2019 elections. The noted economist also explains why loan waivers and minimum support prices are not helping the agrarian crisis. He also said that the idea of Universal basic income is long due but the government will have to be careful in its implementation.
Here are the edited excerpts from the interview:
Q: When did the idea of the book come about, how did you zero in on what you are going to write?
A: Idea of the book came as I was preparing to leave. My team and I sat down and we realised that there is actually a lot of stuff that I had worked on, the team had worked on together which we did not use in the surveys. For example, some speeches that I gave and some other stuff that I wrote. So we thought we should create a compilation of everything that was not in economic survey. But then as I started compiling, it struck me that there are few issues on which I could reflect upon and maybe add something to the current debate.
Q: You mentioned demonetisation to be a "massive, draconian, monetary shock". What went wrong?
A: There are two puzzles that I talked about in this book. The first puzzle is that while demonetisation had such an adverse effect on the cash intensive sector which means that affected a lot of people, why did it turn out to be politically successful, especially in the Uttar Pradesh election. Second puzzle which no one has focused on, is the point about 86 percent of money supply being withdrawn yet impact on the GDP was almost not visible. The question is, it because we are not measuring the GDP correctly, is it because we don't measure the informal sector, is it because you don't understand how cash works or is it because there were a lot of informal arrangements so there was a lot of resilience in the economy. Now that I am in academy I can step back and analyse that these three questions are the more important things to understand if you want to know the Indian politics and Indian economics.
Q: Were you consulted for demonetisation?
A: So I write in this book that this is not going to be a kiss and tell memoir, what happened happened. That is for the gossip columnist and the Twitter trollers to write.
Q: Why did the book not come out when you were the CEA?
A: Because my writing process was not yet complete and there were so many other things to do.
Q: Do you think factors like demonetisation and GST will be important factors in the 2019 elections?
A: Certainly the government's economic record will be an issue in elections whether that transmits itself through farmers, growth, job creation or all the good things, the fact that the government has provided toilets, power, housing, insurance, inflation is low. So the whole, GST, demonetisation, the government economic records will be assessed but effect but what particularly will come out will have to be seen. It will be a fascinating election.
Q: Critics say that India is still not ready for Universal Basic Income (UBI), do you agree?
A: No, I definitely don't think so. I had a discussion with the Jammu and Kashmir Government where it's a quasi, embryonic UBI they are following. I also had a discussion with Mr Nitish Kumar who is very encouraging and excited about the idea. Going forward there are ways of taking it forward and I think that the Centre can give states the freedom to spend the money on things that they want to maybe some states will take up UBI.
Q: The argument is it takes away the incentive to work
A: The am not clear if there is evidence for that argument. There is a little bit of paternalism in that argument. I mean if you're really poor which is what this addresses, are we sure that getting people from having very little to upto the poverty line is going to make them stop working? I mean, maybe it happens I have to see the evidence but it seems to me that we have no right to even ask that question. Leave it to them to say as to what they want to do. So I think this is fair argument but we have to be careful about the implementation.
Q: Agrarian crisis has been a permanent issue for a couple of years now. The MSP and loan waivers are the two major demands of farmers but, strictly in terms of finances, waivers add to NPAs and the Centre has hardly been able to ensure the MSPs. How to deal with the problem, given there is a major crisis?
A: I think the MSP is a not a solution because outside of cereals we are not able to support these prices through procuring. We've had the MSPs for almost all the crops for decades and we haven't been able to procure. The MSPs also has a lot of distortionary effect for example the MSP for rice has encouraged a lot of over cultivation of rice. We have huge stocks of rice, there is so much rice that we start exporting to international markets and our trade partners are angry. Also it absorbs water, fertilizers, so from all points of view I think we should we re-consider the MSP policy and move much more towards direct transfers to farmers because we do need to do something really seriously about the agrarian crisis. We have to do something new because old things aren't working and we have to do in a way which is sustainable for the environment and sustainable for agriculture. We should seriously consider more and more of direct benefit transfer like what Telangana is doing.
Loan waivers are a problem too in many ways. The guy who does not borrow gets penalised, the who borrows and pays back also gets penalised so you create all kinds of pervasive sentiment and of course the culture of repayment goes away and it doesn't seem to solve any problem in the long run. I think loan waivers are something that should be done away with. It is also fiscally very expensive.
Q: Cash surplus in RBI has been a topic of public discussion recently. Can you talk through the entire process of transfer of excess cash from the RBI to the government?
A: It is very technical. If we use the model that most of the central banks across the world use and try to calculate the excess cash that the Indian Central Bank has, it comes to around 4-4.5 lakh crores of excess cash. I want to be very clear that there is a technical analysis and then there is a policy analysis cum implementation. The fact that there are excess reserves does not mean that they will be transferred to the government. On the policy side, I want to be clear about two or three things. First, it can only be used for something say recapitalisation of banks and recapitalisation of banks only happen when there are reforms in the banking system in place, which the government should initiate. So it can be a nice cooperative bargain with the RBI. Second, it cannot be a unilateral process, the RBI has to be a part of this. The government cannot do it alone. Third, any idea that this could be used to finance regular deficits or other expenditures, I would be totally against it. Because that would amount to kind of raiding the RBI. So that has to be done very responsibility and cooperatively but it does provide some resources if and when the whole recapitalisation of the bank has to take place.
Now, how exactly this will be transferred: it cannot be given at one go. There are many ways of doing the transfer. One can do it over time, you could do it by some accounting transactions. The government has assets in the RBI, it just needs to transfer it to the bank. The only thing that you have to remember is that you don't necessarily have to sell the assets in order to transfer the surplus cash, it can be transferred without selling the underlying asset.
Q: Is privatisation the answer to the NPA mess?
A: I don't think you should recapitalise banks unless you have some amount of reforms in the banking system such as privatisation.
Q: Can you take us through how the NPA problem began and what went wrong?
A: There was a lot of exuberant lending associated with the boom of 2000s. Some of it was good lending they built infrastructure, some of it was dubious lending because there is a political vendetta, some of it was because people thought that the boom would continue so it was a bad decision but not a corrupt one. This was the origin of the problem.
However, over time I think both the RBI and government were pretty slow in either identifying or at least acknowledging the magnitude of the problem. The RBI was slow in addressing or identifying the NPAs. So it was not as if it was not known or could have been known. So there was a lot of delay and of course the problem gets compounded. Then of course it took the government sometime to get the bankruptcy code. I had advocated the bad bank earlier but for various reasons it didn't take off.
Q: How has the NDA government fared on that aspect?
A: The Insolvency and Bankruptcy Code is a game changer because we never had exit from bad lending so now we have a process in place but I think things are under the NCLT process. The first 12 case are in but it's proved to be much slower than we thought and there are backlogs and there are many more cases to be dealt with and the power sector is still kind of unresolved. Also, certainly we have the NBFC thing. I laud the government for the IBC but I think we need to do a lot more. IL&FS for example seems to have caught everyone off guard, the RBI, the government, everybody. So we need to really think, it has been 8-9 years and still the financial system is not really robust it means that we need to work harder.
Q: You had completely changed the way, economic surveys looked like. Was there a deliberate effort to make it more accessible and reader friendly?
A: There was a constant effort in doing two or three things. One was not to compromise on the quality of the analysis at all but then bring in a lot of new data to throw up big new ideas. Making it all the more accessible if you believe that economic policy is in some sense the product of a process of public debate, public reasoning then I feel we need to contribute to that as well. So the document we thought will not only give a government perspective to it but also a slightly independent perspective. So we wanted to use more data, high quality analysis throw up big ideas and at the same time make it very accessible, so the readability was the key. We wanted to reach as many leaders as possible without compromising on the quality of service.
Q: Your word of advice to the new chief economic adviser?
A: A lot of this is about building teams, about having relationships with colleagues and not to be so caught up in the hierarchy. That you should reach out to everyone, everywhere be it under secretary, joint secretary etc. Reach out to everybody. Across governments as well. Be independent in your thinking and don't second guess what people think should be safe, be very independent in your views. Don't compromise on the quality of analysis that we need to do and I hope this always will continue to be as they have been.
Q: How has life been after you stepped down as the chief economic adviser?
A: It's been different. It's been quiet, much quieter. I am back to academic life and teaching. supervising students, writing some more academic papers both for India and the US. Also we're staying closer to our son and daughter-in-law. It's at a much slower pace now. Here it was a 24/7 high, there it is much slow but you get used to it.
Q: What were the family responsibilities that made you step down seven months before the tenure ended?
A: We were expecting our first grandchild. He was born in September, it's been exactly three months today, so we were there and trying to be helpful grandparents to them.
Get the best of News18 delivered to your inbox - subscribe to News18 Daybreak. Follow News18.com on Twitter, Instagram, Facebook, Telegram, TikTok and on YouTube, and stay in the know with what's happening in the world around you – in real time.
Read full article