Unknown Stars: Longinus Fernandes, choreographer
Here is the life story of the 'Slumdog Millionaire' choreographer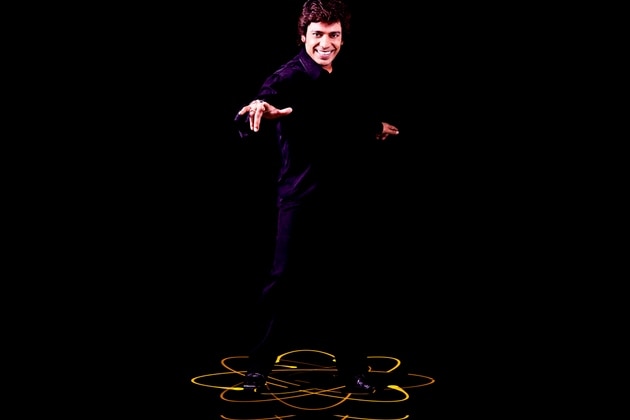 Here is the life story of the 'Slumdog Millionaire' choreographer
The recent Udi, udi song from the film Guzaarish is being appreciated for its dance sequence presented by Aishwarya and choreographed by Longinus Fernandes. He has also choreographed for Danny Boyle's Slumdog Millionaire.
The beginning
Fernandes says, "My father was a great performer, he was a clone of Elvis Presley and always entertained his audience with his acts. Professionally, he worked as a radio officer with AIR (All India Radio) and would bring home the video cassettes of Elvis and Michael Jackson. I was thrilled watching MJ's Thriller and aspired to be a dancer."
Longinus was at the forefront in all the cultural activities of his school and college. He recalls, "I have studied in Mithibai College. We were a group of five dancers who would represent our college in national and international competitions and choreographer-director, Farah Khan was a part of our group." After college, Fernandes started teaching dance and many celebrities have been his students. He confirms, "Salman Khan, Somi Ali, Arbaaz Khan, Sohail Khan and Bunty Walia have been my students. I have also taught Akshay Kumar for a short while."
First break
Longinus started his career as a dancer in the Bollywood industry. He was invited by film directors to do break dance or a hip hop jig in Bollywood movies. He got his first break as a choreographer in Avatar Bogil film's song Doctor, doctor dil ka doctor. Fernandes says, "Actor Anupam Kher was very skeptical about having me as a choreographer. He wanted Farah Khan to do it. But Farah convinced him that I will do a good job."
Mentors
Fernandes asserts that Farah Khan, Sanjay Leela Bhansali and Danny Boyle are responsible for shaping his career, and success. He says, "Farah Khan was working on many Bollywood films as a choreographer in the 1990's. And I was not doing anything substantial at that time. Farah attended my father's funeral and offered me to work with her. I assisted her for a year. In 1997 I got married and decided to do something on my own." He adds, "Farah has always been very encouraging. She would ask me to take up projects where I get opportunities to choreograph dances."
Career graph
Fernandes started choreographing for TV shows and music albums in1997. "I have choreographed about 300 music albums and have worked with Deler Mehendi, Sunita Rao, Baba Sehgal, Adnan Sami and many others. I also worked for ad filmmakers like Kailash Surendranath and Prahlad Kakkar. It was Farah who put me onto them," recalls Fernandes.
In 2001, Fernandes got an offer to choreograph the Arjun Rampal starrer film Moksha post which he got offers to choreograph for films like Dil Vil Pyaar Vyaar, Khushi, Satya, Page 3 and many others.
Struggle time
"From 2004 to 2006 I didn't get any work in movies. People were avoiding me for a comment that I made on a big shot in the industry as he refused to pay me for my work. I was paying the price of being honest and straightforward. I realised that, in order to survive in the industry I have to be diplomatic."
Back in action
In 2006, Fernandes was shooting for a television show in Scotland and received a call from Sony channel to participate in the dance reality show, Jhalak Dikhlaja. "I hadn't danced for a long time, in addition to that I was in a bad shape and so I refused the offer. But, I got a second call stating that I have been strongly recommended for the show and they would want me to reconsider the offer. I learnt that Farah Khan recommended me and I accepted it." He adds, "I had six weeks to get back in shape and I worked hard on it. All other choreographers in the show were half my age. They were all 20 to 21 years old and I was 37 years old. Things worked well for me and my partner Shweta Salve and I bagged the second position in the show."
After the show, Longinus got an offer from filmmaker, Sanjay Leela Bhansali to choreograph the title track of his film Saawariya.
Slumdog Millionaire
"I did a film for filmmaker Amar Bhatulla and he told me that he would not be able to pay me the full amount of my fees. But he promised he would try his level best to make it up to me. I definitely was frustrated but let it go. Six months later he scheduled a meeting for me with Danny Boyle and before I knew it, I was a part of Slumdog Millionaire."
Unfortunately, Fernandes' name was not mentioned in the credits of the film. "Danny promised me that he will make up for it and he did. He specially thanked me and mentioned my name in his winning speech at the Oscars. And that changed my life."
Longinus became the first Indian to win the prestigious Fred Astaire award (Award to felicitate contemporary dancers) in 2009. It was followed by a Filmfare award for choreographing the song, Pappu can't dance saala from the movie Jaane Tu… Ya Jaane Na.
Future projects
Fernandes has just come back to India after shooting the opening sequence of the upcoming season of the popular, international dance show, So You Think You Can Dance. He is also choreographing for the Indian cultural festival in France. Longinus has choreographed a small portion of Julia Robert's Eat, Pray And Love. He says, "I am really kicked about a show called Musical Comedy that I have worked on, which will be telecast on HBO. It will begin on 5th November."
Get the best of News18 delivered to your inbox - subscribe to News18 Daybreak. Follow News18.com on Twitter, Instagram, Facebook, Telegram, TikTok and on YouTube, and stay in the know with what's happening in the world around you – in real time.
Read full article