Unknown stars: Sudeep Chatterjee, Cinematographer
Story of talented cinematographer of 'Chak De India' and 'Guzaarish'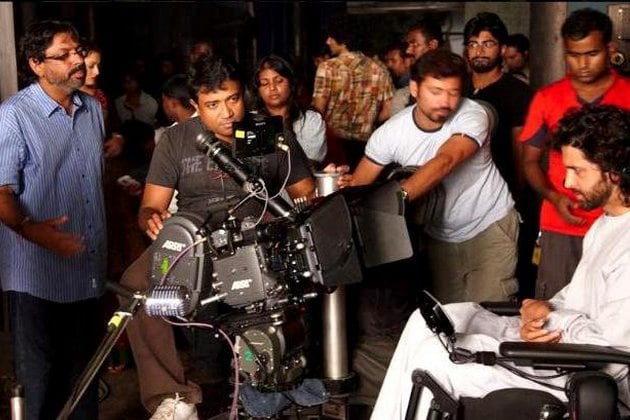 Story of talented cinematographer of 'Chak De India' and 'Guzaarish'
Sudeep Chatterjee takes pride in the fact that he belongs to a typical, middle-class family, 'A Bong boy from Kolkata', as he likes to put it. His first Hindi film as a cinematographer was Ram Gopal Verma's 'Road'. And then he worked on films like 'Dor', 'Iqbaal', 'Chak De'India' and has just completed shooting for Sanjay Leela Bhansali's 'Guzaarish'.
The beginning
Sudeep says, "As a child I was always drawn to express myself through visuals. I tried hard to be a good painter but just couldn't. After I passed out from class 10 my father gifted me a camera." That camera set the career path for Sudeep. He was relieved that finally he found a way to communicate through visuals. Sudeep says, "I never owned an expensive camera as at that time we couldn't afford one. But I enjoyed clicking pictures with my old camera." Around the same time, Sudeep's father encouraged him to enroll in a cinema club. Sudeep enjoyed watching the different movies that were screened every week.
Sudeep was a bright student and chose to study engineering. But just after eight months into the course, Sudeep decided to quit it and follow his passion, cinematography. "I left the engineering college and got back to my hometown, applied to Film and Television Institute of India (FTII) and got through, in the first attempt. After joining the film school, I realised that it is just not enough to think of narrating a story through lights in a particular way, but one must also know the techniques of doing it right. I still voraciously read about new technologies in film-making."
Career start
Post his course in FTII, Sudeep chose to get back to Kolkata and start his career there. "I was lucky to bag many advertisements and documentaries. And after two years, filmmaker Ranjan Dutta offered me a small hindi feature film titled 'Bada Din'. When I look back now I am embarrassed at the kind of work I did in the film but that movie gave me the confidence to shift base to Mumbai." Once in Mumbai, Sudeep had to start from scratch, and started working for TV serials like 'Rishtey', 'Talaash' among others.
Entry into cinema
After a year, Sudeep received a call from filmmaker Ram Gopal Verma. "I couldn't believe that RGV had called me. He told me that one of his assistants had seen my work and that he would like to see my work," recalls Sudeep. And thus he bagged 'Road'.
Chak De India
"The director of 'Chak De India, Shimit Amin liked my work in my earlier films 'Dor' and 'Iqbaal' and invited me to be a part of his team," confirms Sudeep. Sudeep tried something different for 'Chak De', "Almost 80% of the movie is shot with a hand-held camera. And there was never an attempt to make the movie look glamorous. In fact, when I grained down the colour of the film, there were lots of apprehensions. Some said 'bahut phika lag raha hai, documentary jaisa lagega." But Sudeep stuck to his ground and won four awards (Filmfare, Screen, IIFA and Zee Cine) for it. Sudeep says, "I try my level best to be in sync with the movie. There are many cinematographers who think that their work should look good. That is a selfish approach and I try to not do that." He adds, "I also try not to be typecast and do different kinds of work. I have never bothered too much about money but have concentrated on doing interesting work and that has worked for me."
Guzzarish
Sudeep just completed shooting for 'Guzaarish' with Sanjay Leela Bhansali. He says, "Working for this film was a creatively satisfying experience for me. Sanjay gave me the freedom to do what I wanted to and I enjoyed that." He continues, "In this movie we are trying to narrate a story of a man who is paraplegic and has no friends and is almost leading a dark life but he is a very positive person. Bringing out this contrast was challenging." Sudeep also insists that contrary to the image of Sanjay portrayed by the media as a serious person, he is actually loads of fun. "He definitely is a task master but while shooting we used to do lots of masti. In the midst of serious scenes we have cracked up and laughed non-stop. I have always wanted to work with him as I admire him for trying out something new. I feel very embarrassed when people from the industry make fun of 'Sawariya' by calling it names like blue film and nila film. But the fact is that the man dared to do something different which not everybody has the guts to." Sudeep is now working on Shirish Kunder's 'Joker' and for an untitled Yash Raj film that stars Imran Khan and Katrina Kaif.
Get the best of News18 delivered to your inbox - subscribe to News18 Daybreak. Follow News18.com on Twitter, Instagram, Facebook, Telegram, TikTok and on YouTube, and stay in the know with what's happening in the world around you – in real time.
Read full article