GET Stock

Quotes


Until Now a Political 'Pariah', Kejriwal Finds Place in 'United Opposition' at Kumaraswamy Swearing in
In February, Kejriwal flew down to Madurai to become the only politician at the launch of his friend Kamal Haasan's party Makkal Needhi Maiam (MNM).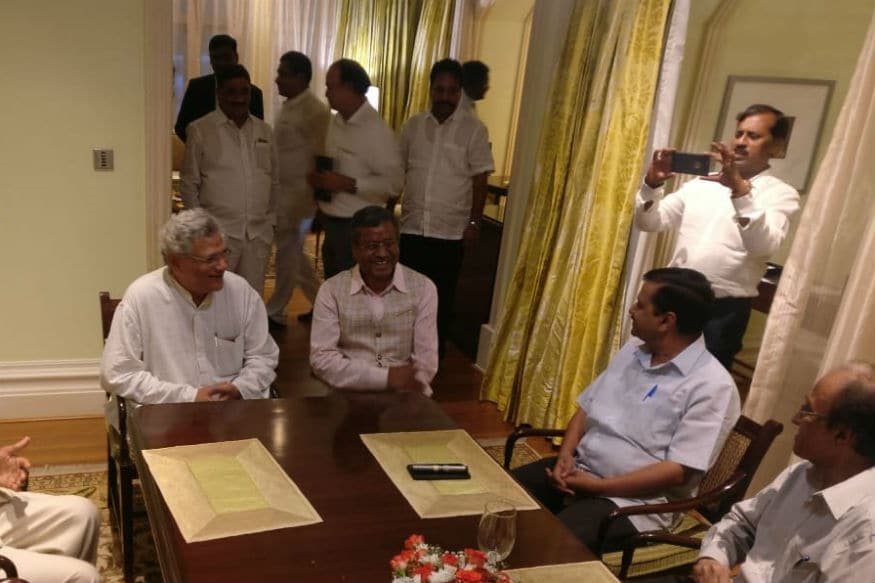 Delhi CM Arvind Kejriwal met CPI(M)'s Sitaram Yechury and other leaders ahead of attending HD Kumaraswamy's swearing-in.
New Delhi:
When the then Congress president Sonia Gandhi called for a meeting of opposition leaders to decide a 'consensus candidate' for the Presidential elections last year, there was one significant omission in the guest list – Arvind Kejriwal. When RJD Chief Lalu Prasad Yadav held a massive show of strength with an anti-BJP rally, Kejriwal again was not invited. The message seemed clear. Arvind Kejriwal had no place in this dream of a 'united opposition'. Except for Mamata Banerjee, Arvind Kejriwal seems largely friendless.
That changed this week when the combative AAP chief received a phone call from Karnataka's Chief Minister-designate HD Kumaraswamy. The Janata Dal (Secular) state chief invited the Delhi Chief Minister for his swearing in on Wednesday in Bengaluru.
This is not the first time Kejriwal has flown down south on the invitation of another political leader. In February, he flew down to Madurai to become the only politician at the launch of his friend Kamal Haasan's party Makkal Needhi Maiam (MNM). Yet, this time is different. This time, he will share the stage with several politicians whose parties he had chastised as corrupt. BSP Chief Mayawati, SP Chief Akhilesh Yadav, Congress president Rahul Gandhi and his mother Sonia are all leaders who Kejriwal has taken issue with in the past. West Bengal CM Mamata Banerjee is perhaps the only big name on the list who Kejriwal can call a friend.
Moreover, the AAP on Tuesday evening officially declared its support to for the joint opposition candidates in the upcoming Kairana Lok Sabha and Noorpur Vidhan Sabha elections in Uttar Pradesh.
"The Aam Aadmi Party has decided to support the RLD candidate in the Kairana Lok Sabha bypoll and the SP candidate in the Noorpur Assembly bypoll," AAP's Rajya Sabha MP and UP unit chief Sanjay Singh said.
The Aam Aadmi Party is fighting many battles on many fronts. On one hand, the party is taking on the BJP in the hopes to emerge as a national alternative someday. On the other, it is attacking Congress ruled governments in states like Punjab. It is this unpredictability that makes other political parties stay away from the mercurial AAP chief.
"He (Kejriwal) is a loose cannon. He may ally with us today but may speak out against us tomorrow. He is too ambitious. He will never accept the leadership of the Congress, even though he is a minor regional player himself. We allied with him in 2013 and he walked out in 49 days. All these factors make him a very unreliable ally. In any possible Mahagathbandhan, Kejriwal and AAP would end up being a liability," a senior Delhi Congress leader said.
A BJP leader added, "There is an unspoken understanding among all political parties. No matter what the equation is, keep this man (Kejriwal) out."
While the opposition is not keen on joining hands with Kejriwal, AAP leaders say this actually suits them. "We are not at all bothered about whether Congress wants us to join them or not. Honestly, we couldn't care less. This actually suits us because we have built our party on a strong anti-corruption movement. We are the outsiders who are upsetting the established order. They are bound to get upset," said an AAP MLA.
He added, "The Congress is only interested in saving themselves. We are interested in saving democracy. Why did they not speak up when we were raising the EVM issue? They don't have a constructive message. They only react and lash out. Besides, it would not be honest of us to join hands with them after attacking them. We can't keep attacking Congress in Punjab and joining hands with them nationally. We can't say we are against corruption and share the stage with Lalu. We don't have to condone the corruption of the Congress to fight the fascism of the BJP."
So if AAP doesn't join the 'Mahagathbandhan', where does it leave the young party ahead of the 2019 Lok Sabha elections? "We will fight the elections alone. We don't need anybody," a party source said. "AAP is in no hurry to have a PM from our own party. We are the fastest growing party in India. We will be patient and grow the way we have been growing. There could be an AAP PM in 2024, 2029 or even later. We are a young party and there is no need for us to be so worried about 2019."
But on Wednesday, as he attends Kumaraswamy's swearing in, is Arvind Kejriwal's transformation from activist to politician complete?
| Edited by: Ashutosh Tripathi
Read full article
Countdown To
Elections Results
To Assembly Elections 2018 Results