Lucknow: Taking their cue from Chief Minister Yogi Adityanath, top police officials and bureaucrats also took helicopter rides to shower flower petals on the Kanwariyas.
Yogi Adityanath had done so while doing an aerial survey of the Kanwar Yatra on July 28.
Till now, ADG Meerut Zone Prashant Kumar, Commissioner Chandra Prakash Tripathi, SSP Meerut Rajesh Pandey and DM Meerut Anil Dhingra have followed the footsteps of CM Yogi Adityanath.
A video of Additional Director General of UP Police Meerut Zone, Prashant Kumar and Commissioner Chandra Prakash Tripathi has sparked a new controversy. The video shows ADG Prashant Kumar showering flower petals from a helicopter on the Kanwariyas.
In the video UP ADG can be seen sitting inside the helicopter and showering them with 'blessings' while on surveillance duty. The video has gone viral on the social media and has come for much criticism for dereliction of duty.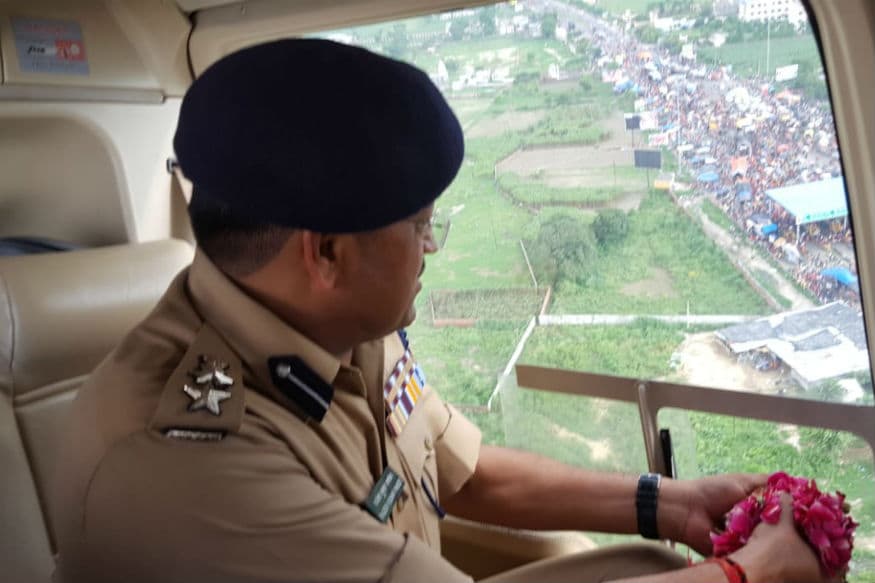 The Yogi government in the state has gone out of the way for Kanwariyas. The traffic on busy National Highway 27 had also been diverted for last few days for the Kanwariyas. There has been a complete closure of meat shops and restaurants selling non-vegetarian food along the Kanwariya route.
Speaking to media, SSP Meerut, Rajesh Pandey said, "We requested those engaged in meat business to co-operate with us during the Kanwar yatra and I am thankful to them that a majority among them have closed down shutters for the period."