Uttar Pradesh Govt Mulls Merging Shia, Sunni Waqf Boards to Stop Wastage of Money, But is it Possible?
In order to understand the genesis of a different approach on Waqf, it is important to understand why a community considers one of Allah's causes just and the other unjust, since all of these properties are dedicated to the cause of Allah.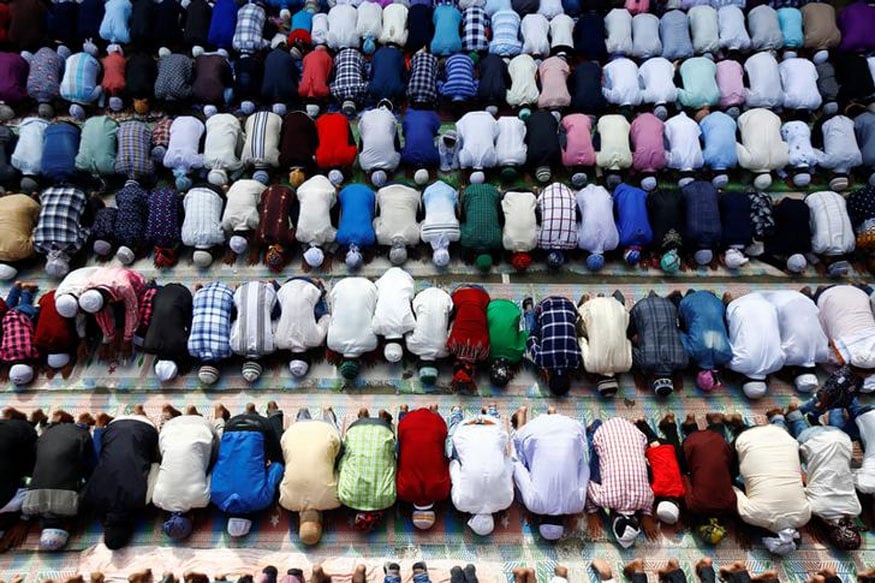 Muslims attend Eid ul-Fitr prayers to mark the end of the holy fasting month of Ramzan (Photo courtesy: Reuters)
New Delhi:
When minister of state for Waqf, Mohsin Raza recently floated the idea of merging the Shia and Sunni Waqf boards, he reasoned that not only would the merger prevent "wastage of money", but also help overcome a "legal hurdle".
However, if scholars are to be believed, ideological differences between Shias and Sunnis regarding Waqf would only mean that only one of the factions would benefit from the move and going by the population ratio of the Shias and Sunnis, it's the former that would fall behind.
In order to understand the genesis of a different approach on Waqf, it is important to understand why a community considers one of Allah's causes just and the other unjust, since all of these properties are dedicated to the cause of Allah.
Shia scholar Mumtazul Ulema Maulana Syed Saif Abbas Naqvi, while speaking to News18, said that one of the most important principles of the Shias is the belief in Imama and the Imambara, which is not recognized by the Sunnis. These Imambaras form the bedrock of their faith and devotion towards Hazrat Ali, son-in-law of Prophet Muhammad.
Imambaras are essentially spaces on Waqf land used by the members of the community to mourn the demise of Ali during the 10 days of Muharram, which is also known as Azadari.
"Very few know about Muhammad bin Abdul Wahab al Najdi, a Sunni leader, directed Sunni followers to fast for 30 days, offer namaz, perform Haj and sacrifice an animal on Bakr-eid. He disregarded everything such as Muharram and Nazar Niyaz as wrong. He even ordered the demolition of the mausoleum of the daughter of the Prophet in Saudi Arabia and made it into a graveyard. They do not consider us Muslims," said Saif Abbas Naqvi.
Abbas believes that it is through Muhammad bin Abdul Wahab al Najdi that the Wahabi had started and with many Sunnis following Najdi's rulings, "a merger would only lead to destruction of Shia properties".
"It is through him that the Wahabi sect started developing. They demolished Shia graveyards in Saudi Arabia like the Jannatul Baqi in Medina. Now our beliefs tied to Imambaras, Markaz and Shia masjids would be in danger and if such a merger was to happen, then whenever they feel like demolishing our Imambaras and Marakaz, they would not even bat an eyelid as it is just not important to them. We will shed our blood if these places, which are essential to our religion is taken away from us," said Abbas.
Explaining why Shias differ from Sunnis, Abbas said, "Two months before the death of Prophet Muhammad, he was returning from the Haj along with his companions. There were more than a lakh people with him. They halted at one place and Prophet Mohammad named Hazrat Ali as his successor in front of everyone and said that from now on, Islam will continue under him and that is what the Shias follow."
Waqf property is something that is given away for the sake of the Almighty and his cause. These are not private properties and belong to the community and any personal use would be illegal. The person who gives away his property for Waqf is known as the Waqf. According to the Islamic law, these properties and the revenues earned through them must be spent according to the wish of the Waqf.
According to Mohsin Raza, separate Waqf boards in the state is not "legal". A few months ago, Uttar Pradesh Chief Minister Yogi Adityanath had declared that the Shia and Sunni Waqf boards would be dissolved to prevent corruption.
Quoting the Waqf Act 1995, Raza said the Shias and Sunnis should have at least 15 percent share in the total Waqf units to constitute separate boards, which he said is not the case in UP, where the Shias account for only 5,000 units of the total 24,000.
"There should at least be a 15 percent share of the factions among the total Waqf units. In Uttar Pradesh there are 24,000 Waqf units, of which, Shia Waqf has only about 5,000 units or 4-5 percent of the total. Legally, it should not be like this," he said.
However, Waseem Rizvi, President of the Shia Central Waqf Board, said that the differences between the two communities expand beyond the Imambaras.
"The Sunni ideology is very different from that of the Shias. There is also a lot of animosity between both the groups and then they do not recognize our Imambaras. And all the Imambaras in Uttar Pradesh are Waqf properties. Not just that, even our way of offering Namaz is different. The practices that the Sunnis follow are not followed by us as we consider it 'bain'," said Rizvi.
Rizvi further pointed out that other states who have a uniform Waqf body without a Shia-Sunni division, are suffering the most. Not only are the Shia properties being sidelined, but they are even deprived of a burial ground.
"Shias in such states hardly have any property where they can pray or follow their customs. In Karnataka for example, there are no graveyards or prayer areas for the Shias," said the President of the Shia Waqf Board.
When Mohsin Raza spoke about how the properties of the Shias were less, Rizvi retaliated saying it is because of the population and that "legal amendments were needed to set up such separate bodies throughout the country".
"The argument that Shias have less than 15% of Waqf properties is problematic because the properties are in ratio to the Shia population. Since we are limited in numbers, our properties are also less. In fact, the law needs to be amended and there has to be separate Shia and Sunni Waqf boards all over the country. Our religion rests on Imambaras and with such a merger, our religion itself would be under threat," Rizvi told News18.
News18 also got in touch with Dr Syeda Shaheen Abbas, ex-Member of Karnataka State Wakf Foundation, who said, "Shias were not even counted in the Karnataka State Waqf Foundation and there are no markaz or Imambaras in Karnataka on a Waqf land."
"There is not a single Shia in the board of members, hence, we Shias do not have a single Imambara or a markaz in Karnataka. We do not even have a graveyard. Here the situation is such that if people come to know that we are a Shia, then we are not even given a place to stay. We are still struggling for a Markaz," said Dr Shaheen.
Explaining the Shia demographics in the state, Dr Shaheen said that a request now has been made to the Karnataka Chief Minister to form a "separate Waqf Board."
"There are hardly 600 to 800 Shias out of which there are further bifurcations of Irani Shia, Khoja Shia and they make their own markaz and the Sadat which include the Syeds etc are left with nothing. Hence, now we have requested Chief Minister Siddaramaiah to create a separate Waqf body," said Dr Shaheen.
On the other hand, a renowned Sunni scholar and Shahi Imam of Fatehpuri Masjid in Delhi, Mufti Mukarram told News18, "Instead of the merger, separate Sunni and Shia boards should be the norm across the country and a merger would not do justice to the beliefs and practices of both the communities."
"The membership of Waqf board is reduced now. Earlier, there used to be 11 members and now there are hardly five. Among these five, there would hardly be any Shia representation. Shia and Sunni boards must be separate throughout the country and that will ensure proper maintenance and welfare of the properties," said the Shahi Imam.
Dr Mohammad Ishaque, Director of Department of Islamic Studies, Jamia Milia Islamia, said that the bone of contention in the merger would be that of the concept of Imama giving rise to Imambara. Sunnis do not recognize it and refer to the Imambaras "as one of the ritual developed in later time".
"Whenever I speak, I do not speak on behalf of a Sunni or Shia. These are two distinct groups and at some point they can come together, but not on the issue of Imambaras, as they do not agree on it and these are often Waqf properties. Sunnis agree to all their four principles except the issue of Imambaras. The other aspects like Tauheed, the concept of Maad or the Day of Judgment and other things are also believed by the Sunnis, but the problem is with the Imambaras," said Dr Ishaque.
| Edited by: Sanchari Chatterjee
Read full article
Countdown To
Elections Results
To Assembly Elections 2018 Results