UP Cop Brings Her Infant to Work, Gets Posting Near Home After Photo Goes Viral
Constable Archana Singh, who became the toast of the country on Sunday, was posted in Jhansi, nearly 233 km from her home in Agra. However, after coming across her photograph, UP Director General of Police called for her immediate transfer to the Taj city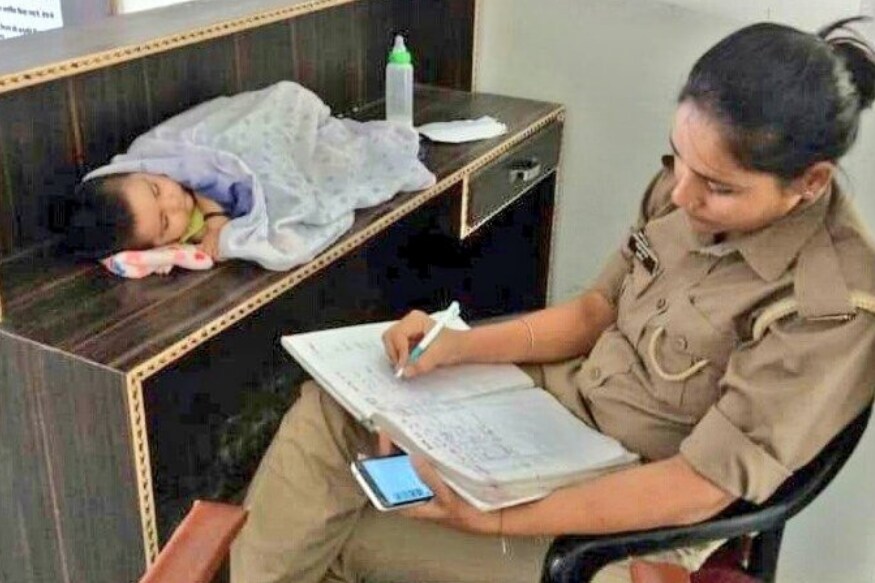 Photo of woman constable Archana Singh which went viral on social media.
Lucknow: In what can be dubbed as a universal victory for womanhood, UP police chief OP Singh has decided to transfer a woman constable to her hometown after a picture of hers, working at a police station with her six-month-old daughter lying beside, went viral on social media.
Constable Archana Singh, who became the toast of the country on Sunday, was posted in Jhansi, nearly 233 km from her home in Agra. However, after coming across her photograph, UP Director General of Police called for her immediate transfer to the Taj city
He has also asked the UP Police to explore the availability of crèche options at every police line.
Lauding the spirit of women like Asha, who dispense all her duties with great aplomb, DGP Singh tweeted on Sunday, "The quintessential 21st century woman, an ace at any responsibility she is trusted with! Had a conversation with Archana this morning & ordered her transfer to Agra, closer home! The lil one brightening Jhansi Pstn, has inspired us to explore crèche options at every Police line."
The twitterverse was left in a tizzy of joy, and thousands of people poured their congratulatory comments on Singh's tweet.
Archana had been deployed at the grievance readressal desk of Jhansi's Kotwali district since 2016. Her elder daughter is back at her parent's place in Kanpur as her husband Neelesh works with a private firm in Gurgugram. Left with no other option, Asha would bring her six-month old daughter to work with her every day.
After receiving the DGP's call regarding the news of her transfer, Archana was over the moon and she expressed her deepest gratitude for Singh. "I am really happy and thankful to DGP sir for his concern," she said.
She also appreciated his initiative of providing crèche facilities in police offices and added, "It will be quite helpful for all female cops like me working in various police stations in the state."
The picture of Archana went viral on social media after it was shared by Inspector General UP Police Navniet Sikera on Twitter on October 26th. "Incredible. Doesn't need any caption. #Uppolice #PictureOfTheDay," he tweeted. In the photograph, Archana is seen to be busily buried in her register, while her baby daughter sleeps next to her on the table. ​
| Edited by: Zoya Mateen
Read full article