Municipal Corporations

0/10

TRS

0

INC

0

BJP

0

AIMIM

0

OTH

0
MUNICIPALITIES

0/120

TRS

0

INC

0

BJP

0

AIMIM

0

OTH

0
Refresh Data
US, land of dreams? 20,000 slots left for H1B visas
Earlier the US had to resort to a draw of lots as petitions always outnumbered.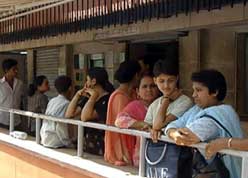 Earlier the US had to resort to a draw of lots as petitions always outnumbered.
Washington: The most sought after H-1B American work visa still has nearly 20,000 slots open seven weeks after the US Citizenship and Immigration Services (USCIS) started receiving applications for the financial year 2010 beginning October this year.
The USCIS on Tuesday said it has so far received approximately 45,500 H-1B petitions counting toward the Congressionally-mandated 65,000 cap. As such, the USCIS would continue to accept petitions subject to till the cap is reached.
This is in contrast of the previous few years when the USCIS had to resort to computerised draw of lots as it received petitions outnumbering several times more than the Congressional mandated cap of 65,000 within the first few days after it started receiving H-1B applications.
USCIS said it has received approximately 20,000 petitions for the advanced degrees category. However, it would continue to accept advanced degree petitions since experience has shown that not all petitions received are approvable, the USCIS said in a statement.
Congress mandated that the first 20,000 of these types of petitions are exempt from any fiscal year cap on available H-1B visas.
For the fiscal 2010, the USCIS started receiving H-1B petitions from April 1. In the first five working days, it received 42,000 H-1B petitions. In the month-and-half since then, USCIS has received juts 3,500 more H-1B petitions, indicating the slump in demand for H-1B work visas.
This is mainly attributed to the current economic crisis, high unemployment rate in the US and also partly to the anti-H-1B sentiment prevailing in the United States at present.
Under the stimulus package, US companies which receive federal money are prevented from hiring foreign workers under H-1B visas.
Further the US Department of Homeland Security has launched investigations into alleged fraud cases related to H-1B visas and has tightened the application approval process.
At least two legislations are also pending in the US Congress, which if passed would make H-1B visas tougher for foreign technology professionals.
Get the best of News18 delivered to your inbox - subscribe to News18 Daybreak. Follow News18.com on Twitter, Instagram, Facebook, Telegram, TikTok and on YouTube, and stay in the know with what's happening in the world around you – in real time.
Read full article