Municipal Corporations

9/10

TRS

8

INC

0

BJP

1

AIMIM

0

OTH

0
MUNICIPALITIES

114/120

TRS

96

INC

9

BJP

3

AIMIM

2

OTH

4
Refresh Data
Usain Bolt speeds to year's fastest 100 metres
The Jamaican Olympic champion clocked a dazzling 9.82 seconds in his first individual race of 2012.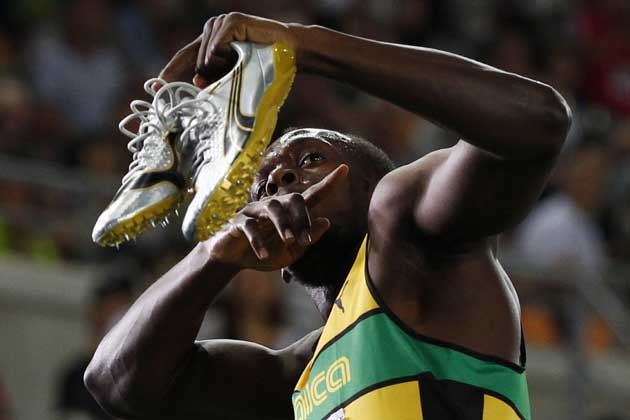 The Jamaican Olympic champion clocked a dazzling 9.82 seconds in his first individual race of 2012.
Kingston: Jamaican Olympic champion Usain Bolt held his nerve after two false starts by competitors and powered to the year's fastest 100 metres at the Jamaica International Invitational on Saturday. The 100- and 200-metre world record-holder clocked a dazzling 9.82 seconds in his first individual race of 2012, exploding from the blocks to take control at 40 metres.
"It's a good start, I would say," said Bolt, who erased the previous season-leading time of 9.90 by his training partner and world champion Yohan Blake three weeks ago. "I feel better than last year, so I'm definitely happy with myself. I don't think my execution was perfect, but I think for my first race, it was good," Bolt added.
Michael Frater, a member of Jamaica's world record 4x100 metre relay team, finished a distant second in exactly 10 seconds.
Bolt was disqualified from the last year's 100-metre final at the world championships because of a false start but was not perturbed by the delays. "A couple of false starts will throw you off, but I stayed focused and went out there and executed as best as possible, so I'm just happy with myself," he said.
Although pleased with the last 50 metres of the race, the lanky sprinter, who owns world records of 9.58 seconds in the 100 metre and 19.19 in the 200, said he must continue to work on the first phase of the shorter race.
"I always try to work on my first 40 metres because the last 40 metres is always the best part of my race," he said. "So over the season, as I get more fit and get more fluent, it will definitely get better."
Blake also added a season-leading performance, one of four in the meeting. The world 100-metre champion clocked 19.91 seconds in the 200 metre. "Bolt erased my world lead in the 100 [metre], so I thought I would set a world lead in the 200 [metre]," the Jamaican said.
Top performances of the year also came in the women's 100 and 400 metre. World champion Carmelita Jeter took the shorter race in 10.81 seconds, finishing ahead of Kelly-Ann Baptiste of Trinidad and Tobago, who ran 10.86. Jamaican Olympic silver medallist Kerron Stewart was third in 10.98.
"I feel good with that win," Jeter said. "I know there're some things I didn't do right, and I'm sure my coach is going to get on me, but it's a long season. Right now I just have to stay healthy... to stay humble, stay focused... I can't get ahead of myself. I can't get big-headed because you never know who is going to show up."
Jamaican Novelene Williams-Mills, the 2007 world bronze medallist, held off US world indoor champion Sanya Richards-Ross in the last 50 to win the women's 400 metre in 49.99 seconds. Richards-Ross, who had the previous world leader of 50.18, took second in 50.11.
Jamaican Brigitte Foster Hilton, the 2009 world champion who struggled in 2011, appeared to have regained her form in the 100-metre hurdles, winning in 12.51 seconds. The time was just 0.02 behind the world leading performance of 12.49 by current world champion Sally Pearson of Australia.
Get the best of News18 delivered to your inbox - subscribe to News18 Daybreak. Follow News18.com on Twitter, Instagram, Facebook, Telegram, TikTok and on YouTube, and stay in the know with what's happening in the world around you – in real time.
Read full article