V-P Poll: Venkaiah Naidu's Leadership Essential to Reinstate Prestige of Parliament, Says Modi
Venkaiah will have many suggestions and ideas to restore the parliament's supremacy at a time when our country's parliamentary activities are being criticized, PM Modi said on the eve of the election.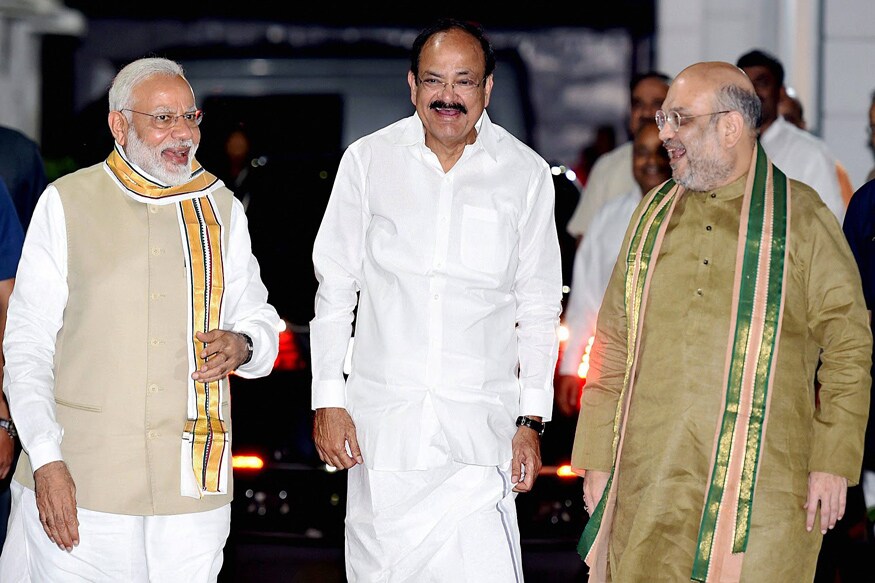 Union Minister M Venkaiah Naidu with Prime Minister Narendra Modi and BJP President Amit Shah. (PTI File Photo)
New Delhi: On the eve of the vice-presidential election, Prime Minister Narendra Modi said he believed that NDA's candidate M Venkaiah Naidu would play an important role in raising the Parliament's prestige.
"Our country's parliamentary activities are being criticized. Venkaiahji will have so many suggestions and ideas. Now that we have come to power after 30 years with a full majority, it calls for a big responsibility," said Modi.
"How we all can raise the prestige of the Parliament? This is very important for the country's democracy. It's not the Parliament's supremacy. That is anyway enshrined in the Constitution, but how its prestige can be raised," he added.
Modi also released the book "Tireless Voice, Relentless Journey", consisting of Naidu's speeches and articles.
Stressing that "if there's any place to bring the country out of danger and guide politically by rising above the political differences, it's the Upper House (Rajya Sabha)", he said: "How will the prestige of the House be reinstated? It is a responsibility as well as a challenge before us. It is our good fortune that we are going to get the leadership of Venkaiah Naidu there."
The Prime Minister said he was "not setting any agenda here what Naidu should do" but that he could see "that this responsibility is very big. It can only be possible, when we resolve to stay shoulder-to-shoulder with him for the next five years".
Modi also said that they should not think that "Venkaiah to apna hai (Venkaiah is our own man). No, He is our soon-to-be Vice President and going to be presiding over a prestigious institution."
"Till yesterday he was a minister in my cabinet and at one time I had worked as a party functionary when he was the party president," he said, adding that Naidu should guide them after becoming the Vice-President.
"We need to learn how to respect the augustness of the post. Venkaiah's success is nation's success. To restore the prestige of parliament is the need of the hour," he added.
"If that's not done, the country will be disappointed. Parliamentary activities, parliamentary prestige and parliamentary conduct are very important as well. And I believe that Naidu will play an important role in doing this."
Get the best of News18 delivered to your inbox - subscribe to News18 Daybreak. Follow News18.com on Twitter, Instagram, Facebook, Telegram, TikTok and on YouTube, and stay in the know with what's happening in the world around you – in real time.
| Edited by: Aakarshuk Sarna
Read full article