Vasundhara Raje sworn in as Chief Minister of Rajasthan
<p>60-year-old Vasundhara Raje, who belongs to the royal Scindia family of Gwalior and married in Rajasthan, was on Friday sworn in as Chief Minister of Rajasthan in the presence of several BJP stalwarts.</p>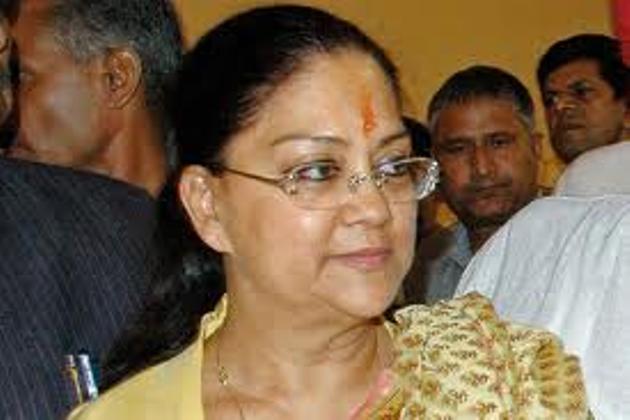 <p>60-year-old Vasundhara Raje, who belongs to the royal Scindia family of Gwalior and married in Rajasthan, was on Friday sworn in as Chief Minister of Rajasthan in the presence of several BJP stalwarts.</p>
60-year-old Vasundhara Raje, who belongs to the royal Scindia family of Gwalior and married in Rajasthan, was on Friday sworn in as Chief Minister of Rajasthan in the presence of several BJP stalwarts.
She was administered the oath of office and secrecy by Governor Margaret Alva during a grand swearing-in ceremony on Janpath in Jaipur where tight security
arrangements were put in place.
Arrangements for around 40,000 people had been made at the event with LCD screen installed everywhere for security purposes, party sources informed.
The oath-taking ceremony was attended by BJP chief Rajnath Singh, BJP PM nominee Narendra Modi, Senior BJP leader LK Advani, Chhattisgarh CM Raman Singh, Madhya Pradesh CM Shivraj Singh Chouhan, Punjab CM Prakash Singh Badal, Deputy CM Sukhbir Singh Badal and other leaders like Kalraj Mishra, Uddhav Thakre, Hema Malini among others.
Former Jharkhand Chief Minister Arjun Munda and former Rajasthan Chief minister Ashok Gehlot were also present at the ceremony.
The BJP had on December 8 recorded a thumping victory in Rajasthan, ending five years of the Ashok Gehlot-led Congress rule.
BJP candidates were declared elected in 162 of Rajasthan's 199 constituencies where elections were held. In Churu constituency, polling had been postponed to December 13 due to death of a Bahujan Samaj Party candidate.
In 2003, Raje was sworn-in as the chief minister along with eight cabinet ministers and one minister of state. This time, over half a dozen senior leaders are also likely to join in as the members of her new cabinet.
(With agency inputs)
Get the best of News18 delivered to your inbox - subscribe to News18 Daybreak. Follow News18.com on Twitter, Instagram, Facebook, Telegram, TikTok and on YouTube, and stay in the know with what's happening in the world around you – in real time.
Read full article