Vasundhara Raje to meet Governor on government formation today
<p>Vasundhara Raje has been elected the BJP legislature party leader in Rajasthan and she will meet Governor Margaret Alva on Tuesday to stake claim to form the next state government.</p>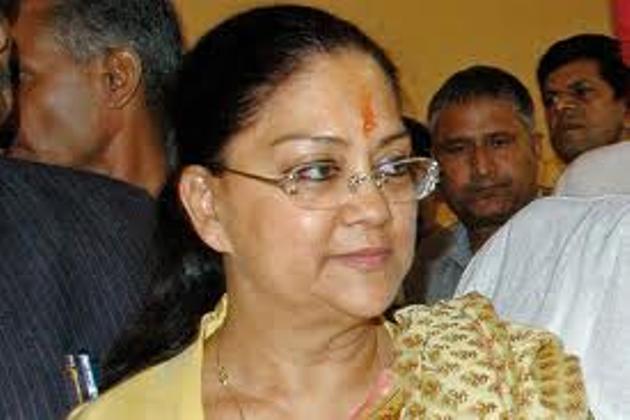 <p>Vasundhara Raje has been elected the BJP legislature party leader in Rajasthan and she will meet Governor Margaret Alva on Tuesday to stake claim to form the next state government.</p>
Vasundhara Raje has been elected the BJP legislature party leader in Rajasthan and she will meet Governor Margaret Alva on Tuesday to stake claim to form the next state government.
At a meeting in Jaipur on Monday, BJP MLAs unanimously passed a proposal of senior party MLA Gulabchand Kataria to elect Raje, who was projected as the party's chief ministerial candidate, as their leader.
Addressing the party MLAs, Raje asked them to prepare development plans for their constituencies so that works could be started soon after the government formation. She also asked them to make efforts to ensure an unprecedented victory for the party in the 2014 Lok Sabha elections in the state, so that it can form the government at the Centre under the leadership of Narendra Modi.
"I dedicate this victory to the people of Rajasthan who have reposed their faith in us. As you get time, go and visit your constituencies to thank people," she told the MLAs.
Leader of the Opposition in the Rajya Sabha Arun Jaitley, who was present in the meeting, asked leaders and workers to make similar efforts to ensure victory in all 25 parliamentary seats in the state.
Apart from newly-elected MLAs, party's national general secretary Amit Shah, in-charge of state party affairs Kaptan Singh Solanki were also present in the meeting. The swearing-in ceremony would take place on December 13, Solanki said. Meanwhile, a large number of people, including senior government officials and businessmen, visited Raje to congratulate her.
Get the best of News18 delivered to your inbox - subscribe to News18 Daybreak. Follow News18.com on Twitter, Instagram, Facebook, Telegram, TikTok and on YouTube, and stay in the know with what's happening in the world around you – in real time.
Read full article