Venus downed by free-hitting Spaniard
Venus Williams suffered a shock defeat at the hands of Carla Suarez Navarro.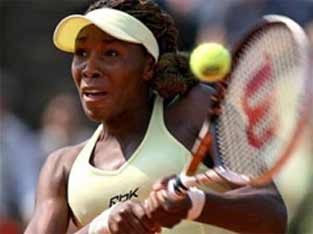 Venus Williams suffered a shock defeat at the hands of Carla Suarez Navarro.
Melbourne: Venus Williams suffered a shock defeat at the hands of a fluid and free-hitting Carla Suarez Navarro on Thursday, falling 2-6 6-3 7-5 in the second round of the Australian Open.
The seven-times grand slam champion, shimmering under the lights in a canary-yellow dress, held a match point late in the third set but failed to join sister Serena in the third round. Suarez Navarro, making her Australian Open debut as world number 46, stood toe-to-toe with sixth seed Venus and bettered her more illustrious opponent for much of the match before closing it out after two hours and 14 minutes.
The double-barrelled Suarez Navarro faces Spanish compatriot Maria Jose Martinez Sanchez in the next round. "Thank you very much? thank you," she beamed at the crowd courtside. "This is very big court," she giggled. "I don't know what I did... I only played... I don't know what to say." Venus tore through the first set as the match started off following the script but she was unsettled in the second as Suarez Navarro stepped in a little and to take the American's shots on the rise.
Ripping through and over the ball to impart great top-spin, the Spaniard began to wrest control from Venus and eased ahead in set two, finally taking it when a miss-hit forehand flew long from the American's racket.
All long limbs and angry squeals, Venus threw everything at her opponent at the start of the third but her serve was continuing to fail her. Still, though, she held on to nose ahead. Suarez Navarro's answer was to step in even further and pummel away with heavy groundstrokes.
It was Venus who finally got the breakthrough to creep 3-1 ahead, closing out the fourth game with a big forehand swing-volley. She needed a big swinging ace to stave off a breakpoint in the next game and then slammed in a 192 kmh serve to regain control before double-faulting for deuce again. Another forehand volley had mother Oracene holding her head but gave Venus another game point and this time she held to move 4-1 ahead in the decider.
The American thought she had the buffer she needed but, refusing to be cowed, Suarez Navarro unleashed a series of shimmering shots to peg Venus back and break her for 5-4. Riled, the powerful Venus responded with some stinging returns in the next game. She racked up one match point but blew it with a clumsily hit backhand long and the Spaniard eventually held for 5-5. Suarez Navarro piled the pressure on Venus in the next game and earned two break points.
Venus saw off the first with a stinging serve, but pushed a forehand wide to be broken. Serving for the match, Suarez Navarro missed her first match point with a wide forehand but clinched the best victory of her career on the second when Venus netted a forehand.
Get the best of News18 delivered to your inbox - subscribe to News18 Daybreak. Follow News18.com on Twitter, Instagram, Facebook, Telegram, TikTok and on YouTube, and stay in the know with what's happening in the world around you – in real time.
Read full article