GET Stock

Quotes


VHP Chooses its International President Through Secret Ballot, Ends Togadia's Reign
A day before the elections, there were scuffles in VHP headquarters in RK Puram, the appointed boxer blocked the entry of a karyakarta, which led to a showdown between two camps - Kokje and Reddy.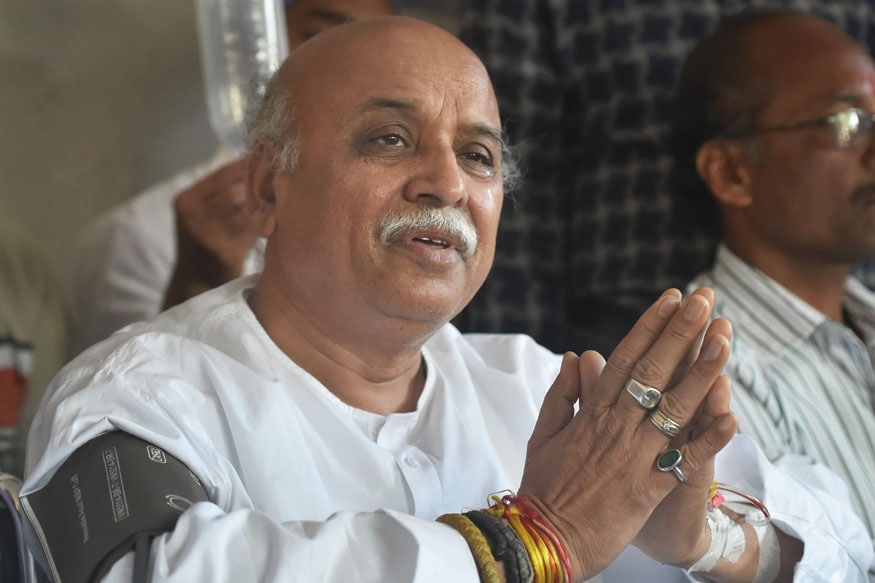 A file photo of VHP leader Pravin Togadia (File photo: PTI)
New Delhi:
The verdict of Vishwa Hindu Parishad's first secret ballot in 52 years is out: Justice VS Kokje has polled more votes than Raghava Reddy, who chose Pravin Togadia in his cabinet.
The process of electing VHP's international president, which was earlier occupied by Reddy, began in December last year in Bhubaneswar. But due to lack of consensus, the procedure was left midway.
Within an hour of being elected, Kokje announced his team that kept Togadia out.
The new cabinet selected by Kokje include Alok Kumar advocate (Working President); Ashok Chowgule (International Working President); Milind Parande (General Secretary); Vinayak Rao Deshpande (Joint General Secretary).
Angry at the poll results, Togadia has decided to launch a movement on April 17.
"I will undertake a fast on April 17. It will be a movement that will infuse 2019 elections. It is about demanding law for cow protection and Ram Mandir. These have been my past issues and I will continue to raise them," said Togadia.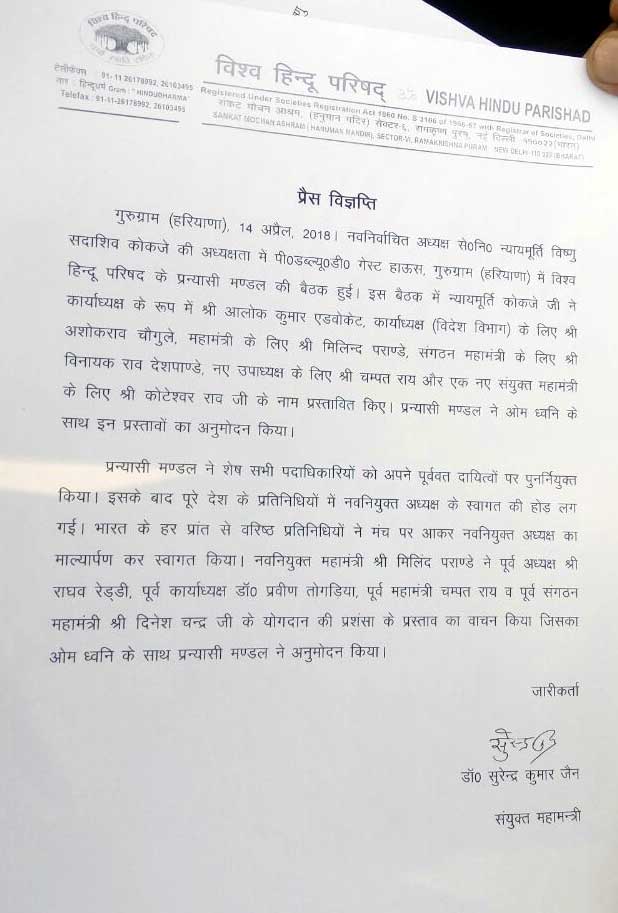 A total of 192 votes were polled, one was declared invalid. Kokje won with 131 votes and Reddy got 60 votes.
The Board of Trustees 273 members felt the need of holding elections as there were two contenders. There were three booths inside the venue which allowed the voters to cast their votes.
In the past, the organisation has been selecting the international president through consensus and selection.
This time, in 52 years, there was a secret ballot because of lack of consensus. This election took place in Gurugram's PWD guest house amid high security.
When asked about VHP losing its face of Hindutva politics, Surendra Jain, joint general secretary, said, "Hindu society is our face, no one else is. In the work we do people can play different roles, but the larger programs and interests do not depend on any one person."
Though Togadia is unhappy with the results and not part of the cabinet of Kokje, Jain said, "VHP is one way route, you can only enter but cannot exit. In service of the Hindu society, we will work together. We will stick to our mandate and work for the establishment of Ram Mandir. Mandir wahin banayega, the land is not with us right now, but things will change. As per VHP mandate, there will not be any masjid in Ayodhya by the name of Babri."
A day before the elections there were scuffles in VHP headquarters in RK Puram, the bouncers blocked the entry of a karyakarta, which led to a showdown between the Kokje and Reddy camps.
Jain said, "There are no camps in VHP. Our identity is Hindu society and we are now going to work for the nation. Whatever happened in the run up to elections is because things happen in the heat of elections, people do a lot of things that they wouldn't do otherwise. But like a bad dream, we have forgotten that incident."
Arvind Saini, one of the voters present, said, "This is the first time we voted for the international president. Togadia has worked for Hindutva, but he is not bigger than the organisation. Under the new leadership various programs will be pursued."
| Edited by: Tarun Bhardwaj
Read full article
Countdown To
Elections Results
To Assembly Elections 2018 Results