Video Shows 16-year-Old Being Dragged And Molested by Group of Boys in UP's Jhansi
The video shows a girl being molested by a group of young boys and being dragged to a forested area. The girl can be seen shouting for help several times in the video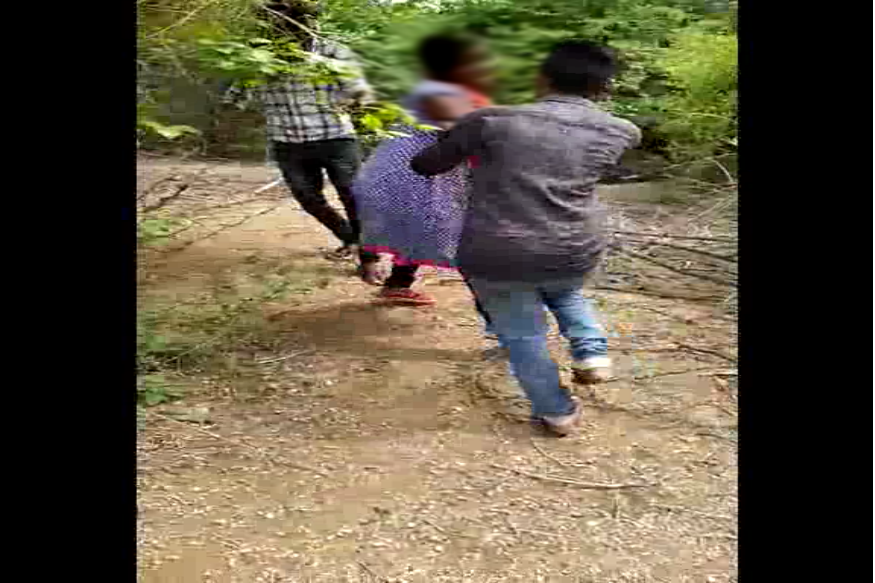 Video grab of the girl being harassed in UP's Jhansi.
Lucknow: It was not very long back when a video went viral from Unnao district of Uttar Pradesh showing a group of boys molesting a middle-aged woman. A similar video has again surfaced, this time from Jhansi, showing a teenage girl being molested by a group of boys in the rural area under Chirgaon police station.
The video shows a girl being molested by a group of young boys and being dragged to a forested area. The girl can be seen shouting for help several times in the video. The 16-year-old, holding a steel container, a spoon and a water bottle, tells one of the men, "Leave my hand."
The video is said to be around 10 days' old.
The girl and the men belong to the same village in a block about 40 km from Jhansi town.
Speaking to media, DIG Jhansi zone, Subhash Singh Baghel said, "As soon as we got the information about the incident senior police officials rushed to the spot and were directed to take stern action against the culprits. The girl seen in the video has been located and a written complaint has been filed in the case. The victim has alleged that a boy from the neighbourhood had threatened her and took her to a nearby place where some other boys were also present. A case has been registered against the culprits under section 363, 506 and 354 of the IPC along with POCSO act as the victim's age is just 16 years. The main accused has been arrested in the case."
Recently, a video had gone viral in Uttar Pradesh's Unnao in which three men were seen molesting a woman in a forested area. The woman was taken from her home to a secluded area in order to molest her. The incident took place under Gangaghat police station and three people were arrested in the case.
In the video, the victim could be seen pleading with the men, "Bhaiyya aisa mat karo (Brother, do not do this)". The men, however, ignored her pleas and continued their vile act and threatened to make the video clip viral.
| Edited by: Ashutosh Tripathi
Read full article