UK Court Orders 'Bejwelled Playboy' Vijay Mallya's Extradition, Says He Faces No Risk in Mumbai Jail
Mallya, who faces a case of loan default to the tune of Rs 9,000 crore besides allegations of money laundering and diversion of loan funds for purposes other than they were meant for, had reiterated his offer to repay the loans ahead of the hearing.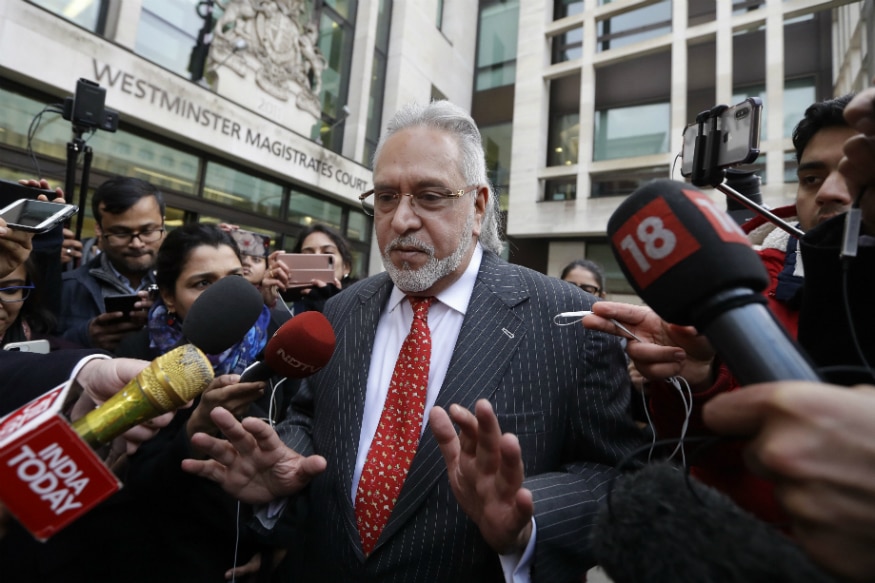 Businessman Vijay Mallya after his extradition hearing on Monday. (PTI)
London: A UK court on Monday ruled that fugitive liquor baron Vijay Mallya will be extradited to India, giving the beleaguered businessman 14 days to appeal against the verdict.
Rejecting Mallya's attempts to show Indian prisons in a bad light, the court said there was "no ground at all" to believe he faces any risk in Mumbai's Arthur Road Jail which has been recently "redecorated". Authorities at the prison have kept a high security cell ready for the 62-year-old former Kingfisher Airlines boss.
Mallya had, before the hearing, reiterated his offer to repay the loans ahead of the hearing. Stressing on the fact that the offer to repay was not linked to his extradition, Mallya said he would honour the verdict of the court.
The liquor baron had contested his extradition on the grounds that the case against him is "politically motivated" and the loans he has been accused of defrauding on were sought to keep his now-defunct airline afloat. "I did not borrow a single rupee. The borrower was Kingfisher Airlines. Money was lost due to a genuine and sad business failure. Being held as guarantor is not fraud," he said in his recent Twitter post on the issue. "I have offered to repay 100 per cent of the principal amount to them. Please take it," he had tweeted earlier.
The Westminster Magistrates' Court Chief Magistrate Judge Emma Arbuthnot ordered Mallya's extradition, in a major boost to India's efforts to bring back the fugitive wanted for alleged fraud and money laundering charges amounting to an estimated Rs 9,000 crore.
The court dismissed the defence's attempts to dispute Indian prison conditions as a bar to his extradition on human rights grounds, saying the video of the Barrack 12 of Mumbai's Arthur Road Jail, where Mallya would be held, "gives accurate portrayal and has been recently redecorated". "He will have access to personal medical care to manage his diabetes and coronary problems... There was no ground at all to believe that he faces any risk at all (in jail)," the judge ruled.
Delivering the verdict, she said that there was "no sign of a false case being mounted against him". "Having considered evidence as a whole. There is a case to answer," Judge Arbuthnot said as she ruled that Mallya could be extradited to India to stand trial on the charges brought by the Central Bureau of Investigation and the Enforcement Directorate.
Addressing the jail conditions in particular, the judge expressed her satisfaction with the evidence provided by the Indian government, describing the video of Barrack 12 at Arthur Road Jail as an accurate portrayal of the conditions which will apply to Mallya. However, the court made a specific reference to special medical conditions being made available to the businessman, who is described as "far from healthy".
"A spell in custody is likely to help him cut down on alcohol. A regular exercise routine will need to be worked out by his doctors to keep him healthy. I noted that he is taking a whole range of medications, which the GOI (government of India) will ensure he has access to," the judge said.
She made it clear that the assurances provided by the Indian government on prison conditions should not be breached because extradition arrangements work on the basis of trust and any failure to abide by the assurances would "doubtlessly" affect the trust between the court and the government. "I have no reason at all to think that the GOI would want to breach that trust," she said.
"The doctors and nurses in a prison of the size of Arthur Road have a lot of work on their hands and the assurance given that Dr Mallya could consult his own private doctors seems to this court to be a necessary one in all the circumstances. I would expect that the Indian court is able to allow Dr Mallya a bed and home-cooked food which would enable him to face the trials ahead in a more healthy state than otherwise," she said.
Judge Arbuthnot was equally critical of the Indian banks for not using "common sense" when such loans were sanctioned.
"It is either a case that the various continuing failures were by design and with a motive (possibly financial), which is not clear from the evidence that has been put in front of me, or it is a case of a bank who were in the thrall of this glamorous, flashy, famous, bejewelled, bodyguarded, ostensibly billionaire playboy who charmed and cajoled these bankers into losing their common sense and persuading them to put their own rules and regulations to one side," she noted. She said Mallya was not above using "round robin" methods to use the funds acquired for purposes other than specified to the banks.
Mallya, wanted in India on charges of fraud and money laundering amounting to around Rs 9,000 crore, had been on bail since his arrest on an extradition warrant in April last year.
After being extradited, he will be lodged in one of the high security barracks located in a two-storey building inside the prison complex, which also housed 26/11 Mumbai attack terrorist Mohammad Ajmal Kasab, a prison official said in Mumbai. A high security cell has been kept ready at the jail located in central Mumbai, he said.
Under India's extradition treaty with the UK, the sign off on the extradition order is made by the UK home secretary, in this case senior British Pakistani minister Sajid Javid, who has two months to formally order the extradition. Meanwhile, Mallya has the right to lodge an appeal in the UK High Court against the Chief Magistrate's order but that appeal would only be addressed once Javid has made his decision on the extradition order, until which time Mallya remains on the same bail conditions as before.
"I am disappointed that the judge felt I made misrepresentations to IDBI bank and persuaded them to loan money to Kingfisher Airlines. Be that as it may, the judge is perfectly entitled to make whatever judgment she thought fit. I have my rights," Mallya told reporters after the verdict. He said his team would consider the judgment in detail before deciding the next course of action.
Reacting to the development, CBI spokesperson Abhishek Dayal said: "We hope to bring him soon and conclude the case. The CBI has its own inherent strength. We worked hard on this case. We are strong on law and facts and we were confident while pursuing the extradition process."
The development soon led to a political slugfest, with BJP chief Amit Shah BJP saying the credit of the ruling "entirely" goes to Prime Minister Narendra Modi, while Congress chief Rahul Gandhi said it was not a "victory" as it had exposed the rot in the banking system.
Get the best of News18 delivered to your inbox - subscribe to News18 Daybreak. Follow News18.com on Twitter, Instagram, Facebook, Telegram, TikTok and on YouTube, and stay in the know with what's happening in the world around you – in real time.
Read full article