GET Stock

Quotes


Vishwaroopam: I feel vindicated, says Kamal Haasan
Pirated copies of 'Vishwaroopam' are out in Chennai, but Haasan said no one's buying that because audiences know how important its success is for his future.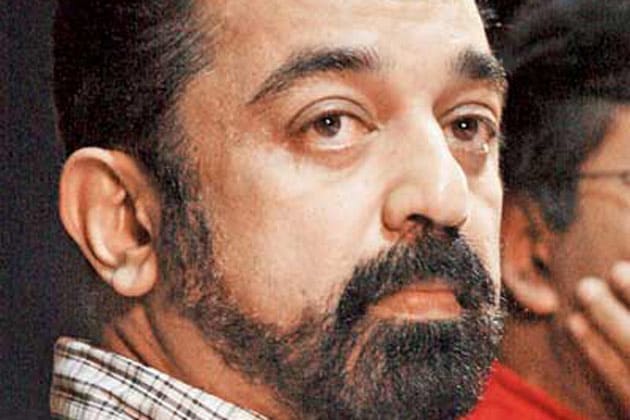 Pirated copies of 'Vishwaroopam' are out in Chennai, but Haasan said no one's buying that because audiences know how important its success is for his future.
Chennai: Kamal Haasan's 'Vishwaroopam' finally opened on Thursday in nearly 600 theatres across Tamil Nadu to full houses, as expected. The actor-filmmaker says the espionage thriller opened without any incident and he feels vindicated.
"There was not a murmur of unrest let alone protest, anywhere in Tamil Nadu. Fans from both the communities, Hindu and Muslim, had assured me there would be absolute peace. Sure enough, the film opened today without any incident. I feel vindicated," Haasan said.
'Vishwaroopam' has opened to great response in Tamil Nadu with people packing shows as early as 5 AM on Thursday and tickets all over the state are sold out till February 13.
Several factors have helped the film greatly despite being hit by the delay in its release in the state - positive word of mouth, mostly positive reviews, the fan factor, anticipation and largely the failure of its two big competitors 'Kadal' and 'David'.
Theatre owners allotted extra screens for 'Vishwaroopam' after Mani Ratnam's 'Kadal' and Bejoy Nambiar's 'David' bombed, said CNN-IBN correspondent Meenakshi Mahadevan from Chennai. The film was initially supposed to open in 524 theatres but finally made it to 600 theatres across the state.
Last evening, Haasan held a special premiere for actors at the Satyam Cinemas in Chennai, attended by Khushbu, Radhika, Mumtaj, Yuvan Sankar Raja, Karthik, AP Sreedhar and Suhasini among others. Actor Rajinikanth saw the film with his family at his own residence during a special screening.
It was a jamboree of sorts as elated fans danced to drum beat and burst crackers as they thronged the cinema-houses since early morning, some pouring milk over the cutouts of the 58-year-old actor.
Haasan's fans said the technically advanced film could match up to any Hollywood production. "It is like a Hollywood movie," said a fan outside a theatre. "Hats off to Kamal. He has taken Indian cinema to a new height," said another.
The Rs 95 crore action-thriller was originally slated to come out Jan 25, but its release was banned by the Tamil Nadu government after some Muslim organisations protested against the film, saying some scenes in the film would hurt the sentiments of the community.
Significantly, pirated copies of 'Vishwaroopam' are out in Chennai, but no one's buying that. "My audiences know how important the success of 'Vishwaroopam' is for my future. They have decided to boycott the pirates because they know my survival depends entirely on the success of this film. So no pirated copies of the film are being bought," Haasan said.
"For my fans, 'Vishwaroopam' is much more than a film. It's a mission. Likewise my colleagues from the Tamil film industry have pledged to see the film twice, once for the pleasure of it and then once because they want to ensure it's a blockbuster," he said.
Starring Andrea Jeremiah, Pooja Kumar, Rahul Bose, Shekhar Kapur and Jaideep Ahlawat, the film sees Kamal in the title role.
At the successful screening of the film for his colleagues on Wednesday evening some of the august gathering compared Haasan's crossover from a Kathak dancer to a fighter-hero, to Superman's makeover from Clark Kent to the flying super-hero.
The irrepressible actor chuckled, "But it's not really Superman in 'Vishwaroopam'. I had very practical problem with making my character doing a Superman. Where in today's era of cellphones would Superman change his costume? There are no phone booths any more for Superman to change into Clark Kent, and vice versa."
On a more serious note, Haasan said: "I've gone back much further than Superman for inspiration for my duel character of the effeminate dancer turned hero in 'Vishwaroopam'. The character comes from the Tamil version of the 'Mahabharat'."
The state ban on the spy-thriller centering around terror, triggered a nationwide condemnation and support for Haasan, who had threatened to go on a self-imposed exile following the politics over his film. The actor had pledged his house to make the Rs 100 crore movie.
The Hindi and Telugu versions were released without much ado and Tamil also in Kerala and Karnataka. Haasan had also taken the battle to the court. Prior to the protests by Muslim outfits, the film had faced problems with the tech-savvy actor insisting on release on the DTH platform before showing it in theatres. The theatre owners' opposition had forced him to delay the release. (With inputs from IANS)
Read full article