Watch | Bengaluru's Dug up Footpaths Are So Bad, Women Performed Bharatanatyam on Them
Video shows women dancing over open drains, get their foot stuck in broken footpath— to highlight the poor state of Bengaluru's pavements.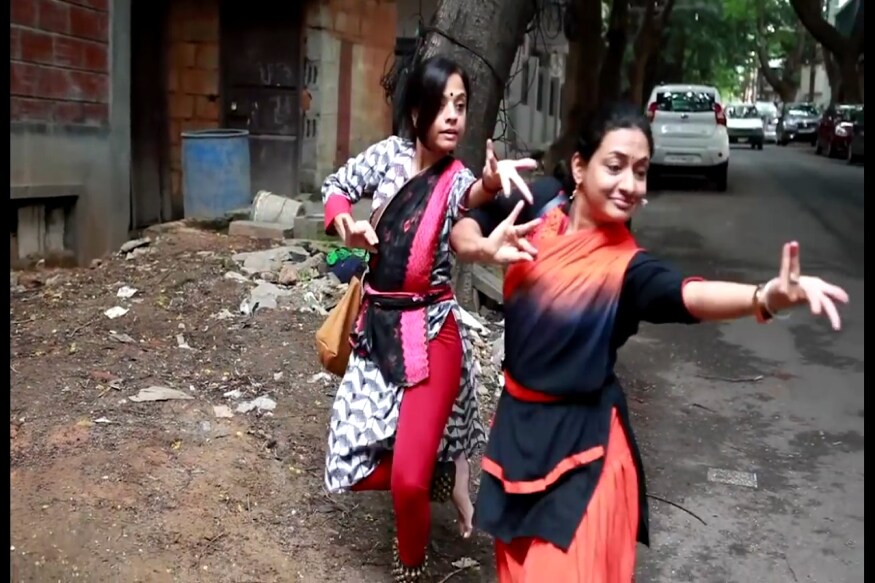 Screenshot of the viral video that has been produced by Malleshwaram Social.
Bengaluru: Bengaluru's ill-reputed, dug up footpaths are in the news again, this time for a hilarious reason. A video from the city, which has now gone viral, shows women performing a piece of Bharatnatyam while trying to navigate through the streets of Malleshwaram.
The women dance over open drains, get their foot stuck in broken footpath—only to highlight a problem which persists across the city.
The video, titled 'Bharatanatyam Saaku #FootpathBeku', has been produced by Malleshwaram Social, an initiative of civic-minded citizens from the area who have come together to understand their neighbourhood better and to connect with one another.
Suchitra Deep, one of the members of the group, realised that one of the common things people complained about was the terrible state of footpaths in the city. After a door-to-door campaign didn't yield results, Suchitra thought of giving the campaign a satirical twist. "We wanted to raise awareness in a way that people would relate to and also give it a satirical form, without getting into blame game," she said.
The video, which was uploaded on October 16, has got 2,43,000 views so far and been shared over 3,000 times on the Malleshwaram Social Facebook page. It has also been widely circulated on various WhatsApp groups.
"We don't expect to get immediate reaction from the authorities, but want residents to become more aware. It is a light-hearted video that has struck a chord with everyone." said Sriram Aravamudam, the creative director of the video.
Suchitra says the idea was not to create a viral video but to highlight that it's not just administration's responsibility to maintain roads, but also of citizens who sometimes encroach or litter them. "It's a collective responsibility, our 'chalta hai' attitude needs to change," she says.
The group hopes to create more such videos in the future and also planning offline events like obstacle races over footpaths to highlight the issue. On November 1, which is celebrated as Karantaka Rajyothsava (Karantaka Formation Day), the group is planning a protest march with the senior citizens of the area, the ones most affected by the poor condition of the city footpaths.
Read full article