GET Stock

Quotes


Water Bottles Thrown at Telengana Home Minister for Rejecting Quota Demand of Reddy Community
Telangana home minister Nayini Narasimha Reddy was attacked during a public meeting organised by Telangana Reddy Association in Hanamkonda on Tuesday after he expressed her party's inability to give reservation to each and every caste.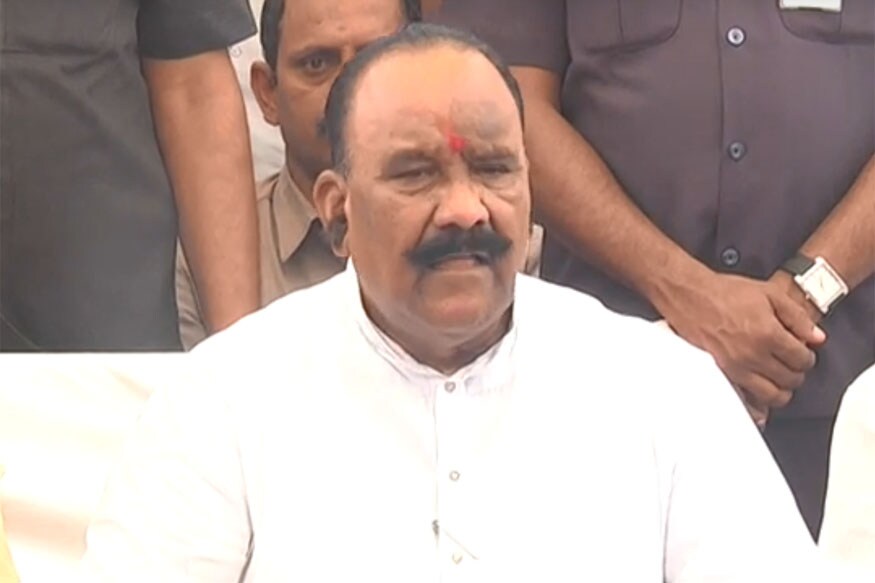 File photo of Telangana home minister Nayini Narasimha Reddy. (YouTube)
Hyderabad
: Telangana home minister Nayini Narasimha Reddy faced the wrath of people in Hanamkonda on Tuesday for rejecting the demand for reservation of the poorer sections in the Reddy community and deeming it unconstitutional.
Addressing a public meeting organised by Telangana Reddy Association to press for welfare measures of the community, the minister, said, "If every caste starts demanding reservation and funds like this, we cannot give it. Constitution does not allow the state to decide."
Incensed by his remark, people present in the audience started throwing water bottles at him and police had to form a ring on the stage to protect the minister. The minister, meanwhile, continued his speech amid the uproar.
The community's demands included constitution of a special Reddy Welfare Corporation Fund, 10 percent reservation in education and jobs, pensions to farmers of the community who are senior citizens and special funds for students who go abroad for higher studies.
Madhusudan Reddy, the convener of Telangana Reddy Youth Forum said that if their demands are not fulfilled, they plan on launching a state-wide protest.
"The situation has changed over the years. In every community there are poor people. Issue is people in our community are not getting jobs. The backward people in our community should also get equal reservation and advantage," he said.
BJP, on the other hand, said such treatment of the minister was "long due".
"TRS is reaping what they have sown. This type of treatment was long due for TRS leaders with the kind of cheap reservation politics they are indulging in the state for electoral expediency. How was it constitutional when Bill for 12 percent Muslim reservation was passed in Assembly?" asked Krishna Sagar Rao, Telangana BJP Spokesperson.
The Andhra Pradesh Assembly also in December last year, unanimously passed a bill to give 5% reservation to the backward sections in the upper caste Kapu community in government jobs and education institutions, by breaching the Supreme Court-mandated 50% limit on minority quotas.
As politics over quota continues, many citizens argue that reservation should be provided on the basis of economic backwardness, and not on basis caste or religion.
Also Watch
Read full article