nda:
Needmore seats to Win

Needmore seats to Win
upa:
We Run an Ethical Business. Can't Just Cry Corruption, Prove it: South Africa's Controversial Guptas
Atul, Ajay and Rajesh Gupta, once residents of Saharanpur in Uttar Pradesh, are now businessmen, operating in South Africa in close quarters with Zuma and his family.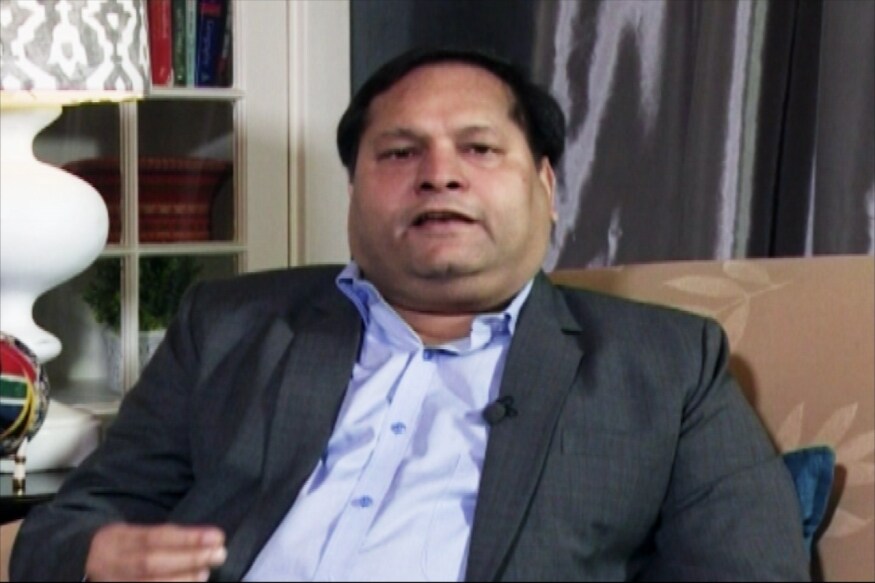 Ajay Gupta of the controversial Gupta family of South Africa. (CNN-News18 photo)
New Delhi
: The Gupta brothers, also popularly referred to as Zuptas for their alleged proximity to South African President Jacob Zuma, have run themselves into a tight spot with the UK daily Financial Times reporting about a Federal Bureau of Investigation (FBI) probe into their business.
Atul, Ajay and Rajesh Gupta, once residents of Saharanpur in Uttar Pradesh, are now businessmen, operating in South Africa in close quarters with Zuma and his family.
Atul travelled to South Africa in 1993 where he sold shoes and computers from the trunk of his car. Rajesh and Ajay followed suit in 1997, and the brothers set up a computer business named Sahara Computers. All of this before acquiring large stakes in uranium, gold and coal mines, a luxury game lodge, an engineering company, a newspaper and a 24-hour TV news station.
As it stands today, the three Gupta brothers are reported to be billionaires in the country's rand currency.
However, the brothers made news in the recent past when Bank of Baroda decided to shut accounts of the companies controlled by them to ensure compliance with banking rules, according to a Bloomberg report.
The Guptas have also found themselves under the radar for influencing cabinet appointments and government contracts by using their proximity to Zuma.
South Africa's four biggest banks closed accounts linked to the Gupta family in 2016. The banks cited the need for compliance with international banking rules.
The Gupta's also found themselves in a major soup later this year when according to news reports the FBI started its probe against suspicious cash flows between South Africa, Dubai and the US and the 'Gupta' relation with the same.
In an exclusive interview with CNN-News18's Bhupendra Chaubey, Ajay Gupta talks about corruption allegations against his family, their rise in the business fraternity, and the supposed FBI probe into their business dealings.
Bhupen Chaubey: Mr. Gupta, your association with South African establishment has been described as the most corrupt equation, to the extent that you are supposedly in connivance with the South African President (Jacob Zuma) himself, how do you respond to these claims made by international agencies?
Gupta: You are absolutely right in the sense that media are talking in this country, but least understand any corruption or any corrupt activity.
There are so many organisations and establishments run by the government here. I can only say one thing in reply. The Gupta family arrived in 1993 or 1994 in this country, and since then until today, I don't remember a single authority that ever questioned us.
So, I don't know from where this narrative of corruption came from. If you are in some activity, you must be asked questions by someone, at least one person. So, I can proudly say that this is only a media perception, creating and attacking a family that came from India and is supporting this country (South Africa) as citizens.
Bhupen: Let me quote for you, Sir. And, I am looking at a report filed by dw.com. It quotes the FBI. It says that there is an FBI probe currently on against you, something reported by Financial Times UK as well. And it comes at a time when South African Special Crime Investigation unit is suggesting that the Guptas are a part of its investigation into state capture, raiding of taxpay outside interest. This is the claim against you by the FBI. Do you deny this claim as well, Mr. Gupta?
Ajay Gupta: We don't know anything at all of the FBI. This again is a media creation. They write an article in such a way that it looks as though FBI is investigating, but as far as we are concerned, we know that this is nothing. We don't deal at all in the US. So I don't know where this narrative is coming from. About the Hawks, you asked something? I did not hear it completely, but let me say this thing, not a single agency until today in the last 23 years ever asked any question of us. We even went to them.
Bhupen: But how is it possible? You are saying that no agency has ever contacted you here in India. Your name is being spoken about as if you are some corruption kingpin. How do you explain the corruption scandal by global firms like KPMG to McKinsey to Bell Pottinger? All because of some supposed business links with your, sir?
Gupta: You have to go in details of this thing. You are absolutely right in asking that how it is possible. That's the only point today, how is it possible when we are saying that of the business we are involved in, only 1.5%, or something like that, is related to the government. So, where is the corruption then? It's a narrative created by the media and some of the people in the opposition. Otherwise, there is nothing.
Bhupen: So, you are saying, Mr. Gupta, you are absolutely clear that you have no business link whatsoever with the South African president. You have no business link with the son of the South African President?
Gupta: I am again not able to hear, but let me explain that KPMG and I don't know which other company you talked about, McKinsey? KPMG was an auditor with us for the last 16 years, from 2001 or 2002. In 2016, they decided to opt out of this relation because of tremendous pressure on them. The people putting pressure on them, they have to explain. I can fax you, I can send letters to you that KPMG always said that they never found anything against the Guptas.
Bhupen: Can you explain to us, Sanjay Ji? You know, your brother Atul Gupta is being accounted for being the richest non-white South African with net worth as of last year estimated over 750 million dollars. The spike of your business, the parent company Sahara Estate is 2.2 billion dollars? Can you tell me where this money is coming from for a family which moved from Saharanpur to Africa only in 1995 as you point out?
Gupta: I can only give you a single reply, which is hard work and we have family values. Our entire family of brothers works extremely hard. We run an ethical business. No one can say we are doing something wrong. No one can put their finger on a particular thing. If you are saying corruption, then you have to prove it and point it out. Since the last sixteen years, KPMG is doing the audit and they haven't found anything.
Let me talk about the richest person article. There is no doubt that Sunday Times published that article in which Mr. Atul Gupta is the 7th richest man in the country and that is only on the basis of one of their organisations which is listed. The company is listed, and the worth of the company at that time was something like a billion dollars. Actually, one time, the market cap of this company reached 2 million dollars. Now when they counted at that time, it was a billion dollars. Mr. Atul Gupta and his team are always interested in buying sick units.
Bhupen: Can you, then, tell me, Mr. Gupta, that here in India, I understand that you have very close links with Indian politicians as well, and your links are across political parties. Is it true that like South Africa you have space in the Indian political space as well?
Gupta: No, please, I don't feel bad about this relationship anywhere. Any political relationship has got nothing to do with business. Main concern - whether we are doing any business in India, politically? No. Are we doing any business with the government of India? No, so this is the point that we do not have any government influence in our business. We don't do any major business with the government at all. I told you that our total turnover, very few percentage is with the government business. So, I don't understand where this conflict is coming from.
Bhupen: So, therefore, Mr. Gupta, if I hear you clearly, you are saying that you are just being targeted, are you a subject of a witch-hunt? Maybe because you have made your success through legitimate means which some people believe are illegitimate. Are you just being targeted because of the money that you have, Sir?
Gupta: Let me explain to you. You have to understand the South African economic position. South Africa got political independence in 1994, but it is still awakening in terms of economic freedom. I must say that maybe that's the reason that we're being targeted because there is a particular establishment there which doesn't allow you to be economically free, and there is another reason behind it. I believe, I don't know whether the matter is still under investigation, maybe because this family comes from India. Even in South Africa, if you are not part of an establishment, which is an elite group, only they are controlling the economy of this country and that makes a big difference. I think that's the major reason why they targeting, and India is, maybe, adding fuel to the fire.
Bhupen: Thank you.
Gupta: Thank you.
(Get detailed and live results of each and every seat in the Lok Sabha elections and state Assembly elections in Andhra Pradesh, Odisha, Arunachal Pradesh and Sikkim to know which candidate/party is leading or trailing and to know who has won and who has lost and by what margin. Our one-of-its-kind Election Analytics Centre lets you don a psephologist's hat and turn into an election expert. Know interesting facts and trivia about the elections and see our informative graphics. Elections = News18)
| Edited by: Mirza Arif Beg
Read full article
Countdown To
Elections Results
To Assembly Elections 2018 Results