GET Stock

Quotes


We Thought They Were Firing Rubber Bullets, So We Didn't Run, Says Anti-Sterlite Protester Injured in Tuticorin Clashes
Thirteen people were killed on May 22 when police opened fire on thousands of protesters demanding closure of the Vedanta Group-run Sterlite Industries for polluting the area.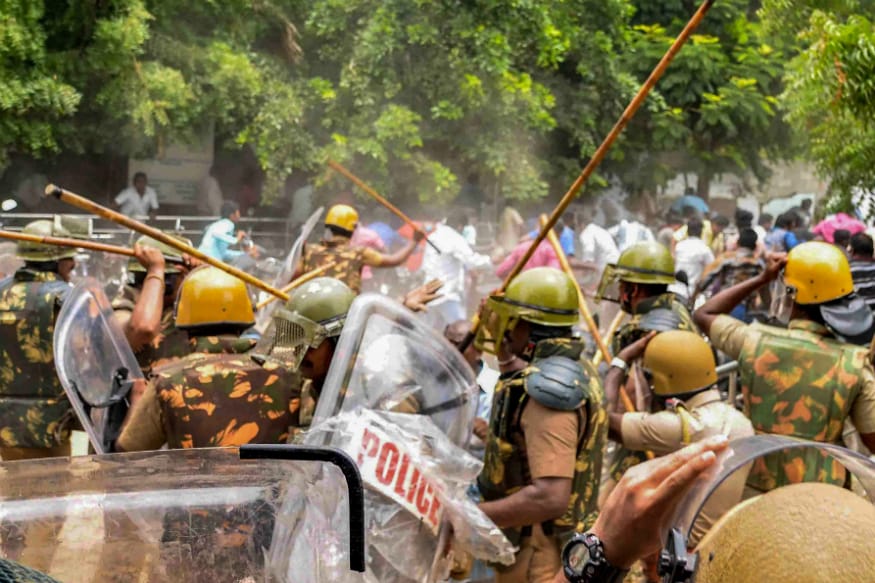 Police personnel crack down on protesters demanding the closure of Vedanta's Sterlite Copper unit in Tuticorin. (PTI)
Chennai:
"If I die, police will be responsible for my death," says Santhosh Raj as he recalls how he was stuck inside the District Collector's office in Tuticorin on May 22 when the anti-Sterlite protests took an ugly turn.
Thirteen people were killed when police opened fire on thousands of protesters demanding closure of the Vedanta Group-run Sterlite Industries for polluting the area and leading to severe health problems for area residents, besides depleting groundwater table.
The 21-year-old, recovering from his wounds, says he was on a phone call while being locked inside the Collectorate near the plant when a lady police officer came up to him and snatched his phone. The officer along with some "protesters" broke his phone in front of his eyes.
Santhosh tells News18, he was hit by police officials for trying to gherao the Collector's Office and was locked inside the Collectorate for a few hours on the fateful day.
"A lady officer snatched away my phone while I was talking to my friend about the horror that was unfolding before my eyes when she and a group of protesters broke it in front of me," narrates Santhosh.
The B.Com graduate, along with his other volunteer friends of Tuticorin's self-financed All College Student Federation, took up the responsibility of supplying food and water to the fellow protesters.
Santhosh says it was meant to be a peaceful protest and people were joined by their families for the non-violent demonstrations at parks and other public places. They had decided to not return home until there's a complete ban on the Sterlite plant that has been raising severe pollution concerns in Thoothukudi.
So what happened on Tuesday when police officials opened fire at protesters? Santhosh says, "It was all going peaceful until a point when police stopped us from going any further towards the Collector's Office. We were carrying with us a letter addressed to the District Collector and other government officials stating that the protest is for demanding a permanent ban on Sterlite and that we will not indulge in any kind of violence. However, the police didn't even bother to take a look at it and started attacking us."
He says the police personnel were the first to open fire at the protesters. "We continued to march ahead, forcing our way through the barricades. That's when the police lobbed tear gas at us. When the crowd reached the Collectorate, police resorted to firing. They were using hand pistols and rifles at first. We thought it must be rubber bullets, so we didn't run. We raised our hands and wanted to explain to the officers that we will just sit and protest. But they weren't ready to listen to us and kept firing. The situation went out of hands and that's when people started pelting stones when snipers and high-end guns were used against us," Santhosh says.
He agrees that the protesters, too, turned violent. "I wouldn't deny that the protesters indulged in violence but it was initiated by the police," he adds.
"Even terrorists will not shoot like that," says Santhosh's mother, who also took active part in the protests against the copper plant.
Santhosh has been protesting against the Sterlite plant from the very beginning along with his entire family. His father works as a security guard while his mother does odd jobs to earn money.
Santhosh works with his brother-in-law in a transport business. The family has collectively been doing all that they can to ensure justice for the people of Tuticorin.
"I will get back on the field again, once my stitches are removed and will not stop until there's a permanent solution to this issue," Santhosh promises.
| Edited by: Sanchari Chatterjee
Read full article
Countdown To
Elections Results
To Assembly Elections 2018 Results