GET Stock

Quotes



Went to ICJ, Because Jadhav Was Not Given Fair Trial, Says MEA
"We have made 16 consular access requests for Kulbhushan Jadhav. Despite posting written as well as oral requests, the Pakistan Government has given us no response," says MEA spokesperson, Gopal Baglay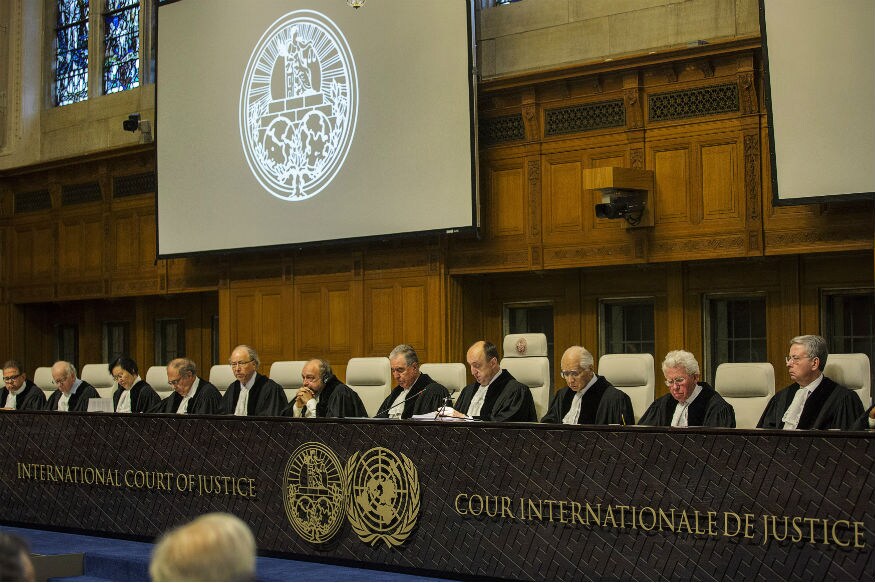 A file photo of judges presiding over a case at the ICJ. (Photo: Reuters)
New Delhi: Reacting to the International Court of Justice's stay on Kulbhushan Jadhav's execution by Pakistan, the Ministry of External Affairs on Wednesday reiterated its stand that the former Navy officer was being illegally detained in Pakistan.
"We have made 16 consular access requests for Kulbhushan Jadhav. Despite posting written as well as oral requests, the Pakistan Government has given us no response," says MEA spokesperson, Gopal Baglay before adding that India does not even have the chargesheet or details proceedings of the case.
We also have no response on Kulbhushan's mother's appeal for a visa to meet her son."
"There is a lot of concern for the well-being, life of an Indian who was kidnapped and not given a fair trial. Therefore we decided to approach the International Court of Justice. The appeal is based on consular matters," said Baglay.
He further added, "We have been informed of the action the court has initiated based upon our petition. It was a very carefully considered decision to approach the ICJ. It is the highest international body of Justice."
"Order is relief for political leadership because they see things differently from the army. The response will be diplomatic but in consultation with the army. It is unlikely that Jadhav will be hanged immediately. We will not respond immediately to the court but there will be a media reaction soon," a top Pakistan Government source told CNN-News18.
Indian letter to ICJ an attempt to divert attention from state sponsored terrorism in Pakistan. Kulbhushan Jadhav is convicted of offences against national security," said Pakistan's Minister of Defence Khawaja M Asif.
Jadhav, 46, was given death sentence last month by the Field General Court Martial in Pakistan, evoking a sharp reaction in India which warned Pakistan of consequences and damage to bilateral ties if the "pre-meditated murder" was carried out.
Pakistan claims its security forces had arrested Jadhav from the restive Balochistan province on March 3 last year after he reportedly entered from Iran. It also claimed that he was "a serving officer in the Indian Navy."
India acknowledges that Jadhav had served with the Navy but denies that he has any connection with the government. India has also handed over to Pakistan an appeal by Jadhav's mother, initiating a process to get his conviction overturned
Also Watch
Read full article