'What About River Conservation Promise?': Activists Ask MP CM as They Stand Chest - Deep in Narmada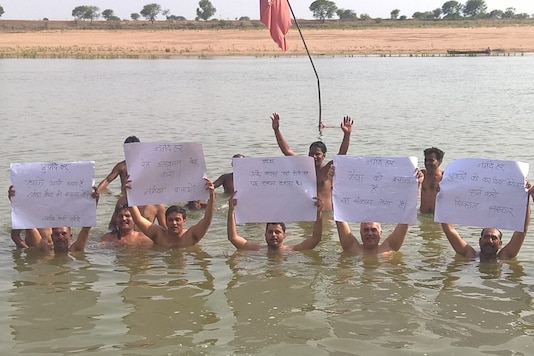 Scores of activists and political leaders stood chest-deep in the river for two hours to protest against MP CM Shivraj Singh Chauhan
Several journalists, NBA workers, farmers' union leaders, youths took part in 'Jal Satyagraha' in order to remind CM Shivraj about these unfulfilled initiatives
Last Updated: June 20, 2018, 15:38 IST
Edited by: Naqshib Nisar
FOLLOW US ON:
Bhopal: Reminding Madhya Pradesh Chief Minister Shivraj Singh Chouhan of his 'forgotten' Narmada conservation programme, scores of activists and political leaders stood chest-deep in the river for two hours in CM's native Sehore district.
Several journalists, NBA workers, farmers' union leaders, youths and other took part in 'Jal Satyagraha' on Tuesday in district's Jait village.
Apparently, aimed at conserving the sacred Narmada river, CM Shivraj had undertaken the much-hyped Namami Narmade Yatra in 2016-17 to raise awareness on river conservation.
He initiated a number of projects for the conservation, but the volunteers allege these measures remained unfulfilled even after a year.
In order to remind CM Shivraj about these unfulfilled initiatives, several volunteer organizations and social activists had undertaken Narmada Satyagraha on May 15 and for a fortnight in Narsinghpur district, said social activist Akshay Hunka.
In a daylong Jal Satyagraha on June 19, several volunteers spent two hours in Narmada waters organsied at village Jait, the native place of CM Shivraj in Sehore district.
Few of the major demands include — implementation of handing Narmada status of a living entity which is yet stuck in red tape, demanding the state government should safeguard the river from mining mafia, they added.
Installation of sewerage plants on Narmada riverbanks to ensure no polluted waste water, heading from urban locations, gets mixed into the river, demands to enhance green cover on the banks and action against timber mafia destroying greenery on the river side. These were the other demands by the volunteers.
The volunteers claimed if these demands are not included in the work schedule of assembly's last session, then a parallel Satyagraha will be organised in Bhopal on June 25 during the upcoming monsoon session of assembly.
To note, Congress submitted a notice to assembly secretariat through the Leader of opposition Ajay Singh on Wednesday regarding no-confidence motion against Shivraj government in monsoon session.
Besides, opposition parties, including Congress and AAP, are already demanding presentation of Mandsaur police firing report in the assembly.
Moreover, being the last session of this assembly, Congress is no mood to spare any moment to corner Shivraj government in the upcoming session.
Next Story