What Did Demonetisation do to India's Beleaguered Rural Economy
Even today, cash isn't easy to come by in many rural branches; hundreds of ATMs have fallen silent in the countryside, and digitisation is now a synonym for queuing up.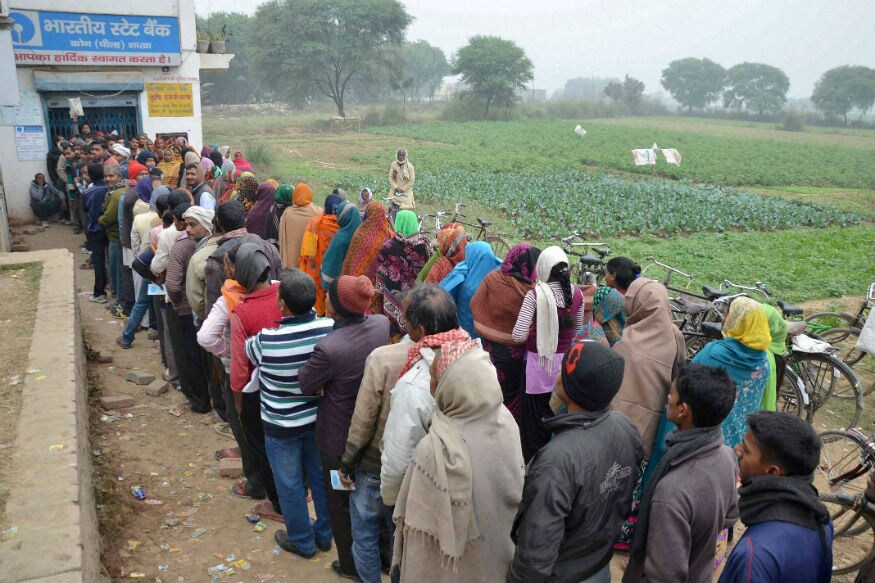 Villagers line up outside an SBI branch to withdraw cash in Mirzapur in Uttar Pradesh on February 8. (PTI) Representative image
The joke doing the rounds in the dusty countryside these days is 'Queue up if you want relief". At SETU outlets, the government-recognized agents in rural Maharashtra, all that you see these days are queues and queues of beleaguered farmers, turned up, ironically, to file digital applications.
Want crop loan? Line up outside banks. Loan waiver: Queue up to fill and submit an application. Want to build a toilet; need subsidy? There's a queue. Stand up India has assumed a whole new dimension here. There is no guarantee though that standing in a queue might fetch what you so desperately covet.
It began with demonetisation last November when rural India lined up to exchange old notes for new ones like the urban India did, but the pain lasted several months. Even today, cash isn't easy to come by in many rural branches; hundreds of ATMs have fallen silent in the countryside, and digitisation is now a synonym for queuing up. In fact until November 8, 2016, standing up in a queue was not a means of life as it has today become in a changed India. Sure, among the many intended objectives of the note-ban the Union Finance Minister Arun Jaitley told us we do not get it, making a farmer stand up in a queue may not have been intentional. It came as a by-product; small things happen in a big country. The FM wants us to stay focused on the big picture, even if the reality is scarier than the myth around it.
The clamour on the ground is getting shriller, even if the noise is inaudible in Delhi.
What came not as a side dish in 2016 but main course was the sudden jolt rural India received after a better monsoon in most parts of the country after consecutive years of drought an disrupted the rural economy severely; its disruptions are yet to abate, ask a dairy or a poultry or a sustenance farmer.
That the countryside has been in the grip of a recession in last two decades of India's much trumpeted growth story is beyond doubt. That's the context really to understand why demonetisation was a pain for rural peasantry more than a gain, though their support to the PM's political move is another point. As this writer found, many poor people did believe that someone's stashed black cash would tumble out of the closet and the government would then spend it on their welfare. They believed in the mythology.
The PM's 'surgical strike on black money', as it was dubbed then, actually torpedoed the peasantry and rural masses in more ways than one post-November 2016, as cash dried, informal economy tanked, and crop prices plunged overnight at a time when fresh harvests had begun to arrive in the markets.
Rural employment fell and there's enough data today to show that the GDP decline had had a cascading effect on the countryside.
Take for instance one example – and there really were millions across the country: The rains in 2016 had been good and timely, climatic factors perfect and his yields bumper, so 28-year-old Sandeep Thavkar, a farmer in Virkhandi village about 60 km from Nagpur, thought his tomatoes would fetch him a windfall.
He was pleased with himself that he had acted smartly by not planting traditional crops like soybean or cotton on his entire stretch but diversified into planting tomatoes on a third of it.
Demonetisation precipitated the price crash on the heels of a bumper tomato crop – he found that the prices had crashed beyond comprehension just when the vegetable flushed the local markets.
In the last week of November, days after the demonetisation decision was unveiled dramatically by the Prime Minister, Sandeep came home one afternoon, crestfallen that 25 crates, each with 25 kg of freshly harvested tomatoes, fetched Rs 30 a crate – or just over a rupee per kilogram. (In the last two months, tomato prices in retail markets hovered between Rs 50 and Rs 100 a kg due to shortages.)
He asked his cousin Sachin to lend him his tractor for an hour. For the following few hours, Sandeep flattened his standing crop, drove the tractor over it in despair – the crop that he, his wife, his sister and an aunt had toiled for round the clock for the previous four months, planting, weeding, and watering it.
Sandeep would have continued to pluck tomatoes until March from the creepers, every so often.
A sudden plunge in prices was the last thing he or thousands of farmers across India expected in Diwali; for a majority of the states, save the southern states, good monsoon and fairly better yields popped up the prospects of good returns. They had no clue that Modi, their beloved PM, had a different idea. For days, the APMC-run markets remained closed under protests and due to a sudden paucity of cash.
From north to the south and west to the east and the entire north-east, demonetisation played out differently for different crops and regions, with one common link: it wrecked the informal economy during the Kharif harvest and ahead of the preparations for the ensuing Rabi crop. Such were the losses that the pain has spilled over to the 2017 Kharif, and farmers stand in a financial mess in many states.
In a state like Tamil Nadu, where both the south west and north east monsoon failed in 2016, the note ban came in as a quake that would bury the remains of the past too: In the Cauvery Delta region, for instance, farmers could not withdraw their own money to buy seeds and inputs for what they call the 'Kuruvai' crop, their main season for which planting is done in the month of October and November.
The region which usually receives rainfall from a receding monsoon around the same period went dry and suffered huge losses; peasants clamoured for both, water and money; and neither was available in the thick of time. That was the reason why Tamil Nadu recorded an unprecedented spurt in suicides and shock deaths of farmers in December 2016 and January 2017 and sparked state-wide protests.
There was no employment on farms in the following few months; and rural migrants found that the cash crunch had devastated informal job sector in the cities.
It's difficult to quantify the real losses rural India, both the peasant classes and the landless, suffered in the wake of demonetisation, but while traveling in Maharashtra, Chhattisgarh and neigbouring Madhya Pradesh in December and January I could see the rural economy in a disarray, yet a people's support to the decision as a sharp contrast to the pains they were subjected to.
It was a support to a decision they thought was in the national interest and believed the losses they suffered were worth the gains.
"Vegetable prices go down around this time of the year (November-December) because of seasonality but perhaps cash shortage has been an additional factor affecting such price decrease," wrote Dr Ashok Kumar Lahiri, former Chief Economic Adviser for Department of Economic Affairs of Union Ministry of Finance, in a working paper series published in November 2016 on 'Demonetisation, the cash shortage and the black money, published by the National Institute of Public Finance and Policy (NIPFP).
The Central Statistics Office's (CSO) just-released GDP data for April-June 2017 shows that the annual growth in gross value added from agriculture during the last quarter, particularly in June when India saw a sharp rise in farmers' protests, was only 2.3 per cent in real terms (i.e. at constant prices), as against 5.2 per cent for January-March and 6.9 per cent for October-December, Harish Damodaran of the Indian Express wrote on September 2, 2017. "But what's more significant," he wrote, "is the growth in nominal terms or at current prices unadjusted for inflation. That, at 0.3 per cent, was even lower. Simply put, it means that even though farm output for the last quarter was 2.3 per cent higher year-on-year, the fall in prices by 2 per cent resulted in the value of agricultural production rising just 0.3 per cent."
The CSO does not say it but post demonetisation, not only did the prices across the farm commodities crash, procurement became a gigantic task, both for the state governments and private traders.
A large quantity of 'Tur' (Red Gram) is still lying unsold with many farmers across central India since the state governments grappled with bumper harvests of the crop last season.
The CSO data confirms that agriculture entered deflation territory in April, coinciding with the harvesting and marketing of rabi crops, Damodaran wrote, and its effects truly played out in June.
Market movement showed a clear demarcation in pre and post demonetisation prices.
For instance, Bandu Ghormade, a progressive vegetable grower in Chicholi village about 50 km from Nagpur, sold his tomatoes in Nagpur's sprawling Agriculture Produce Market Committee market yard at Rs 8 a kg before demonetisation. On November 9, 2016, the day after demo, the prices fell to Re 1 a kg.
In June, that pent up anger finally spilled over on the streets across the country, with the nation's polity completely disconnected with the agrarian realities. The rural economy, infrastructure, and life has been under stress for more than two decades, particularly in those regions where farming is the sole mainstay and where farming is dependent only on the monsoon, with no protective irrigation facilities.
Fact remains that despite investments and mechanization, farm sector has shown no significant change in output growth – it has been steady at around 2.5 per cent per annum over the last few decades falling consistently short of the four per cent per annum targeted in successive Five Year Plans. This growth has regional dimensions; some regions like Vidarbha or Bundelkhand that are rain-dependent for farming have recorded negative growth in agriculture for almost two decades, many studies indicate.
Post-demonetisation unexpected losses due to price crash led to despair among peasants; this kharif, crop loan disbursements are way off the mark in many states.
Last season's loss coupled with the political demands for a total loan waiver has led to abysmal crop loan repayments. Banks are grappling with crop loan NPAs and fresh loan disbursement. And there's a queue now for everything – from getting fresh loans to applying for an old loan waiver.
(Jaideep Hardikar is a Nagpur-based journalist, and a volunteer for the People's Archive of Rural India. Views are personal)
Read full article
Countdown To
Elections Results
To Assembly Elections 2018 Results