What Did Justice Chandrachud Say in His Historic Order On Privacy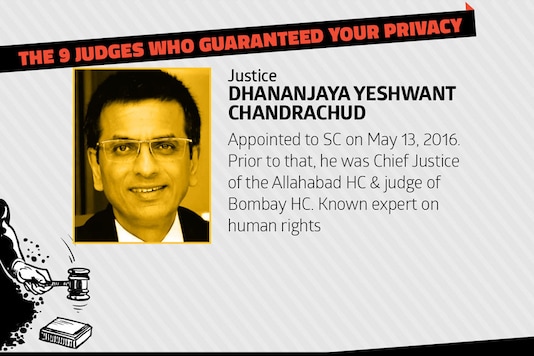 Dhananjaya Yeshwant Chandrachud was appointed to the Supreme Court on May 13, 2016
Excerpts of what Justice Chandrachud said in the verdict.
New Delhi: In a landmark decision that will affect the lives of all Indians, the Supreme Court on Thursday unanimously declared that right to privacy was a Fundamental right under the Constitution.
A nine-judge Constitution bench headed by Chief Justice J S Khehar ruled that "right to privacy is an intrinsic part of Right to Life and Personal Liberty under Article 21 and entire Part III of the Constitution".
Authored by Justice DY Chandrachud and signed by CJI JS Khehar, Justice RK Agrawal, Justice S Abdul Nazeer and Justice DY Chandrachud.
Excerpts of what Justice Chandrachud said in the verdict :
'It must be realised that it is the right to question, the right to scrutinize and the right to dissent which enables an informed citizenry to scrutinize the actions of government. Those who are governed are entitled to question those who govern, about the discharge of their constitutional duties including in the provision of socio-economic welfare benefits.'
'The interpretation of the Constitution cannot be frozen by its original understanding. The Constitution has evolved and must continuously evolve to meet the aspirations and challenges of the present and the future. Nor can judges foresee every challenge and contingency which may arise in the future.'
'This is particularly of relevance in an age where technology reshapes our fundamental understanding of information, knowledge and human relationships that was unknown even in the recent past. Hence as Judges interpreting the Constitution today, the Court must leave open the path for succeeding generations to meet the challenges to privacy that may be unknown today.'
'If there is a constitutional protection to privacy, can it be denied a status of fundamental right?'
'For instance, the provisions of Section 8(1)(j) of the Right to Information Act, 2005 which contain an exemption from the disclosure of information refer to such information which would cause an unwarranted invasion of the privacy of the individual.'
'But the important point to note is that when a right is conferred with an entrenched constitutional status in Part III, it provides a touchstone on which the validity of executive decision making can be assessed and the validity of law can be determined by judicial review. Entrenched constitutional rights provide the basis of evaluating the validity of law. Hence, it would be plainly unacceptable to urge that the existence of law negates the rationale for a constitutional right or renders the constitutional right unnecessary.'
'Privacy postulates the reservation of a private space for the individual, described as the right to be let alone. The concept is founded on the autonomy of the individual. The ability of an individual to make choices lies at the core of the human personality.'
'Privacy is an intrinsic recognition of heterogeneity, of the right of the individual to be different and to stand against the tide of conformity in creating a zone of solitude. Privacy protects the individual from the searching glare of publicity in matters which are personal to his or her life. Privacy attaches to the person and not to the place where it is associated.'
'One of the chief concerns which the formulation of a data protection regime has to take into account is that while the web is a source of lawful activity-both personal and commercial, concerns of national security intervene since the seamless structure of the web can be exploited by terrorists to wreak havoc and destruction on civilised societies.'
Possible implication on Section 377
'Sexual orientation is an essential attribute of privacy. Discrimination against an individual on the basis of sexual orientation is deeply offensive to the dignity and self-worth of the individual. Equality demands that the sexual orientation of each individual in society must be protected on an even platform. The right to privacy and the protection of sexual orientation lie at the core of the fundamental rights guaranteed by Articles 14, 15 and 21 of the Constitution.'
'The chilling effect on the exercise of the right poses a grave danger to the unhindered fulfilment of one's sexual orientation, as an element of privacy and dignity. The chilling effect is due to the danger of a human being subjected to social opprobrium or disapproval, as reflected in the punishment of crime. Hence the Koushal rationale that prosecution of a few is not an index of violation is flawed and cannot be accepted. Consequently, we disagree with the manner in which Koushal has dealt with the privacy – dignity based claims of LGBT persons on this aspect. Since the challenge to Section 377 is pending consideration before a larger Bench of this Court, we would leave the constitutional validity to be decided in an appropriate proceeding.'
'Privacy is an intrinsic recognition of heterogeneity, of the right of the individual to be different and to stand against the tide of conformity in creating a zone of solitude. Privacy protects the individual from the searching glare of publicity in matters which are personal to his or her life. Privacy attaches to the person and not to the place where it is associated.'
Possible implication on Kerala Love Jihad case:
'The sanctity of marriage, the liberty of procreation, the choice of a family life and the dignity of being are matters which concern every individual irrespective of social strata or economic well being. The pursuit of happiness is founded upon autonomy and dignity. Both are essential attributes of privacy which makes no distinction between the birth marks of individuals.'
'The central theme is that privacy is an intrinsic part of life, personal liberty and of the freedoms guaranteed by Part III which entitles it to protection as a core of constitutional doctrine.'
'Any abridgment must meet the requirements prescribed by Article 21, Article 19 or the relevant freedom. The Constitutional right is placed at a pedestal which embodies both a negative and a positive freedom.'
Proposes new law on data protection:
'The law must also be valid with reference to the encroachment on life and personal liberty under Article 21. An invasion of life or personal liberty must meet the three-fold requirement of (i) legality, which postulates the existence of law; (ii) need, defined in terms of a legitimate state aim; and (iii) proportionality which ensures a rational nexus between the objects and the means adopted to achieve themSince the government has initiated the process of reviewing the entire area of data protection, it would be appropriate to leave the matter for expert determination so that a robust regime for the protection of data is put into place. We expect that the Union government shall follow up on its decision by taking all necessary and proper steps.'
Next Story