What Jitan Ram Manjhi has done is not 'rebellion' but a 'fraud', says Nitish Kumar
Kumar described his handing over governance to Manjhi as an "emotional decision".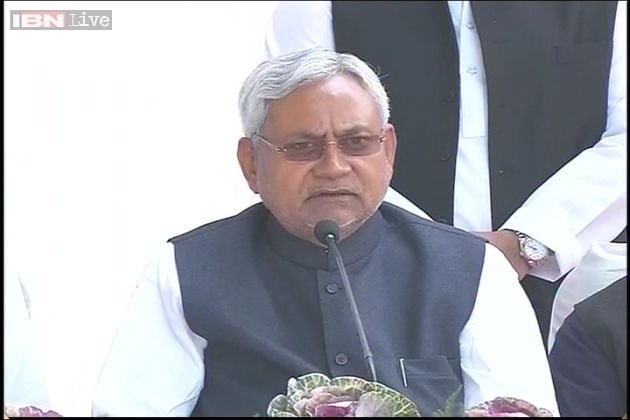 Kumar described his handing over governance to Manjhi as an "emotional decision".
Patna: Attacking Bihar Chief Minister Jitan Ram Manjhi, his mentor and Janata Dal United leader Nitish Kumar on Saturday alleged that what he has done was not "rebellion" but a "fraud".
"Manjhi ne jo kuch bhi kiya hai woh bagawat nahin balki dhokha hai (whatever Manjhi has done is not rebellion but a fraud)," Kumar said hitting hard on his protege.
Kumar reaction came a day after Manjhi attacked him saying "actually he committed not a mistake but "a great mistake" by assuming that I would work like his puppet".
He said it was told to him (Manjhi) in clear-cut terms that a roadmap of the government was already in place and his task was to carry it forward.
"But instead of carrying the roadmap ahead he started acting like an alternative government... this blew the very concept of 'sushashan' (good governance) and people started complaining to us," Kumar said.
On Manjhi's allegation of efforts to run him like a "puppet", Kumar brushed aside the charge and said he had nothing to do with work of the government after resigning as chief minister and handpicking Manjhi to succeed him in May last year.
"He (Manjhi) acted on his own and claimed he had silent support of me," he said in an attempt to lay bare the facts.
Kumar described his handing over governance to Manjhi as an "emotional decision".
"When I did not get expected vote in general election I thought I should go to people and work in their midst. But, the way people started complaining about Manjhi's working I thought I should correct my decision," he said.
"In life as well in democracy correction is a regular process," he said.
On Governor Keshari Nath Tripathi charging him of being in "hurry for power", Kumar said "If he has said so it was not proper and in accordance with decorum of a high constitutional post."
When we had met him on February 9 he gave the impression that he was convinced as of which government speech he would read in his inaugural speech at joint session of state Legislature on February 20 and which government would introduce budget later on, he said.
"But, when he issued his order it sounded contrary to his earlier approach on the situation," Kumar, who has been elected as JDU Legislature Party in place of Manjhi and who has staked claim to form a government before the Governor, said.
On the issue of secret ballot, Kumar said it was not possible after coming into being of Anti-Defection law.
"Can a popular government be elected through secret ballot? Will such government have moral and political strength?" he asked and emphasised on open voting in the House.
Get the best of News18 delivered to your inbox - subscribe to News18 Daybreak. Follow News18.com on Twitter, Instagram, Facebook, Telegram, TikTok and on YouTube, and stay in the know with what's happening in the world around you – in real time.
Read full article