'What Would Goddess Kali Do?' Rose McGowan on Why She Wants To Burn Down The 'Fake Power Structure'
Rose McGowan , an actor-director-activist who has ripped off the veil of secrecy and shame that shrouds any discussion on sexual abuse is one of the first women to publicly confirm that powerful Hollywood producer Harvey Weinstein had raped her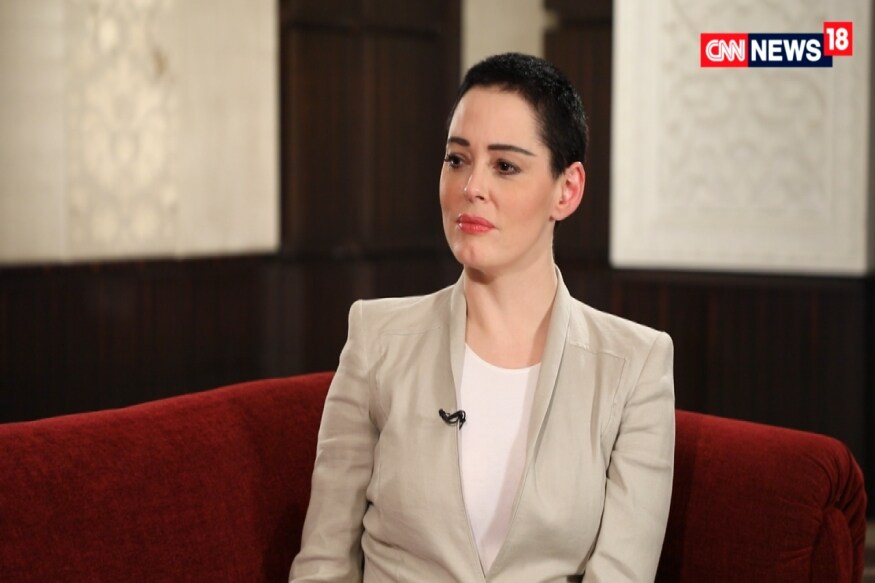 Actor-director-activist Rose McGowan during an interview with CNN-News18.
When Time magazine named "The Silence Breakers" as its 2017 Person of the Year2017 Person of the Year, it was a win for the women (and some men) who came forward with stories of sexual harassment and assault, helping force a nationwide reckoning. It was a special win for Rose McGowan.
McGowan, an actor-director-activist who has ripped off the veil of secrecy and shame that shrouds any discussion on sexual abuse is one of the first women to publicly confirm that powerful Hollywood producer Harvey Weinstein had raped her. Weinstein has denied all allegations of non-consensual sex.
In an exclusive interview to Anuradha SenGupta on 'Off Centre' she talks about why this is a major turning point in the way we have seen sexual crimes being handled.
"I strongly feel this is a major turning point. I don't think we can go back. We can unlearn what we have learnt," she said.
The actor said that this is the "first time in written history that women are being believed".
"I have been saying this for 20 years, they just didn't listen," she added.
So, why does McGowan feel the society doesn't quite believe women? She said that it has to do with the laws that mostly men make, and often they are the perpetrators. "Laws are not written by women. And, men express opinion that doesn't necessarily happen to their body," she said.
The actor said that it all stems from the fact that "culturally women have borne the brunt of much shame for everything."
When asked what has changed in our history this time, McGowan spoke about the Women's March as one of the few things that became a landmark moment for women across the world.
"With the Trump factor, hate is so obvious. And, rape is hate," she said.
McGowan said that women are conditioned to believe that they can't be angry. "Women have so much untapped rage. If we start feeling it, it will be overwhelming. But that's not the case. Every civil rights movement starts at rage with inequality," she said.
The actor said her goal is to 'burn down' the power structure and she doesn't care whether she's liked or not in the process. "It's a lonely road. It's not pleasant to be the first person to begin the fight. I am just face and the figure of men and women who pour out their stories," she said.
"I don't need to be nice. I won't be. My job is not to please the world," she added.
Talking about why women should be angry about the power structure, she said, "What would the Goddess Kali do? She would burn it down. That's what she would do. That's what I want to do to the fake power structure. My goal is to burn it down."
The actor also said that it's not just men who fall in power trap. "Women perpetuates misogyny and sexism too. It's not just on men. It's on all of us," she said.
Talking about Weinstein, without mentioning his name, she said, "In Hollywood, men are allowed to operate with impunity and a major blanker of silence. They operate like a mafia. My monster was the figure head of the mafia."
Watch the interview here: https://www.news18.com/shows/off-centre.html
| Edited by: Ashish Yechury
Read full article
Countdown To
Elections Results
To Assembly Elections 2018 Results