When Minister HD Revanna's 'Vaastu' Fixation Took a Toll on Meetings, Ministers and Even Priests
The moment HD Revanna landed at a recent event venue, everyone present, including his cabinet colleagues to change their positions and face the east for the success of the event.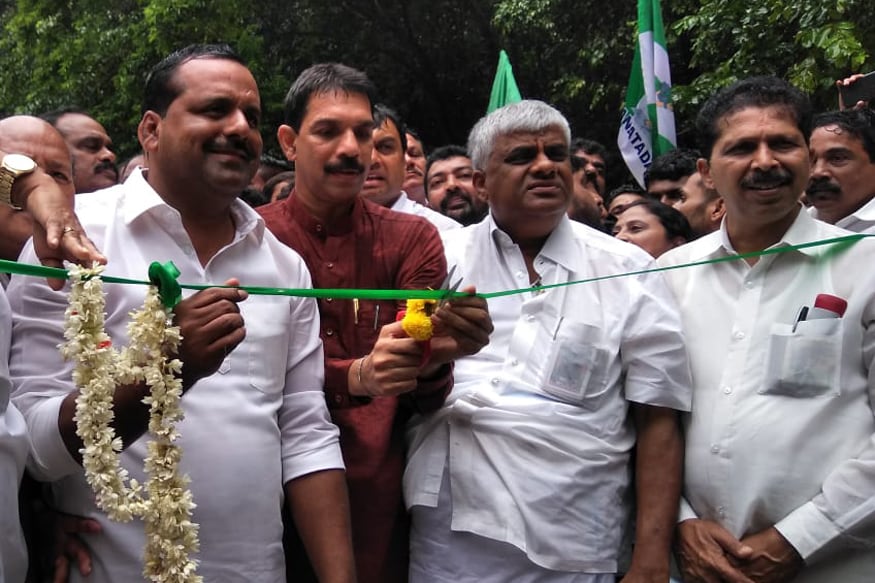 HD Revanna (2nd from right) at the Shiradi Ghat road inauguration on Sunday. (Image: DD Chandana/Twitter)
Bengaluru: Last Sunday, the recently rebuilt 20km-long Shiradi Ghat road between Bengaluru and Mangaluru was opened for public. PWD minister, HD Revanna was the chief guest at the function. The priests and the local officials made arrangements for the function and the guests, including several VIPs, were seated facing the west. The moment Revanna landed there, he asked all of those present, including his Cabinet colleague UT Khader, Dakshina Kannada MP Nalinkumar Kateel and former minister B Ramanatha Rai, to change their positions and face the east.
He told them that all auspicious events take place facing the east. The organizers had to change everything in a hurried pace for the inaugural function.
However, this is not something new. Former Prime Minister HD Deve Gowda's son and the Karnataka Chief Minister, HD Kumaraswamy's elder brother Revanna, is known for such antics. The entire Gowda family is known to be religious and follow all kinds of rituals. But even by the Gowda family standards, Revanna is more religious than the others.
A week ago, he had admonished a priest in full public view for not following proper procedures during a ground breaking ceremony in his hometown Hassan. He had ordered the priest to conduct the rituals facing east. The hapless priest was almost in tears after Revanna's public bashing. A video of the same went viral on the Internet.
It has been almost two months since he took charge as the PWD minister but he travels from his Assembly seat Holenarasipura to state capital Bengaluru every day and refuses to stay at his residence in the capital because of some Vaastu issues. He travels over 340km every day by road. Revanna leaves home around 8 am and reaches Bengaluru by 10:30 am after covering a distance of 170km. Even if it is 11pm, he has to drive 170km to go back to rest in his village house.
Speaking to News18, Revanna rubbished the rumours, saying that he returns to his village every day because he does not want the common people to travel to Bengaluru to meet him. However, he admitted that he is a firm believer in astrology and Vaastu.
According to sources, officials are now finding it difficult to adjust to the new culture because Revanna won't do anything without consulting his trusted astrologers and abiding by Vaastu specifications.
He won't hold any official meetings or travel and sign official documents during "Rahu" Kaala. Sometimes he would even abruptly end a meetings to avoid the "Rahu" Kaala.
He also makes sure that his chair has been placed properly facing the east during every meeting. If there is any mistake, then he takes concerned officials to task. Even when he enters his office on the third floor of the Vidhana Soudha in Bengaluru, he takes all precautions and prefers to enter through the eastern gate.
He also spends hours on special rituals and visits dozens of temples every week. His father and also a firm believer, Deve Gowda thinks that there is nothing wrong with these practices. He maintains that his family has reached the pinnacle of success because of their trust in the almighty and Vedic rituals.
Revanna also keeps a lemon in his hand all the time to ward off evil powers. His followers attribute younger brother Kumaraswamy's elevation to the chief minister's post to elder brother Revanna's faith in astrology and Vedic rituals he performs.
Dwarakanath, a top astrologer and an advisor to several big political leaders, told News18 that Revanna's firm belief in astrology had played a major role in changing the political fortunes of the Gowda family.
In the just concluded state Assembly session, BJP MLA Raju Gowda described Gowda's JD(S) as a "Hindutva" party. Making a statement in the House, he said that JD(S) was a "Hindutva" party, not his party, the BJP.
Countering him, Revanna had said that they believe in true, tolerant Hinduism and not in the narrow "Hindutva" practiced by the BJP.
| Edited by: Sanchari Chatterjee
Read full article
Countdown To
Elections Results
To Assembly Elections 2018 Results