When They Burnt My Effigy in Aligarh Muslim University
Maybe it is time the government took its eyes off battling terrorism and eradicating poverty, now that the threat to the Republic has been so clearly identified and narrowed down to two individuals in their twenties — Shehla Rashid and Umar Khalid.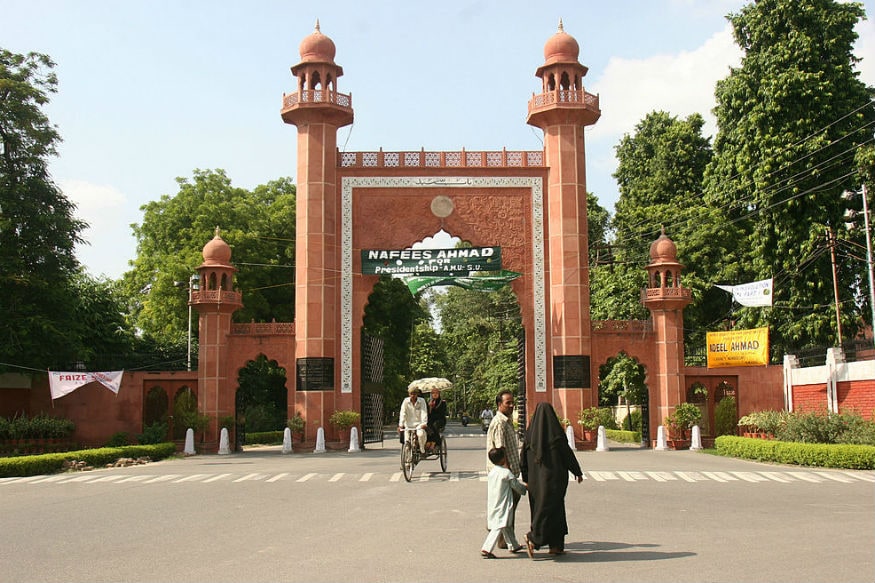 File photo of Aligarh Muslim University campus.
New Delhi:
Sometime after the crack of dawn on November 11, 2014, the day's
Times of India
hit the stands at the university town of Aligarh. And my phone started ringing. It wouldn't stop through the day.
My friends and fellow journalists were desperately trying to reach me, worried what will happen to me now after my article that the
TOI
had front-paged.
As campuses once again make it to headlines for all the wrong reasons in India, the panicked calls from my well-wishers ring in my ear once more. It also makes me wonder: Just why do Indian campuses, instead of being the well-spring of progressive thoughts and the courage to articulate them, have come to be dominated by the most regressive of the lot? The ones who wallow in their caste and religious identities, masquerading it all in the cloaks of nationalism or patriotism in places like Delhi University and religiosity in the case of Aligarh Muslim University?
ALSO READ |
How Rajmas College Violence Spilled Over to the Cyber Space
In Ramjas College in DU last week, it was the sovereignty and integrity of the nation under threat — as severe and mortal a threat as only a seminar with a title 'Unveiling the State, Regions in Conflict' can pose. In AMU 2014, the conservative crowd there wanted to "stone the
shaitan
" – yup, that would be me – for a newspaper report with a headline as staid as 'Girls in AMU library will attract boys: VC'.
Even while I was fielding calls suggesting I stay at home – and if I had to venture out at all, I better stay out of the 'University Circle' – I was wondering what the fuss was about. Mine was not an expose or an investigative report; it was a straightforward news report of what Vice-Chancellor Lt General Zameeruddin Shah had told assembled media the day before.
The newly elected Women's College Union was just in place — one major brick in the foundation for something resembling gender parity in the 142-year-old university. While presenting their list of demands the girls' leaders asked for "unhindered access" to the Maulana Azad library, the university's seven-storey central library.
ALSO READ |
Martyr's Daughter Gurmehar Kaur Compared to Dawood by BJP MP
The girls recited poetry of Allama Iqbal and Majaz Lakhnawi and let the people in power know they were not going to be satisfied by empty promises this time around — the demand has been quite old and was covered by other newspapers in the past as well. And then the V-C decided to speak.
"If we allow girls there will be four times more boys coming in and then there will be no space in the library," he said, in an apparent effort to lighten the atmosphere. The answer did elicit a round of laughter from a section of students and teachers, but many objected to the remarks.
"Every time it can't be dealt with in such a frivolous manner," a teacher in the audience told me. For her, the question was not just about access to the Maulana Azad Library. At stake were larger arguments almost mainstreamed in the campus about "law and order", "safety for girls", "parents disapproval to let the girls out in the library", "against AMU culture" etc.
ALSO READ |
ABVP Initiates 'Tiranga March', Congress Trains Gun on PM Modi
In other words, it was a basic fight for human dignity that a bunch of brave girls were leading. I went back, spoke to a few more students and teachers. Yes, of course, I spoke to the V-C once again on what he had really intended to say. I wrote my piece, which I would say was just plain-vanilla news reporting.
It, however, caught the attention of other editors in New Delhi. A round of follow-up articles ensued, some insightful, a few steeped in the stereotyped notion of a 'Muslim university'.
All hell broke loose. In the ensuing cacophony, I was labelled the instigator of a vicious campaign to malign AMU, Aligarh, and Muslims not necessarily in that order. Overnight, I became an "agent of Modi" whose party, my baiters said, wanted to dismantle the varsity.
There were student protests soon at the campus. The newspaper I worked for then and I were banned on the university campus. "
Times of India
, Aligarh Muslim University
mein nahi aayega
(Times of India won't be allowed in the university), the venerable V-C Shah declared from the main campus.
My effigy was burnt. One of the journalists present at the event told me later: "Your effigy is the grandest among other effigies of the media." A student leader issued a public threat exhorting the crowd that "wherever you find her, you can do whatever you want."
ALSO READ |
Kargil Martyr's Daughter Gets Rape Threats After Taking on ABVP
Text messages poured in condemning me for trying to emerge as "a fighter for women's rights in a place that has always been fair to women". I was reminded how my "service" was more of disservice to the "community". I was reminded the AMU has no biases and, in fact, holds women in high regards besides giving them "special treatment" that no other university follows.
There was a collective denial among students. "V-C is our father", "Media apologise" screamed the placards that appeared on the streets. Girls, whose voices I gave vent to, boycotted me.
Incidentally, just around two weeks ago, the same abuses were heaped at Shehla Rashid, former vice-chairperson of the Jawaharlal Nehru University Students Union (JNUSU), by the same AMU crowd. Rashid was termed Gustakh-e-Rasool (one who wronged the prophet). The irony then would be that the same Shehla was at the centre of another raging campus fire a week later in Delhi University's Ramjas College, this time for offending the concept of nationalism as defined by the saffron camp.
If we go by the slogans and placards at Ramjas and AMU, the mortal threat to the concept of India is epitomised by two students: Shehla Rashid and Umar Khalid. Maybe it is time the government took its eyes off battling terrorism and eradicating poverty, now that the threat to the Republic has been so clearly identified and narrowed down to two individuals in their twenties.
Add to that hit-list a third one, Gurmehar Kaur, the daughter of a Kargil martyr, now being accused of lowering the morale of the Indian Army apart from other sins. A BJP MP even compared her to Dawood Ibrahim. For standing up to her friends who were beaten black and blue in the DU campus, Gurmehar is being threatened with rape and murder by some self-appointed guardians of a 2,000-year-old civilisation.
Saffronistas and Islamic conservatives have more in common than they realise. For starters, they share the same enemies. And both are racing against modernity at a speed that baffles Young India.
| Edited by: Nitya Thirumalai
Read full article
Countdown To
Elections Results
To Assembly Elections 2018 Results